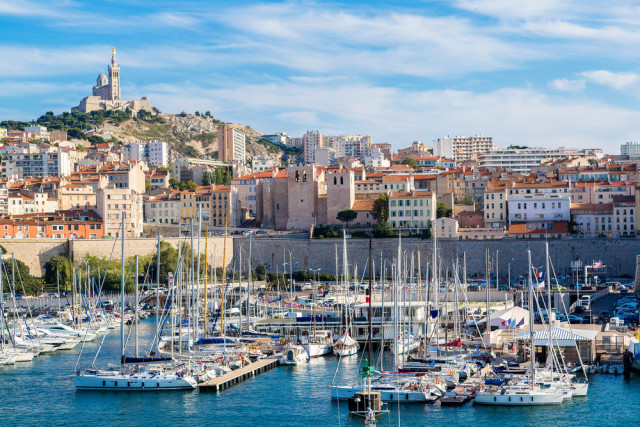 photo | S-F

This past spring, Netflix rolled out its very first European series – a political thriller named after and set in Marseille, starring (who else) the inevitable Gérard Depardieu. Reviews were mediocre to crap, but the mere fact that this burgeoning entertainment giant's milestone revolves around the largest city on the French Riviera – and the second largest in all of France – is testament to the charisma of a complex, fascinating place with roots in the earliest history of Europe.
Humans have inhabited the region since paleolithic times, and the settlement can trace its origins back to Massalia, the first Greek colony in what is today France, which became one of the ancient world's greatest trading ports. Despite the slings and arrows of history, it maintained a prominent role in the affairs of France (for example, its citizens' French Revolution marching song La Marsellaise later adopted as the republic's national anthem) and Europe as a whole.
And along the way, of course, this multicultural maritime melting pot has accrued a wealth of architecture, treasure, and culture that along with its balmy Mediterranean setting make it one of the cities in France most visited by holidaymakers (and of course a huge cruise port of call).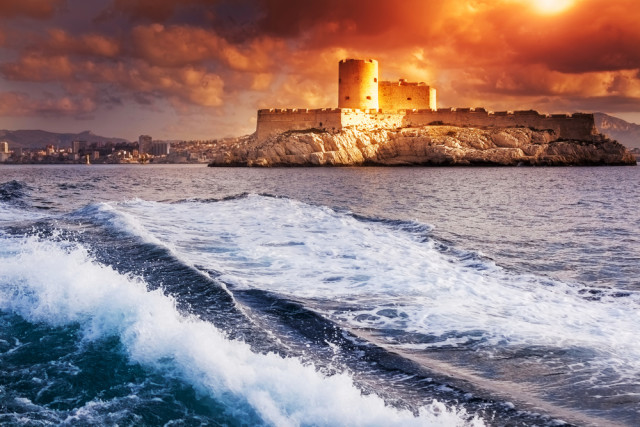 photo | Olesya Kuznetsova
What better place to start a visit to this old port than the Old (Vieux) Port, the picturesque waterfront where much of Marseille maritime history was made. These days much of the city's freight and heavy-duty port activities go on at facilities on the outskirts, and what's here today are mostly tour boats, yachts, and other pleasure craft, as well as public spaces where exhibitions and performances take place when the weather's warm. There's also a section of the Quai des Belges where fisherman still come in early each morning to hawk their wares – if you can get up early enough, it's a true slice of Old Marseille.
Just offshore, take one of those excursion boats to the 16th-century Château d'If (above) on the of the same name, for great views back toward the city and a historic vibe (it was here Alexandre Dumont depicted the imprisonment of his title character in The Count of Monte Cristo).
North of the port, Le Panier is the warrenlike, atmospheric heart of the city's Old Town (so old it has the remains of the ancient Greek agora), while the main commercial boulevard running through Old Town is La Canebière, where you'll find the impressive likes of the Stock Exchange, art galleries, luxury fashion boutiques, bookshops, parfumeries, department stores like Galéries Lafayette, and a succession of cafés which make delightful pit stops and resting places while shopping.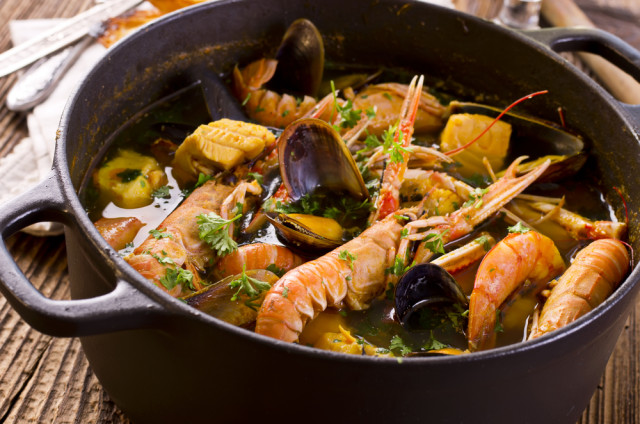 photo | hlphoto
The pair of local churches most worth a visit – both from the 19th century – are the Cathédrale de la Major on Place de la Major, with green-and-white striations and grandiose dimensions reminiscent of St. Peter's in Rome, and Notre-Dame-de-la-Gare, an also green-and-white-striated, neo-Byzantine vision which is an iconic part of its skyline and features a remarkable collection of ex-votos, offerings to the Virgin Mary for answering prayers, in the form of artworks and other objects.
Among other highlights are some great museums, including distinguished fine arts, contemporary art, Egyptian collections; and the new Musée des Civilisations de L'Europe et de la Méditerranée, a kind of independent mini-city, whose permanent and temporary exhibitions distill the essence of Mediterranean civilisation through its art history, archaeology, and anthropology. Also of special interest in this city of immigrants (and all the more given the topic's extreme relevance in current events) is the Regards de Provence, where immigrants were "disinfected" and given medical treatment; today it's a museum of immigration as well as a venue for art exhibitions.
Don't forget to look into getting a Marseille City Pass, which gets you free admission to various attractions, museums, and transport options for 24, 48, or 72 consecutive hours (24, 31€, or 39€, kids 17€/20€/23€). And in an upcoming post, I'll speak of local restaurants and cuisine. For now, suffice it to say that no visitor should leave Marseille without sampling the local seafood – first and foremost the savory fish/seafood stew known as boullabaisse (above). Délicieux!
More information: Marseille-Tourisme.com.
Best fares to Marseille from the USA, from Spain.