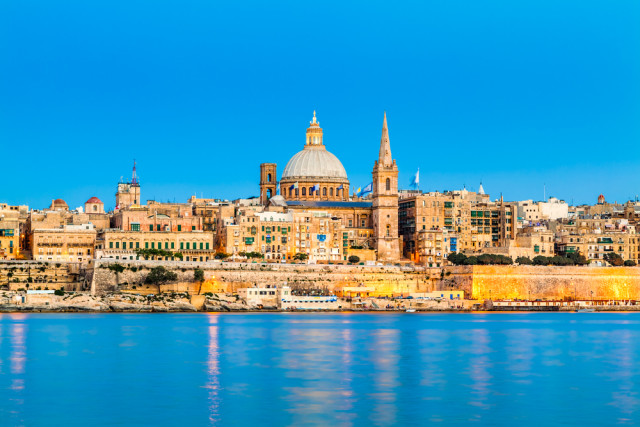 photo: INTERPIXELS

On one of the quirkiest islands (well, archipelago) in the Mediterranean Sea, you'll find a fascinating society that's one of Europe's most densely populated, essentially founded during the mediaeval Crusades by a quasi-military Catholic religious order, the Knights of Malta; and where locals drive on the left and are basically bilingual in English and the native language – Europe's only Semitic tongue, largely a hybrid of Arabic and Sicilian. 
Furthermore, this singular country of just 316 square kilometres (122 sq. miles) and 445,000 people has been ruled and influenced over the course of its history by a motley parade of settlers, invaders, and colonisers dating back to the ancient Phoenicians and Romans, followed by the Arabs which so shaped its language, Sicilians (ditto), then colonising powers i ncluding Spain, France, and finally – until Maltese independence in 1964 – Great Britain, whose legacy includes English as a co-official language.
And so today, the architectural, historic, and cultural treasures bequeathed by a diverse history mix with dramatic scenery (including some sweet beaches) and Europe's best diving, to offer visitors a magnificent Mediterranean morsel indeed. Here are five of the coolest things about Malta: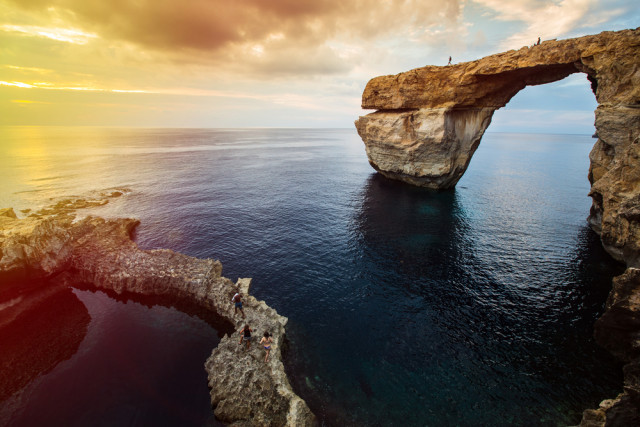 photo: Zlikovec
Maltese Landscapes
Flying into capital Valletta, you'll be impressed by lots of contrasting scenery – the dramatic coastline, the city's majestic architecture, and perhaps above all the shining azure sea surrounding it all; arriving by boat (this is also a popular cruise port), you'll see the impressive city's skyline (top) loom before you as you pull into its harbour. And once you're here, exploring the coast in particular will have you snapping megabytes worth of photos at spots such as the beaches of Comino; the picturesque (albeit unpronounecably named) coastal town of Marsaxlokk; and the island of Gozo's famous Tieqa Żerqa (Azure Window, above), so impressive it was chosen as backdrop for a key scene in Game of Thrones.
Maltese Culture/History
Despite its small size, this country can boast three UNESCO World Heritage Sites: the Hypogeum of Hal Saflieni (the world's only known prehistoric temple, dating back to 3300 BC); several other megalithic temples billed as the world's oldest freestanding manmade structures (at least 3600 BC, and perhaps even older); and the entirety of Valletta's Old Town (much of it dating to the 16th century), which besides its marvelous architecture is also home to masterworks in several distinguished art museums as well as churches (the Co-Cathedral of St. John, for example, is home to one of Caravaggio's most important works, The Decapitation of St. John).

Maltese Cuisine
A tasty Mediterranean potpourri of Sicilian, Arab, and English influences, it involves a fair bit of grains such as barley and wheat (including pasta and pastries), honey, almonds, dates, as well as fish and meat dishes; cheese is also pretty big here, such as gbejna, small rounds of sheepsmilk or goat cheese (often served as an aperitif). Other key specialities include the national dish fenkata (rabbit in tomato sauce), timpana (stuffed pasta), and cannoli similar to Italian style.
Maltese Language
Even for Europe, Malta is an unusually polyglot place – in addition to Maltese, most locals speak English, a majority also Italian, and a fair number French. Maltese is a fascinating language to hear – and although it's too hard to pick up just casually, you can always learn several key phrases like "thank you" (grazzi), "good day" (il-ġurnata t-tajba), and "goodbye"(addiju). And by the way, interestingly, Malta has also become an important destination for those studying English, and there are many schools offering instruction at all levels.
So…Maltese, if you please!
More information: VisitMalta.com.
Best fares to Malta from the USA, from Spain.