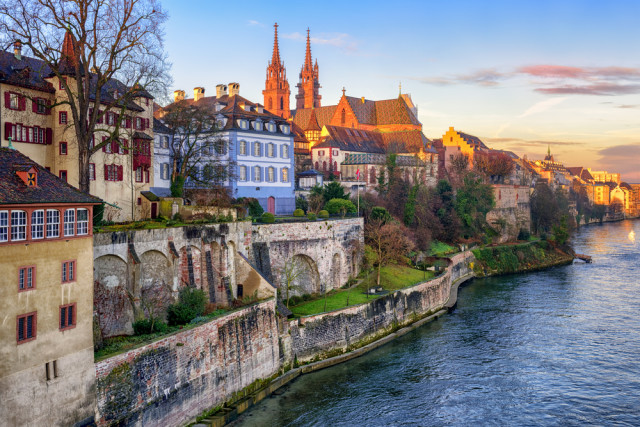 In quite a few ways, Switzerland's third largest city (pop. 195,000) is a pretty typical Olde Europe urb. Prosperous Basel goes back a loooong way (with origins traced back to Bronze-Age tribes in the 5th century BC). It has no shortage of handsome architecture from mediaeval to contemporary cutting-edge. And there's a great dining, shopping, and cultural scene (in fact, it's considered the country's "cultural capital").
But this lovely, laid-back city on the Rhine River can also boast a few particularly interesting and even cool claims to fame. It has been a major hub of Europe's pharmaceutical industry, home to companies such as Novartis and Hoffman-LaRoche. Its location is unusual for a major metropolis – up in northwest Switzerland pretty much on the border with not just one but two other countries, Germany and France, meaning the metro area extends into Alsace and Baden Würtemburg (they call this region the Dreiländereck – "three countries corner"). It's one of those Euro cities which has been a host to various high-profile international congresses and negotiations, starting with the first World Zionist Congress in 1897. And its internationalism, popularity as a trade fair host, and cultural capital status with a dynamic arts scene come together in the annual Art Basel fair (below), founded in 1970, its 46th edition kicking off today.
• The Old Town, on the south and west bank of the Rhine, is of course the place for visitors to start, with major landmarks including:
• The red-sandstone, Romanesque/Gothic Münster, built from the 11th through 15th centuries.
• The much newer (1857-64), also majestic Elisabethenkirche, built in neo-Gothic style.
• Marktplatz (Market Square) with its daily open-air market and presided over by the 500-year-old Renaissance Rathaus (city hall, which by the way in the local dialect of German is called Roothuus).
• Three old town gates such as the Spalentor, dating back to 1400.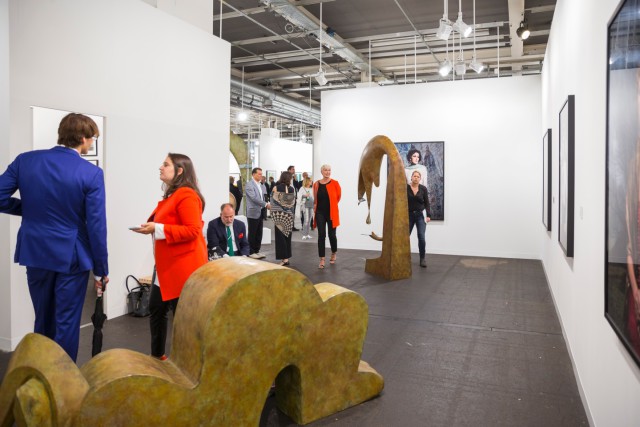 And if you're a museums maven, are you in luck – there are a good 40 high-quality examples to keep you busy and happy, with top stars such as the Kunstmuseum, one of the world's oldest municipal art collections; the also distinguished Kunsthalle, focussing more on temporary exhibitions; an Antikenmuseum displaying treasures of ancient Mediterranean civilisations; and the Schweizerisches Architekturmuseum, covering Swiss and world currents in architecture.
And there's an annual event besides Art Basel which is one of the highlights of Europe's festivals calendar: Fasnacht, the vibrant local version of pre-Lenten Carnival, when thousands of costumed locals parade through the Old Town streets
Finally, if you come, it's worth your while to pick up a Basel Card, which beginning at 20 Swiss francs for 24 hours (10 for kids) includes a city tour and zoo entrance, half off museum admissions, and a slew of other discounts on shopping, dining, theatre, and river cruises.
More information: Basel.com
Best fares to from the USA, from Spain to Zurich, about an hour away by road or rail.

photos | Boris Stroujko, Art Basel