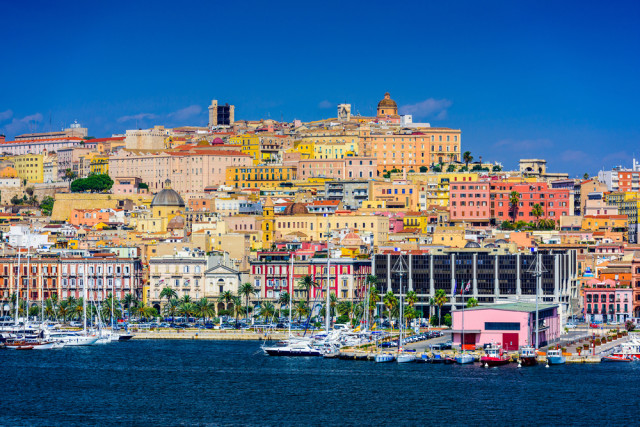 The Mediterranean's second largest island after its neighbour Sicily, Sardinia has become known among holidaymakers internationally for its beaches and the upmarket, jet-settish vibe of areas like its Costa Smeralda, along its northeastern coast. But the other side of this island is an ancient and multifaceted geology and history – as well as a distinctive local culture and not one but two local languages that set it apart from the rest of Italy – which never fails to charm and even fascinate those who venture beyond the sands to its hinterland (some of which, nature lovers will be thrilled to know, remains remarkably wild).
Sweet beaches stretch some 1,930 kilometres (1,200 miles) of coastline, with stars such as the bay-enclosed white-sand crescent Spiaggia del Principe, south of chichi Porto Cervo and so-named because it was supposedly discovered by the Aga Khan. But there are also the likes of six-kilometre (3½-mile) Chia Bay, near the bottom of the island, its seven beaches (above) featuring transparent waters, huge dunes of pale, silky sand, juniper trees, and nearby ruins of an ancient Phoenician city. And silvery-sand Bidderosa Beach is a series of five coves in a nature reserve heavy with pines, juniper, and eucalyptus up on the east coast near the medieval village of Oro.
There are a pair of cities with more than 100,000 inhabitants – capital Cagliari on the south coast (top) and Sassari in the northwest – as well as another dozen smaller ones scattered across the island. The capital has sites dating back into the mists of prehistory (such as the Neolithic-era domus de janus, cave tombs dating as far back as 3400 BC), as the remains of a colony of Carthaginians dating back to the 6 century BC, and successive layers of historic from ancient Roman through mediaeval, Renaissance, and 20-century Art Deco and Fascist neoclassicism.
(Fun fact: one of Cagliari's interesting Iberian connections, is the Sanctuary of Our Lady of Bonaria, built in the 1320s by Aragonese/Catalans, among the many conquerors who have ruled the island; furthermore, centuries later, the Argentina's capital Buenos Aires was so christened by Spanish priest who was a devotee of Bonaria's madonna – bonaria in the Sardinian language and buenos aires in Spanish both mean "fair winds".)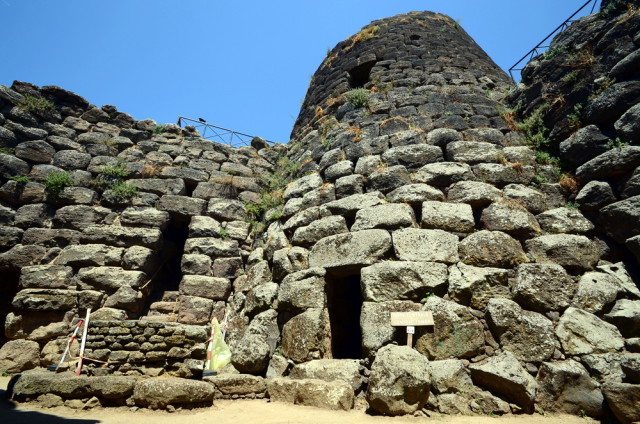 Sassari, too, is rich in art, culture, and history, and is well known for its beautiful palazzi, and elegant neoclassical architecture, such as the Piazza d'Italia and Teatro Civico. Right in the same Sassari district, Alghero is another important city with monuments dating back to the Neolithic – and furthermore, thanks to the legacy of history I mentioned above, a local dialect of Catalan is still alive and well here, even enjoying co-official status with Italian. And there are also numerous lovely old towns to explore throughout Sardinia's, such as the abovementioned Oro, and thousands of fascinating prehistoric stone landmarks called nuraghe, remnants of a Bronze-Age civilisation that was the most advanced of its day.
Ecotourism, soft adventure, and the great outdoors, too, get more than their due, with hiking, biking, and horseback riding through the forested hills, including three national parks and eight regional parks offering superior birding and wildlife spotting (some of the gorges also offer great canyoning options). And the beaches sport the full panoply of aquatic activities, but especially up north, conditions are also great for surfing, windsurfing, and kitesurfing; several outfitters also run cool kayaking tours along the dramatic coast.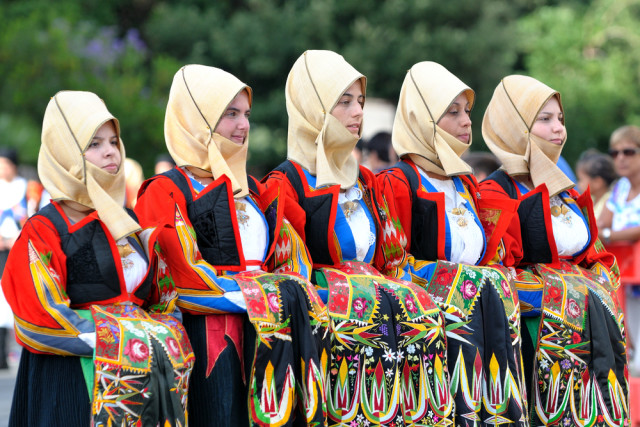 Finally, don't forget to sample local food specialities, too. Suckling pig is one local favourite, but seafood of course plays a major part, such as pasta with fish roe or sea urchin, and there are also a number of wonderful local cheeses (although one of them, sheepsmilk casu marzu, is most definitely an acquired taste, as it contains – on purpose – live insect larvae, yum!).
More information in English: SargegnaTurismo.it.
Best fares to Cagliari from the USA, from Spain.

photos | Sean Pavone,  Gigi Peis, Francescomoufotografo