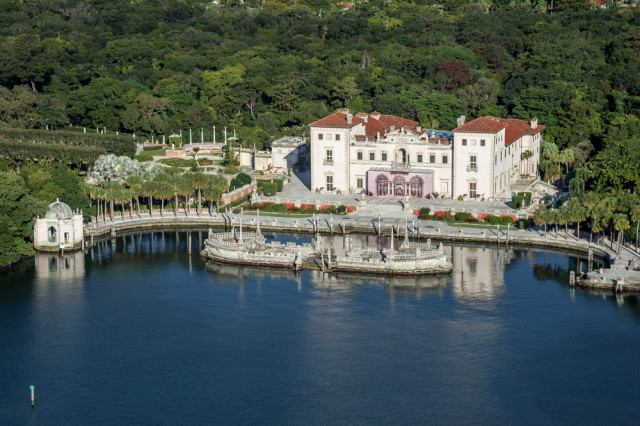 No shocker – Miami Beach and especially its southern tip South Beach get much if not most of the attention when it comes to holiday travel. But Greater Miami is made up of a patchwork of cities and regions which all told offer more history, culture, shopping, dining – and even a fair bit of beaching and clubbing – than SoBe. I'll give you a quickish rundown here, and follow up more in detail in future posts:
Coconut Grove
Stretching southwest along the coast just below downtown Miami, the city's oldest continuously inhabited neighbourhood has several historic residences (including the area's oldest, Barnacle House, and the spectacular Venetian-Renaissance-meet-tropical manse Vizcaya, top). There's also a fun downtown area with great little restaurants, bars, and shops – some of which still exude the bohemian, hippie-ish flair of the Grove's pre-upscale days (including an honest-to-goodness Buddhist temple and guesthouse).
Coral Gables
West of downtown, the USA's first planned and "themed" city, built among orange groves in the 1920s in Spanish colonial/Mediterranean style, it's today one of South Florida's most genteel areas, with superb shopping and dining both downtown and in its Merrick Park mall, along with museums, historic sites, theaters, and one of the USA's classic grande dame hotels, The Biltmore. Pretty good nightlife, too, thanks to young professionals avoiding the hassle of South Beach.
Design District
A once dumpy area above downtown that was turned into an enclave for furniture vendors, interior designers, and architects has just recently been supplemented by several streets newly lined by some of the planet's most luxurious international brands, punctuated by some high-quality restaurants. A must for upmarket shoppers.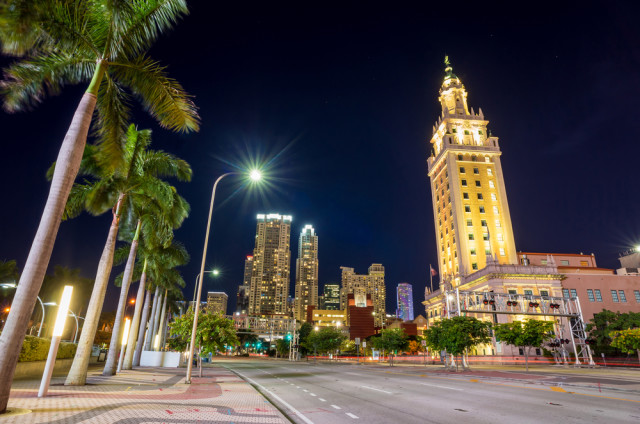 Downtown
A dense and diverse area, its southern half covering the business/hotel corridor along Brickell Avenue (and just west of that, a fast developing neighbourhood of condos plus cool dining, nightlife, and shopping), and above that a mix of workaday businesses with attractions of interest to visitors such as Bayside Marketplace, the Freedom Tower (above), the Arscht Centre performance complex, and several museums covering Florida history, modern art, and as of 2017, science/technology.
Key Biscayne
Zipping out on the causeway between downtown and Coconut Grove delivers you to an upscale island which includes two popular beaches: the stretch in Crandon Park and the lighthouse beach (named for the historic eponymous lighthouse in Bill Baggs State Park. Other notable landmarks include the Miami Seaquarium and the Marjory Stoneman Douglas Biscayne Nature Center. Dining/accommodation, though, is fairly limited (major exceptions being a huge Ritz-Carlton resort and the iconic Rusty Pelican restaurant, the latter with great skyline views).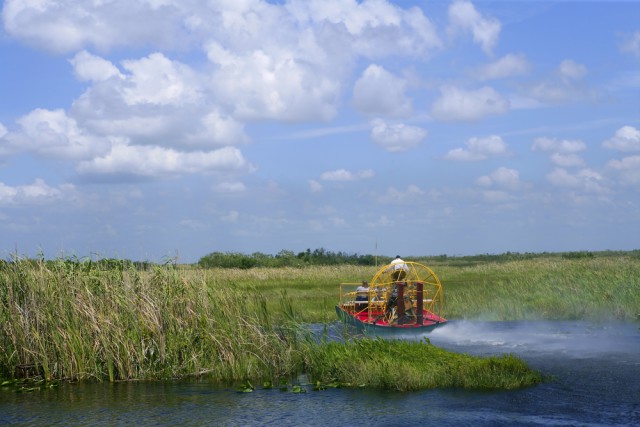 Little Havana
Centred on several dozen blocks of Southwest Eight Street, west of downtown, this was the neighbourhood that changed the face on Miami beginning in the 1960s, hosting much of the refugee influx from Fidel Castro's dictatorship in Cuba. Much of it is drab, but there is a charming a several-block stretch serving as a kind of "downtown" area, with restaurants, galleries, cigar shops and retailers, as well as several landmarks including the Art Deco Tower Theater, a park memorialising fighters for Cuban independence, and another famous for its coterie of older gents playing dominos. What makes the area even more interesting these days is that it's no longer majority Cuban but rather Central American, spicing it up with Nicaraguan, Salvadoran, and Honduran eateries.
Upper East Side
Back in the 1940s and 50s, Biscayne Boulevard was Miami's Broadway., and its decline of the 60s through 90s is now being reversed (including bringing back its funky, mid-century "doo-wop" motels), and some innovative eateries (how about a 50s petrol station turned into a pizzeria?) and shops.
West Miami
What you'll find out here besides suburban sprawl is a handful of attractions such as Metro Zoo (highly recommendable, but ideally not in the heat of summer!) and Coral Castle (a quirky walled compound built out of coral stone in the 1930s through 1950s by an eccentric Latvin immigrant – by hand, such an amazing feat that it has been adopted by fans of the paranormal). But the true star is the Everglades, the spectacular, sweeping "River of Grass" where you can bike, hike, fish, camp, spot alligators, take airboat rides, and learn about the culture of the local Miccosukee tribe (as well as – ahem – gamble in their casino).
In my book, this is among Miami's most exciting, dynamic neighbourhoods of the moment – a warehouse district that has finally caught on with artists, other creatives, and young people. In addition to the galleries and street art, plenty of funky/cool shops, dining, and nightspots; second Saturdays of the month, the evening "art walk" is a fun, festive must. Several blocks northeast, a redeveloped area called Midtown also features fun restaurants and bars.
Other
Other areas of some interest include North Miami, which has for years been trying to brand itself as NoMi, and while it's never quite "arrived",  is worth a visit for its Museum of Contemporary Art (MOCA) but most especially its atmospheric "Ancient Spanish Monastery", a real 12th-century Segovian monastery imported to the U.S. by magnate William Randolph Hearst in 1925, which ended up as a Protestant church and is open to the public.
Elsewhere, new developments include efforts to promote development in interesting "ethnic" neighborhoods such as Little Haiti (which has for years had one of Miami's coolest indie music venues, Churchill's, and now boasts a new arts/cultural center) and Opa Locka (with an Arabian architecture themed downtown, the latter of which has been a poor, badly administered black area for years but is now starting a bit of a renaissance with its own contemporary art center).
More information: MiamiandtheBeaches.com.
Best Iberia fares to Miami from the U.K., from Spain.

photos | FloridaStock, f11photo, holbox, DPA