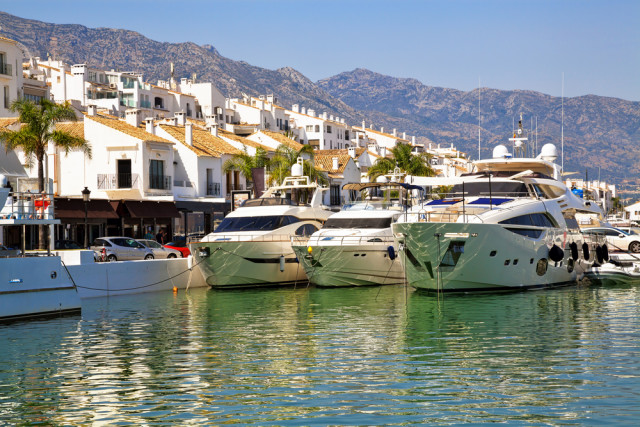 St. Tropez… Monaco… St. Barth… Aspen… Dubai… In this Gilded Age when the so called "lifestyles of the rich and famous" are lionised more than ever before, their playgrounds have also become inevitably become household names. In recent decades, Spain has also come to boast its share, as well, with the likes of Ibiza, Majorca, and Marbella. But no single spot has the plutocrat power of Puerto Banús, the mega-ritzy Andalusia yacht port within the municipality of Marbella, an hour's drive from Málaga.
Named after its developer, 46 years ago, Banús is organised around a 915-slip marina which is home or temporary host to some of the fanciest boats afloat – including, until his death in 2005, that of the Saudi Arabia's King Fahd (yep, you'll see some high-class keffiyehs and headscarves wandering around, as PB is a particular magnet for the wealthiest of Gulf Arabs). On land, too, the rides are totally meant to impress – on my recent visit, I couldn't remember the last time I saw so many Rolls Royces, Lamborghinis, Ferraris, Bentleys, and Bugattis all in one place (in fact, the even more numerous Mercedes, Jaguars, BMWs, Land Rovers, and Audis seemed positively pedestrian in comparison).
Unsurprisingly, then, here it's pretty much all about partying and conspicuous consumption, as becomes clear strolling along the petite waterfront street, Calle Ribera, with its Sinatra's Bar and other watering holes, as well as chichi restaurants, and designer boutiques (all the blue-chip international luxury brands are of course present and humming). And flanking the marina are also a couple of nice beaches, Pedro's Beach to the south and the larger Playa Puerto Banús to the north.
Another interesting note is the local penchant for naming stuff after celebrities. Exhibit A is the main street in from the waterfront: Avenida Julio Iglesias, which runs right by Plaza Antonio Banderas (Nicole Kimpel, the newish Dutch girlfriend of the Málaga-born actor, was recently spotted by the gossip columns shopping for shoes at Jimmy Choo on Calle Ribera).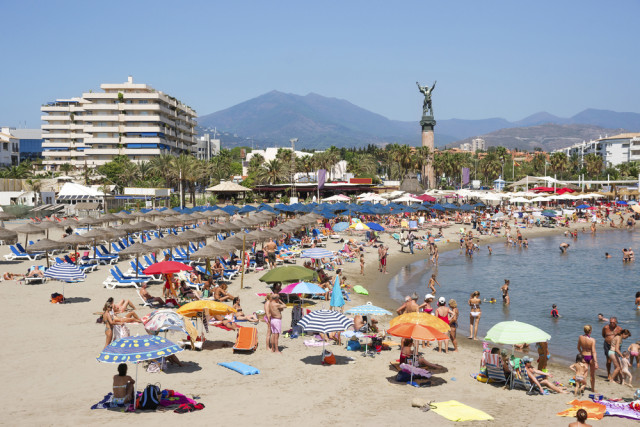 As for culture, don't expect much except (despite the occasional public work such as Salvador Dalì's Rhinoceros Dressed in Lace). Just come and soak up the sun and the ambiance – to get a taste of how the world's one percent live in style, and perhaps do a bit of celebrity spotting (à la Jason Derulo, Simon Cowell, Tom Cruise, Shakira, Marc Antony, Prince Albert of Monaco, and and really an exhaustive list of singers, actors, footballers, and political figures – though you probably won't get to glimpse Vladimir Putin, who apparently mostly keeps to his villa up in the hills when he's in the area).
Just a handful of the top eateries here these days include La Sala, Los Bandidos, Tango, Route 66, and Ocean Club. And as far as accommodation is concerned (should you decide to overnight as opposed to the more common option of taking a day trip from elsewhere along the Costa del Sol), as you might expect, the pickings are pricey, for the most part – and yet, there are also apart-hotels, self catering flats and other more affordable options.
More information: MarbellaExclusive.com.
Best fares to Málaga from the U.K., from the USA.

photos | Vladimir Sazonov, Roman Babakin