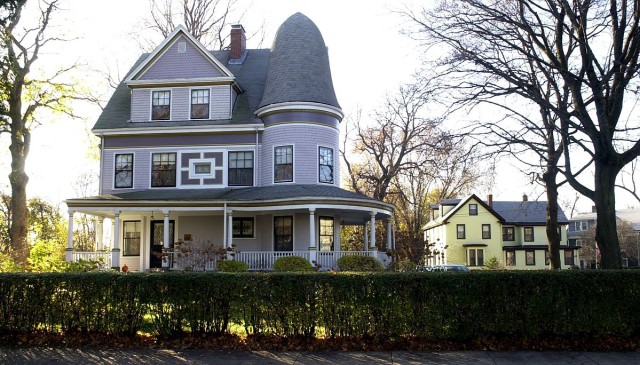 Stretching down Boston Harbour south of "Beantown's" historic centre, the metro area's single largest neighbourhood is also one of its oldest (founded in 1630 by Puritans from the original Dorchester, in the south of England). Later, in the Victorian era, it was an idyllic retreat for the well heeled. But the immigration of the early 20 century turned it into a working-class stronghold, the postwar period saw a decline in fortune, and until recently "Dot" was considered a distinctly dodgy district.
Well, as with South Boston, Jamaica Plain, and other of this city's enclaves, enter urban renewal to work its gentrifying magic in the time-honoured manner. In the past decade, newcomers – especially millennials, artists, and gays/lesbians – have been refurbishing the neighbourhood's many Victorian houses and establishing shops, galleries, restaurants, and nightspots.
And nowadays, not only is the local community a creative and dynamic one, but Bostonites (and, increasingly, ever visitors to the city), take the trouble to hop the T (Underground) from other parts of the city to stroll, eat, drink, and hang out in subsections of Dorchester such as Savin Hill, Ashmont Hill, Jones Hill, Columbia Point, Clam Point, Cedar Grove/Lower Mills, and Gallivan and Morrissey boulevards.
Eating and Drinking in Dorchester
The spine of the area (as well as site of several T stops on the red line) is Dorchester Avenue, which has turned increasingly into a runway of diversity, fusion, and multicultural eclecticism. You'll notice it especially in the local dining scene. For example, in the part of Dorchester known as Fields Corner you'll find a thriving Little Vietnam, with various restaurants serving healthy, tasty Indochinese fare.
"Dot Ave" is also home to a U.N. of ethnic groups including Haitians, Jamaicans, Central Americans, and Mexicans (the famous "burtilla" at the Sea Breeze Mexican Grill at 1782 – a beef burger wrapped on a flour tortilla with three-cheese blend jalapeño served over guajillo sauce topped with guacamole & tortilla chips – is an experience), Polish (sample the delicious traditional pierogi of Café Polonia at 611).
Trendier, more upscale spots also abound, such as the modern tavern American cuisine served at the Ashmont Grill (555 Talbot Ave., 617-617-4300), as do cool bars with excellent food and good dancing (many people really love the cosmopolitan dbar at 1236 Dot Ave, 617-265-4490). And of course in the age of craft beer and microbreweries, don't forget to have a pint or two of local talent such as Dot Ale or Hip Hop IPA from the Percival Beer Company (there's a reason Percival named one of its brews after hip hop – musical melting pot Dorchester has been a magnet for musicians since the 1970s, and in particular it's become one of the hip hop hubs of the northeastern U.S.).
Dorchester Sights
Furthermore, in addition to the scene that's developed in recent years, there are also a number of fascinating historic sights that are a legacy of Dorchester's centuries of existence. Highlights include:
Pierce House
It's one of the oldest houses in Massachusetts, its oldest part dates as far back to 1683, and was occupied by members of the same family from then all the way up to 1968. You can visit the grounds at 24 Oakton Ave., though the interior is open just for events; the general public is admitted just twice a year, May 16 and October 24.
The Harrison Square Historic District
Also known as Clam Point, this area is famous for its excellent collection of historic mansions such as those on Mill Street must be seen, and they all deserve to be photographed, as they compile different styles of the 19th century.
The Commonwealth Museum
This hidden gem at 220 Morrissey Blvd. is compact but dense, curating the history of Massachussets in great detail.
Honourable mention goes to the local art-gallery scene, thanks to innovative venues like Howard Art Project (1486 Dorchester Ave.), HallSpace (902 Dorchester Ave, Friday and Saturday afternoons only.), and the Caribbean Arts Gallery (155 Washington St.).
So if you like discovering up-and-coming neighbourhoods before they become too "touristy," adore Dorchester!
photo | Jameslwoodward,