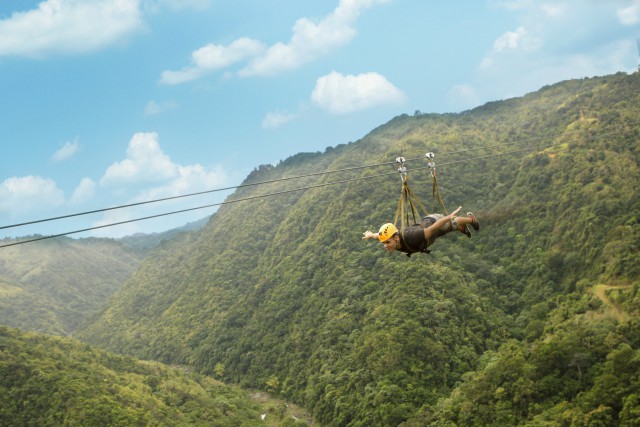 If you're heading to Puerto Rico, here's a list of musts:
Sunbathing on its heavenly beaches
Soaking up its history and colonial architecture
Moving your hips to its salsa beats
And now, whizzing along the world's longest zipline….Yes! It promises to be unforgettable!
This Caribbean island just keeps on reinventing itself, coming up with new ways to make your holidays an unforgettable experience. It's not all about sunshine and beach tourism, or even the fascinating historic architecture of Old San Juan. These days, Puerto Rico is doing more than its fair share to emerge as the new favourite destination for adventure sports enthusiasts and adrenaline junkies: kitesurfing, diving, body rafting, parapenting – and now the world's longest zipline. Ready for a rush?
Over the past few years, ecotourism in particular has really been coming into its own as a destination offering new, interesting options to visitors, allowing them to connect with nature and discover first-hand the lesser known side of its stunning landscapes. High on the list is Toro Verde, an enormous reserve in the municipality of Orocovis, in the middle of the island, just an hour and a half from San Juan. A beautiful spot where nature and fun converge to the delight of the adventure aficionados, it's a place where you'll experience brand-new sensations and have the time of your life.
Toro Verde features a zipline course around the park, but its highlight is "El Monstruo", ("The Beast"), a name not given by pure chance: we're talking about the world's longest zipline, a cable of 2530 metres in length and over 300 metres high. Guinness World Records has even certified it. So that you can get an idea of its extent, the distance that you will travel hanging in the air is equivalent to 28 football pitches! And that's not all, because during the descent, you'll reach a speed of 150 km/hr. Sounds like a kick, doesn't it?
The magic starts when you put on your equipment and head for the suspension bridge that will take you to the launch platform; you'll then encounter a moment of absolute silence and time will stand still, encouraging you to embark on the most wonderful of adventures. You'll be equipped with a radio system so that you will have the chance to communicate with others in your group during your descent and also make them part of the experience.
During the few minutes of the descent, you'll feel like the world's luckiest person, overawed by the exceptional scenery viewed from the most stunning of perspectives, and when you finish, you'll receive a ride certificate with your name, the exclusive jacket of "El Monstruo", which includes a patch with your ride number and a photograph to make you the envy of all your friends.
Within its complex, Toro Verde has developed a complete tourism package, including a lovely souvenir shop so that you can take home a memory of your trip to the park, and an excellent restaurant where you can enjoy tasty Puerto Rican recipes with a twist of sophistication, thanks to the expertise of chef Carlos Ortiz.
Are you up for it?