Today on Cinco de Mayo, many Mexicans – mostly those outside Mexico – celebrate their national pride around the 1862 defeat of French invaders here in Puebla, just over two hours southeast of Mexico City, and the locals of course celebrate enthusiastically as well. Then in the early 20th century, the city was also the site of events that led up to the Mexican Revolution.
But many Mexicans (and visitors) appreciate this UNESCO World Heritage colonial city of 3 million as much – and perhaps even more – for its lovely Talavera ceramics and pottery, and most especially its mouthwatering regional specialities, scrumptious contributions to Mexican cuisine.
When discovering Puebla cuisine, you of course need to start with its mole (top), its most famous dish, a rich, dark sauce for poultry, a blend of the culinary knowledge of the local mestizo people and that of the convent monks. There are many ways to prepare mole, but common ingredients include cocoa, chilies, almonds, sesame, cinnamon, parsley, onion and garlic.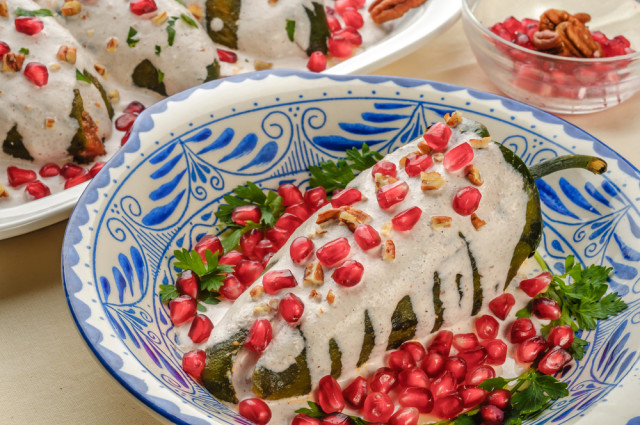 Another famous entry, invented by nuns in the 1820s to serve a visiting bishop, is chile en nogada, non-spicy poblano chiles stuffed with chopped meat laced with apples, pears, and peaches. All that is then drizzled with walnut sauce and garnished with parseley and red pomegranate seeds. It's especially popular in August and leading up to Mexican Independence Day on 16 September. A lovely mix of flavours, textures, and colours specifically meant to evoke the Mexican flag.
Street food is also delicious here. Chalupas are corn tortillas fried in butter and served with shredded beef, while cemitas are a type of sandwich filled with ingredients such as beans, white or yellow cheese, ham, beef, enchilada, onion and many other combinations. These can be found all over town, generally ordered at hole-in-the-wall streetside counters and eaten standing out on the pavement. To find the best places, you just need to look out for the counters attracting the most locals.
Puebla's typical sweets deserve a special mention, as there are some 300 of them! They include delights such as the tortitas de Santa Clara (sugar-glazed butter biscuits), camotes (candied sweet potatoes), marzipan, and alegrías (biscuits made of amaranth and honey or molasses), and many other sweets that will ensure travellers leave Puebla with a sweet taste in their mouths.
More information:  VisitMexico.com.
Best fares to nearby Mexico City from the U.K., from Spain.

photos | JuanSalvador, AGCuesta