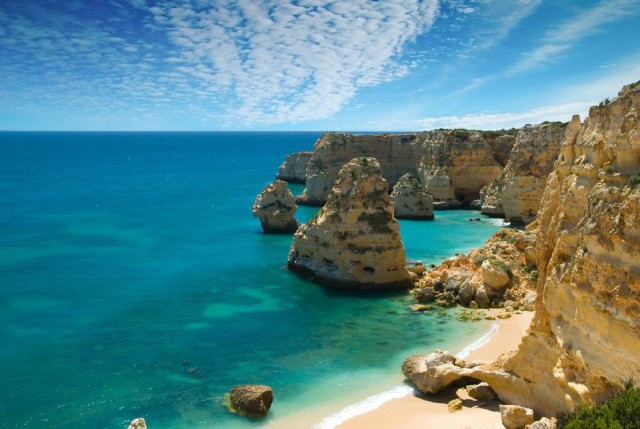 Spain's petite next-door neighbour is a seemingly endless source of fascinating and pleasure for visitors, but Portugal's most popular area with sun-seeking holidaymakers for generations has been its southernmost region, the 4,997-square-kilometre (1,929-sq.-mile) wedge known as the Algarve. Traditionally devoted to agriculture as well as coastal fishing, much of this area is still largely bucolic and sleepy, but there are also some stretches of coast with dramatic rock formations – and 200 km (125 mi.) of more than a hundred beaches – which are as resort-developed as anywhere else in Europe. Bottom line: something for every style, preference, and age of holidaymaker.
The capital, Faro (pop. 65,000) is roughly in the middle of the Algarve's southern coast, is where the region's airport is located, and has a bit of an urban flavour while still very manageable in size. Its sweet local beaches bring the crowds in summer, with a party atmosphere, but Faro also offers a bit of interesting history in its Cidade Velha such as the 13th-century cathedral; a city museum including Roman artifacts from the nearby Milreu ruins (which can also be visited 10 km/seven mi. out of town); even a Jewish museum and cemetery. There are also several other attractions including a science and maritime museum, and great golf courses nearby (as well as along this entire coast).
Outside the capital, here's a quick rundown of some of Algarve's more notable spots:
Algarve Coast
Albufeira
One of the region's top resort towns, a 45-minute drive from Faro, its beaches are a mix of popular (and in summer, pretty crowded) and smaller, more secluded strands. "The Strip" and the touristy parts of town are rockin' and rollin' during beach season (May to October) when the town's 40,000 or so residents skyrocket, but the cobblestone streets and whitewashed façades of Old Town make a lovely oasis.
Lagoa
A half hour west of Albufeira, another town and municipality (pop. 23,000) that's become a tourism powerhouse, with some two dozen fetching beaches including world famous Praia da Marinha (top), frequently rated one of Europe's most beautiful because of its dramatic cliffs and splendid waters. The small town at the centre of it all is cute, with Manueline architecture dating back to the 16th century. There are also plenty of other holiday-oriented attractions in the area such as Slide & Splash, one of Europe's biggest water parks.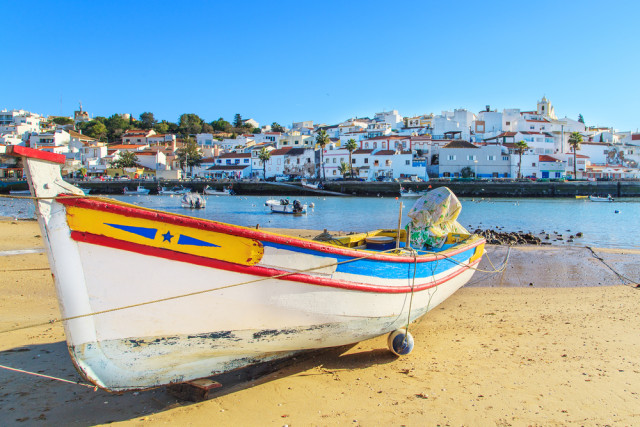 Lagos
An hour's drive west of Faro, Algarve's onetime capital (today's year-round population 22,000) is today one of Portugal's top holiday magnets. But the great thing here is that despite the summertime crowds, partying, and various lovely beaches, there's also a fascinating historic dimension to a city with roots reaching more than two millennia into the past, and its current award-winning campaign to promote tourism sustainability. Notable landmarks include Europe's first slave market (1444); the Ponta da Bandeira Fort; ruins of an ancient Roman villa and fish salting tanks; and the 16th-century city walls. Smaller towns nearby include Praia da Luz, especially popular with English holidaymakers.
Portimão
Algarve's second largest city (municipality pop. 56,000, above) is located where the Arade River meets the coast, between Albufeira and Lagos. The city proper is mostly a mix of 19th- and early-20th-century buildings (sprinkled with some earlier landmarks, such as the 17th-century Jesuit College and 15th-century Our Lady of the Conception Church. One of the Algarve's most famous beaches, the Praia da Rocha, is in the area, as are a number of smaller beach towns such as Alvor. In addition to attracting beachgoers, this area is also something of a sailing and boating centre, hosting lots of events, and scuba divers will positively bubble over the world's largest single artificial reef (four sunken Portuguese navy ships).
Sagres
A beach town amid dramatic scenery (such as the spectacular cliffs of Cape São Vicente) out at Portugal's southwestern tip, it was once known as the site of the nautical school established by the 15th-century Prince Henry the Navigator. Many visitors trend a bit younger and are more laid-back, with lots of surfer types, and the development is lower-key.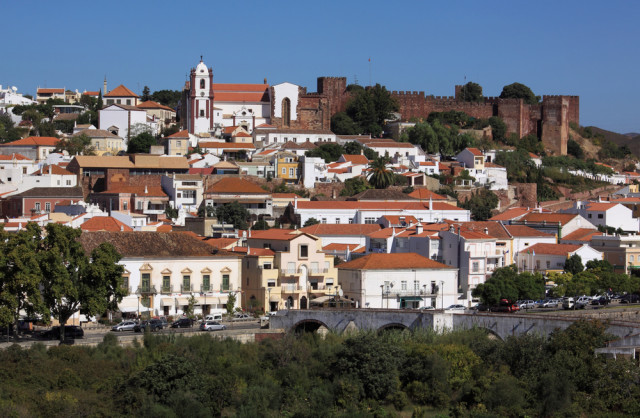 Inland Algarve
Here's is another side of the Algarve altogether, where the rhythms of life are closer to the traditional past. Some of the highlights up here can be done as day trips from the coastal resorts, or you could take and overnight or two and explore more at length. One particularly notable town is Loulé, 18 km (11 miles) inland from Faro, known for its markets; there's also a lovely 13th-century Gothic church, the Igreja Matriz, and a Moorish fortress now housing the town museum.
Others include Silves (above), up the Arade River from Portimão, once an important Moorish capital as the gateway to the Algarve's interior; its hilltop castle of that era, with its 11 towers, is the region's best preserved, and its Gothic cathedral is the most impressive. Up in the Serra de Monchique mountains north of Faro, Monchique is a town of narrow cobblestone streets and local specialities including handicrafts and a potent liqueur called medronho. Also inland from Faro, Tavira is an ancient town on the Gilão River characterised by its white mansions with wrought-iron balconies, 21 churches, and a pleasant beach ilsand, Ilha da Tavira.
More to come on this lovely corner of Iberia's world, but in the meantime, get more information at VisitAlgarve.pt.
Best Iberia fares to Faro from the USA, from Spain.


photos | Ricard12, Marcin Krzyzak, John Copland