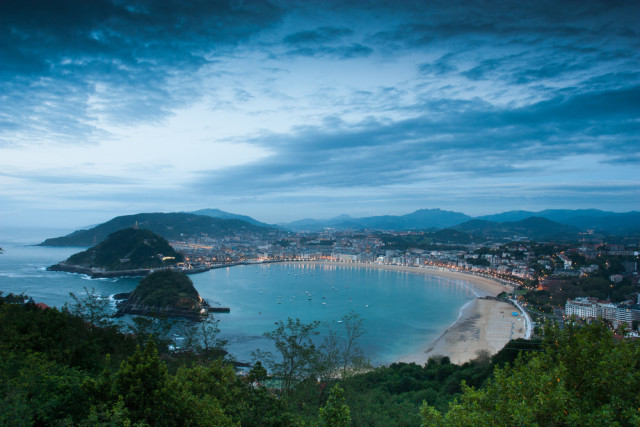 As many of you know, every year since 1985 the European Union has designated a pair of cities to be spotlighted as organisers of a yearlong programme of cultural events to – among other things – promote Europe's shared heritage and raise these cities profile and spur cultural, social, and economic progress. It seems to have worked out pretty well these past three decades, and this year it's the turn of Wroclaw, Poland (which we profiled here last month), and Spain's own Basque Country gem, San Sebastián.
This picturesque, largely Belle-Époque city (pop. 186,000) astride the Bay of Biscay couldn't be a more splendid fit as European Capital of Culture, as since it's already long been a cultural bastion since becoming a favoured holiday spot of royalty, aristocracy, and the intelligentsia beginning in the mid-19th century. It's true more than ever in the 21st century, for example, as the site of one of Europe's highest profile contemporary art venues, the Guggenheim, and some of Spain's most prestigious and high-profile cultural celebrations, most notably the San Sebastián International Film Festival in September and July's big jazz festival (officially called Heineken Jazzaldia).
So this year, the streets and venues have already been alive with the sound of music – and conferences, and poetry, and people consuming every conceivable type of visual, aural, and tactile input on a wide variety of subjects and themes – some of them universal, others very rooted in the moment. One just ended was the Stop War Festival.
A small sampling just in April, for example, includes:
Balenciaga Through the Lace   An exhibition, at the museum devoted to one of Spain's most famous fashion designers, focusing on his use of lace, a textile particularly engrained in Spanish culture and history.
Europa Transit: Messages From the Border   Screenings of a documentary about immigrants trying to enter Europe via the Spanish city of Ceuta, on the coast of North Africa.
Soka: Focus on Basque Dance   Presented in four languages, a multi-media look at a lesser known side of Basque culture.
Women and the Sea   Hosted by the local Shipping Museum, an interesting take on both the female half of humanity and humanity's relationship with the ocean.
So if you're planning to be in this neck of the woods at any point this year, check the agenda at DSS2016, and you're bound to find something that will entrance you!
By the way, coming up next year: Aarhus, Denmark and Pafos, Cyprus. Stay tuned! 😉
More information in English: DSS2016, San SebastianTurismo.com
Best Iberia fares to San Sebastián from the U.K., from the USA.

photo | Anna Morgan