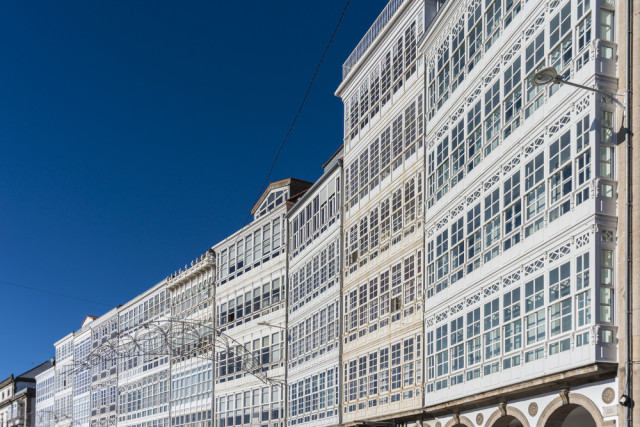 One of Spain's breezier, more gracious maritime cities is a bracing must for any visitors to the country's northwest, proudly facing the Atlantic as well as the Riazor (one of many rías – Galicia's version of fjords – that indent this coast). While you can linger and enjoy A Coruña's pleasures for days on end, you can also squeeze an awful lot into 24 hours without even seeming too rushed, as I did on a recent weekend getaway from Madrid. 
I arrived in the morning, and my first stop was the Pandelino Bakery Shop (Rúa Rosalía de Castro 7), right in the middle of downtown – a gourmet café/bakery I love for its charming Provençal décor and lovely selection of coffees, teas, and tasty pastries, accompanied by lemon or mandarin marmelade. Perfect for some genteel fueling up for the day ahead.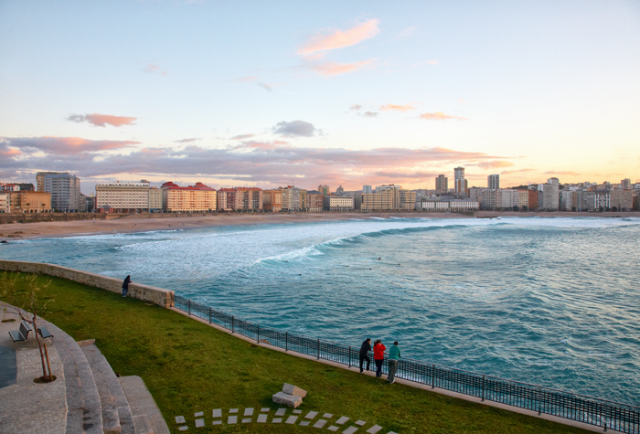 Next stop after breakfast: just a block away, the Casa Museo Picasso (Calle Payo Gómez 14). Within Spain, many tend to associate the 20th century's most famous maestro with Málaga and Barcelona, but fewer remember that Picasso lived as a child (9 to 13 years old), and experienced a number of firsts: first puppy love; first naked lady (nearby on Riazor Beach, above); and first public art showing. This house-museum is located in the Ruíz Picasso family's onetime quarters on the second floor of a modest three-storey building with traditional white balconies, and provides an interesting look both into the artist's early family life and the life of a middle-class family of the late 19th century.
Then I headed out just a couple of blocks up the street toward the salt tang and sound of waves, for a stroll along Paseo Marítimo along the city's white-sand, crescent-shape Riazor Beach, a Blue Flag beach (certified as meeting the highest environmental/ sustainability standards). A little chilly to take a dip this time, but bracing sea air and views seemingly out to infinity – wow, absolutely inspiring.
Continuing my stroll along this beach, I eventually come to Calle Ángel Rebollo, where I finally get to check out an experience I'd long been meaning to try. That is Domus/House of Man, the world's only interactive museum devoted to science of the human body, evolution, genetics, and more, in a masterful wedgelike building designed in the 1990s by starchitect Arata Isozaki. And though I like to think I'm pretty up on the subject, I learned sure a few new things, too.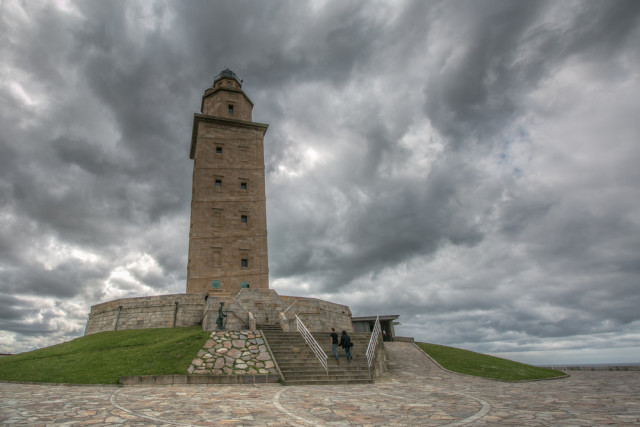 From this museum it was a ten-minute stroll up to the park that's home to A Coruña's most amazing site (and sight) of all: the UNESCO World Heritage Torre de Hércules (Tower of Hercules). Built in the 1st century AD by the ancient Roman colonisers of the area then called Brigantium, it still functions as a lighthouse along the so-called Costa da Morte (Coast of Death), and also welcomes visitors. I walk up the stone access ramp built nearly 2,000 years ago; past a display of some of the original foundations; then up 234 stone steps to the balconey to take in the surrounding land and seascapes.  Although the look of the tower today isn't the same as it was in Roman times, but rather a neoclassical restoration of 1788, this is still a breaktaking and incredibly inspiring ancient monument – in itself worth the trip to A Coruña.
That night I spent tapas-bar-hopping around the Old Town streets Calle Estrella, Calle Barrera, Calle Galera and Calle Olmos, in spots like stone-walled Taberna de Cunqueiro. The scene out here is hopping just about every night of the week, but especially on weekends. Everybody's in a great mood, and you're bound to make friends – I certainly did! 😉 In any case, a tasty end to a tasty 24 hours in A Coruña…
More information in English: TurismoCoruna.com.
Best Iberia fares from the U.K., from the USA.
photos | Anibal Trejo, Turismo de A Coruña, Carmen Cristino