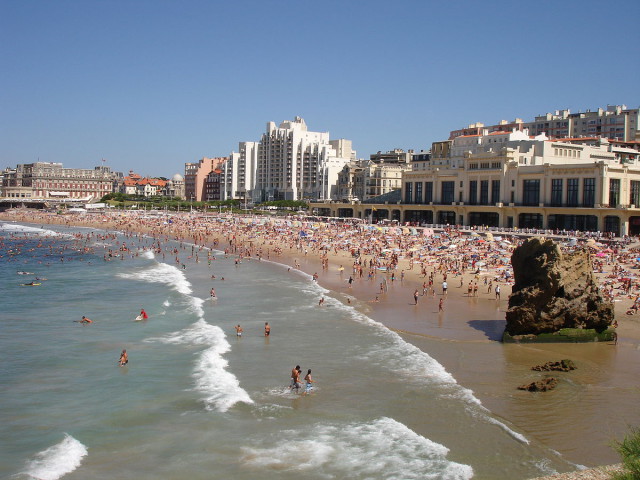 Astride the coast of the Aquitaine region and France's Basque Country, the country's southwesternmost city (just 19 kilometres/12 miles from the Spanish border) has been one of its most famous seaside resorts since the mid-19th century. And still strongly flavoured with the Belle-Époque/Art Deco elegance of its heyday, Biarritz continues to attract a interesting mix of upmarket bourgeoisie with conventioneers – and increasingly in recent years, a younger, more boho crowd which has been making it a fashion hub as well as the capital of coastal cool that St. Tropez used to be (at least in summer). Then there are the surfers, who have transformed it into France's surfing capital.
The centrepiece that launched it all, of course, are Biarritz' half dozen long, golden-sand beaches. The broad Grand Plage (top) at the edge of the Old Town is the classic see-and-be-scene strand, while others include Plage Miramar (north), Plage Marbella, and Plage de la Côte des Basques (south), the last two of which are the most popular with surfers. Meanwhile, especially great for families, the Old Town itself has a sweet, calm little cove called Plage Port Vieux, and the sixth beach, Plage Milady, is at the southern edge of town, with a boardwalk and playground.
The marine motif is central to one key pair of attractions. The Musée de la Mer (Sea Museum) is a mix of exhibits on Biarritz' maritime past back to its mediaeval orgins as a whaling village; large aquariums focussing on marine life from the Bay of Biscay, the corner of the Atlantic on which the city sits; and seal shows (it also happens to be based in a great Art Deco building). It's supplemented by the nearby, newer, and more cutting-edge Cité de l'Océan, with a snazzy, multimedia treatment of the world down under (including a simulated submarine ride).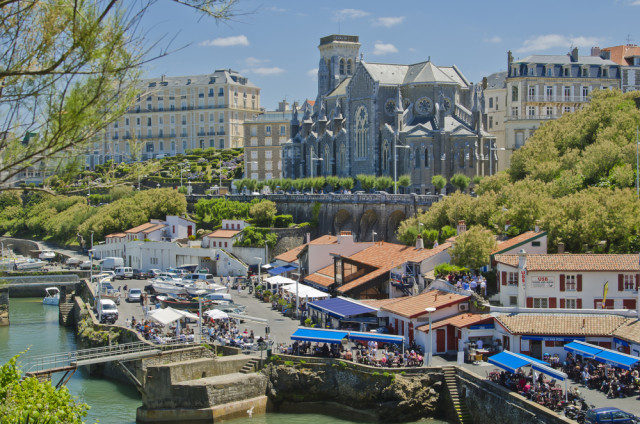 Beyond all that, given this city's respectable pedigree, there's also a fair amount of history, culture, and urban elegance for visitors to enjoy. The centre of the Old Town is the Place Georges-Clemenceau, with another picturesque nearby square Place Bellevue.  You'll find interesting sites such as a 19th-century Russian Orthodox Alexander Nevsky Church (highly unusual in Western Europe, but so many were the Russian aristos who used to holiday here back in the day). Other museums include the Musée d'Art Oriental, featuring some wonderful works from China, India, and Tibet; the Musée Historique, with an unusual setting in onetime St. Andrew's Anglican church; and the Musée du Chocolat, exploring all aspects of chocolate including the city's own distinguished chocolatier tradition (hot cocoa tasting included, yum).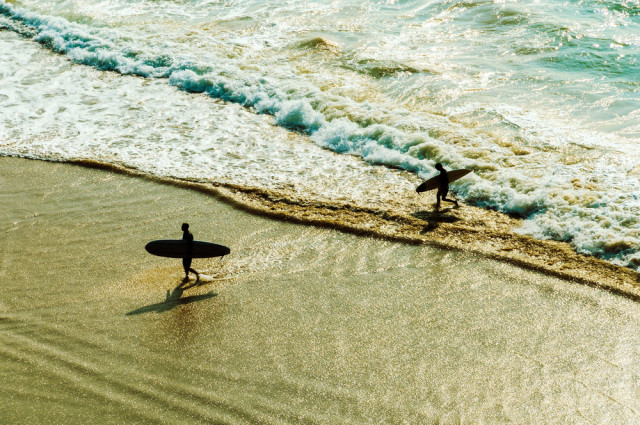 Other Biarritz Musts
• For a great view over the city and coast all the way down to Spain, head out to the dramatic Rocher de la Vièrge, a huge rock just offshore connected to land by a long iron footbridge.
• Have tea, coffee and/or éclair, strawberry tart, or other classic dessert at the iconic  Pâtisserie Miremont (est. 1872).
• Attend a game of Basque pelota (also known as jai alai), a tremendously fast-paced variation on handball, played against a wall with a ball and two players wielding curved wicker scoops.
• Even if you're not a gambler, have a look at the Art Deco Casino Municipal, built in 1929, and the also historic Casino Barrière, both right on the beachfront.
As for accommodation, of course there's a large range, from hostels and flat rentals up to the traditional grandes dames dating back to the 19th-century days when Emperor Napoléon III and Empress Eugénie (of France's Second Empire, 1852-1870) and their hangers-on put Biarritz on the map as their playground. But there's a special place for the handful of hotels/resorts – both traditional and contemporary – which besides the usual accountrements and amenities offer facilities dedicated to thalassotherapy, which involves immersion in warm seawater, marine mud, and protein-rich algae to restore the body's natural chemical balance (seawater and human plasma being quite similar in terms of mineral content). Prominent examples include the Thalassothérapie Accor Thalassa Biarritz and Sofitel Biarritz Miramar Thalassa Sea & Spa.
Finally, if you have time, there are several cute, historic little towns that make wonderful day trips, such as Espelette, Hendaye, Saint-Jean-de-Luz, and Saint-Jean-Pied-de-Port.
Iberia subsidiary Air Nostrum starts to Biarritz daily except Sunday; for best fares from the USA, Spain and elsewhere, log on to AirNostrum.es.
More information in English: Tourisme.Biarritz.fr.

photos | Pinpin, Bildagentur Zoonar GmbH, Dutourdumonde Photography