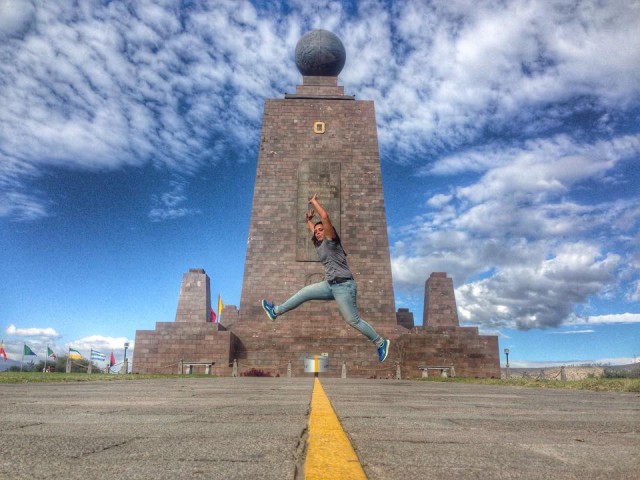 The imaginary line encircling our planet, dividing the Northern Hemisphere from the Southern Hemisphere, may be abstract but has always exerted a very real fascination and mystique. And one country in particular has staked no small part of its very national identity on this line, the Equator – to the point of naming itself Ecuador. And it's here, for example, that you'll find a bit of business called the "Middle of the World City". 
Some 26 kilometres (16 miles) north of capital Quito, in 1935 the Ecuadorian government of the day raised a modest monument to to a mid-18th-century French scientific expedition to take measurements of the earth, and, among other things, determined the position of the Equator.
As the years went by, the site grew, with a more grandiose monument 30 metres (98 feet) high, added to the original in the early 1970s, as well as several exhibitions and museums, and getting out here is easy, either with an organised tour or even on your own via public bus.
There's just one tiny wee problem. Thanks to the GPS technology of the late 20th century, it was discovered that the original expedition was off on the position of the equator, by about 240 metres (787 feet). Oopsie!
But no matter, the whole park is still an impressive and interesting testament to matters equatorial. When you enter, you'll see the more recent monument, crowned by a stone globe. A yellow line runs up the pavement in front of the monument, symbolising the equator (albeit not quite where it should be – and many a tourist has taken photos straddling the line, supposedly in both hemispheres at once – but you get the idea).
There are four pavilions with permanent exhibitions, two of which deserve particular notice. the Guayasamín Pavillion is dedicated to works of Ecuador's better known artists, and the France Pavillion, about the history of the French Geodisic Mission which started it all. There are also a small planetarium, insectarium, and Ecuador's first entomologic museum.
More information: MitadDelMundo.com.

Best Iberia fares to Quito from the U.K., from Spain.