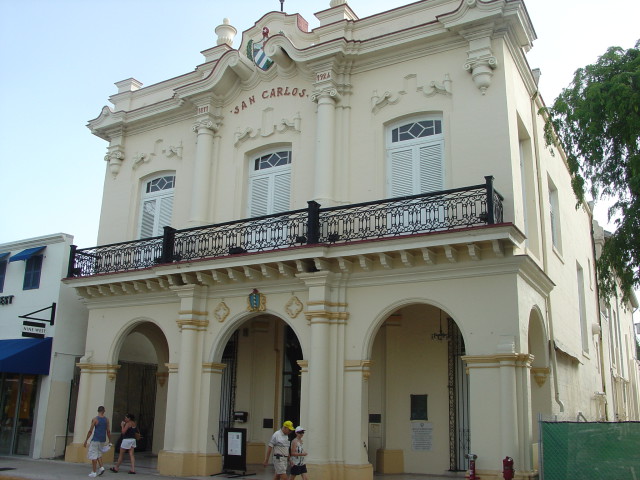 One of Florida's  — and for that matter, the USA's — most unique towns/islands, Key West is known for lots of things: its whiff of tropical paradise; historic architecture; diving and boating; major-league gay-friendliness; the boozy tackiness of upper Duval Street; and, last but not least, for being the closest point in the United States to the island of Cuba — 145 kilometres (90 miles), famously marked at the corner of South and Whitehead Streets (aka the end of U.S. Highway 1), the "Southernmost Point." 
On my most recent visit, it struck me more than ever that if you look a little more closely past the likes of Sloppy Joe's, Ernest Hemingway's house, the marina, and the buskers and sunset-gawkers of Mallory Square, you'll realize that Cuba and its expatriates have shaped local architecture and culture to a tremendous degree. Miami might lay claim to "Little Havana" thanks to the massive influx of Cubans that started in the 1960s, but down here the island's Hispanic heritage starts with its very name: "Key West" is considered an anglicization of the Spanish Cayo Hueso, meaning "bone key."  Spaniards under Ponce de León discovered the Keys in 1521, and were said to have christened the island after bones littering the field of a battle between ancient Amerindians.
Cigar Aficionados
Even after Florida passed to the young United States in 1822, "Cayo Hueso" remained literally far closer to Havana than to any U.S. city. And so the Cuban connection remained powerful for generations, especially as a result of the vigorous cigar industry that burgeoned down here, at its peak rolling out 100 million stogies a year (within striking distance of what the entire island of Cuba manufactures today).  There were various cigar factories built and run by Cuban tobacco barons, and many of the clapboard "shotgun houses" that charm visitors and command hefty rental and sales figures were once tobacco-worker dorms (my grandma was born in one of these at the turn of the 20th century, a time when cigar jobs in Key West lured Cubans like her parents in search of work).
This now American island was also key to Cubans' battle for independence from Spain in 1898. Cuba's George Washington, José Martí, came here often, making speeches and collecting funds for the wars of independence (in 1955, Fidel Castro did the same in the fight against Fulgencio Batista). A section of old central Havana was renamed Cayo Hueso (and keeps that name even today).
In the 20th century, there was regular ferry service, and people crossed back and forth constantly. Probably the most famous example was Ernest Hemingway, whose life in Key West was effectively an extension of his life in Cuba. Nowadays,  besides a couple of old cigar factories (some converted into guesthouses) and shotgun houses, there are a number of remnants of Cuban Key West, foremost among them the San Carlos Institute (above right) on Duval Street, founded in 1871; today it houses a small but interesting Cuban museum, but the décor alone — particularly the tilework — is reason enough to pop in for a look-see, as it's the closest replica of true Cuban architecture you will find in the States  (it's open to visitors afternoons Friday to Sunday).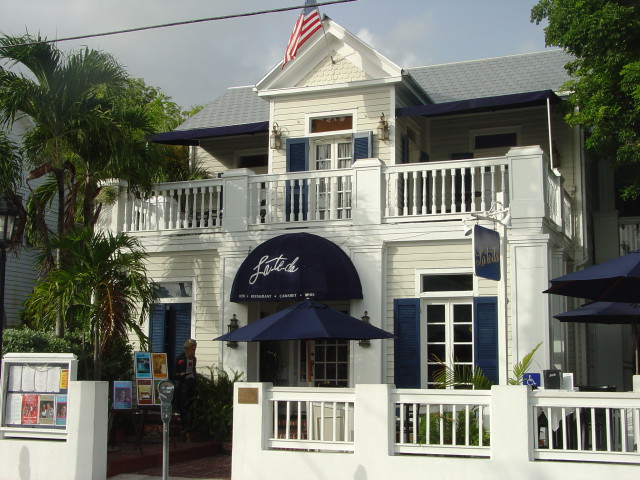 If you head up the street several blocks to well-known local icon La Te Da (above), a bar/restaurant, guesthouse, and gay drag cabaret, you'll learn that its seemingly nonsensical moniker actually derives from La Terraza de Martí (Martí's terrace), so bestowed because the great man made speeches from the balcony here on his visits (amusingly, right inside that fabled balconey is a cabaret where drag queens do their risqué thing several nights a week). And, of course, for cigar aficionados, the former E.H. Gato Cigar Factory (above right) on Simonton Street, now an interesting museum and gallery, is an obligatory stop.
Key West Hotels, Dining & Shopping — Cuban Style
Cuban culture is alive and well commercially, too, with shops like Cuba! Cuba! and restaurants such as El Siboney (a budget boon, muchas gracias!), Tony's Cuban Café (ditto), and El Mesón de Pepe, a cavernous joint which makes a tasty lechón asado (roast pork) and offers an elaborate adjoining complex called Cayo Hueso y Habana, crammed with colorful Cuban memorabilia and three-dimensional mockups of scenes from old Havana.
Meanwhile, you can hang your hat overnight not just at La Te Da but also nearby at the Southernmost House a gorgeous Victorian manse at the southern end of Duval Street once owned by Cuban-American cigar mogul Eduardo Hidalgo Gato (of the Gatoville factory and who hails, parenthetically, from my hometown in Cuba, Santiago de las Vegas, just outside Havana).
If Hidalgo and Martí could see it now…
Best Iberia fares to Miami from the U.K., from Spain.

photos: José Balido