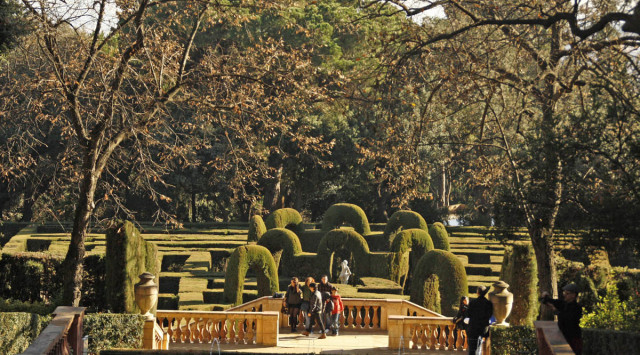 At least since the millennia-ago minotaur of Greek mythology, people have understood that the best place to get themselves nice and disoriented and lost is a labyrinth, and these elaborate constructs have been objects of fascination throughout history and across the world. And did you know that our very own Barcelona is the proud site of what's considered one of the world's loveliest labyrinths?
Located north of Parc Güell in the outlying but ancient Horta district of aristocrats and merchants, the Parc del Laberint d'Horta also holds the distinction of being Barcelona's oldest existing garden – designed in 1791 following a tradition, dating back to 12th-century England, of garden-hedge complexes where it was easy to slip off for an amorous tryst away from prying eyes. (Other famous examples can be found in places like Reignac-sur-Indre in France's Loire, and as far afield as the Dole plantation on the Hawaiian island of Oahu.)
"Enter, and you will emerge without difficulty, the labyrinth is simple, the ball of thread Ariadne gave to Theseus will not be required".
Thus reads the invitation to enter the Horta maze, alluding to the daughter of the Crete's king Minos, who thus helped her lover find his way out of the Minotaur's lair. So shall we get lost? Just remember, no one leaves the maze the same way he or she goes in.
Located on the old former estate of the Desvalls family, it more than nine hectares (22 acres) is divided into two sections. The lower terrace is home to the neoclassical garden, including the 2,250-square-metre (half-acre) labyrinth, which is formed by cypress trees and decorated with various statues with motifs from classical mythology – including Eros in the centre and inevitably, of course, Ariadne and Theseus. In a grotto outside the maze is a scultpure of the head of the original labyrinth's guardian, the iconic and terrifying Minotaur.
The terrace above includes an overlook from which you can see the correct path through the labyrinth, and another terrace above this one has a neoclassical pavillion and a large pond, both great places to rest up from all that maze running (OK, maze strolling).
Another key element of the park is the old Desvalles family palace whose neo-Gothic stolidity somehow fits perfectly amid all this fantastical landscape. A landscape so atmospheric that it has been the site of film shoots – most recently, 2006's fantasy thriller set in 18th-century France, Perfume: The Story of a Murderer.