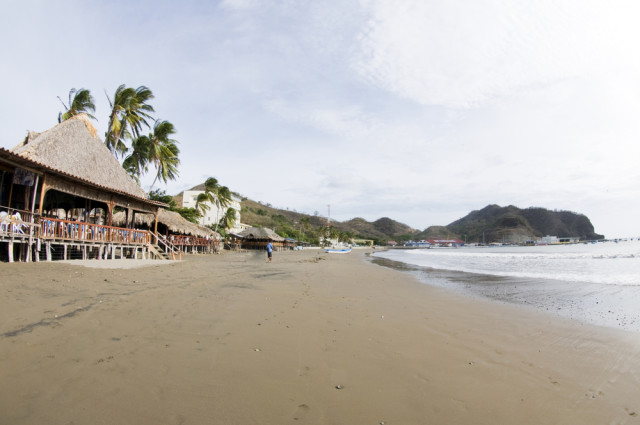 Along with its ecotourism, volcanoes, and historic cities such as Granada, Central America's largest country is a growing favourite among the world's surfers, and so a number of Nicaragua's coastal towns have been evolving from fishing villages into bona-fide beach destinations. Along the Pacific coast, topping that list has been San Juan del Sur, a two-hour ride from capital Managua, given an amazing boost in 2010 ago as the setting for that year's edition of the mega-popular TV reality show Survivor. 

On a recent visit, after settling in at the lush and lovely hillside resort whimsically named Pelican Eyes (aka in Spanish Piedras y Olas), I took my first stroll through this ramshackle beach town (pop. 18,000). After passing a church square with kids kicking a football around, I immediately started spotting the hostels, guesthouses, inns, restaurants, and shops that've grown thick on the ground in recent years, catering to the ever growing cadre of international backpackers and surfers, attracted by the town's cheap sleeps and eats, barefoot vibe, and kick-butt beaches nearby like Playa Maderas.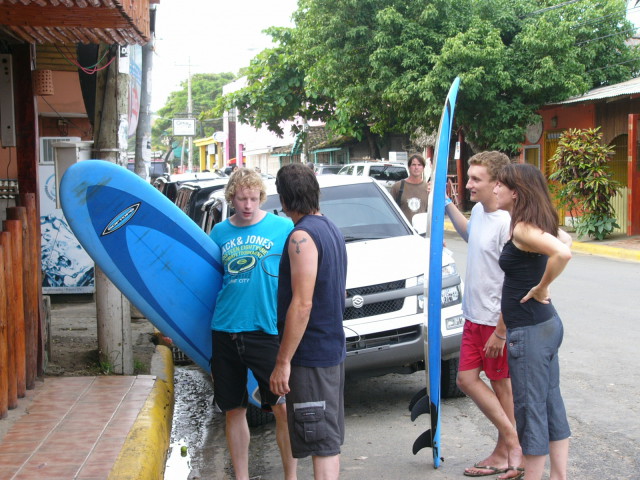 Down on the calle costera (beachfront street), I passed a gaggle of dudes and dudette hauling a couple of surfboards into a two-storey bar called Iguana, right around the corner from Big Wave Daves bar and Gato Negro, which somebody told me is one of Nicaragua's best English-language bookstores. Above it all loomed a Rio-de-Janeiro-like Christ statue (below), perched way out on a headland off to my right.
As for the beach itself, there was no shortage of activity – people enjoying sunset drinks at Iguana, Viviana's, and other palapa-roofed eateries; couples and families hanging out; several guys riding some moderately tame surf (the best surfing is outside town); and groups of lads dashing around in pickup footy games.

San Juan del Sur Hotels and Dining
Over the course of that evening and the following day, I sampled some excellent cuisine at restaurants El Colibrí (muy romántico), El Pozo (muy moderno), and Bambú Beach Club (ditto), followed by sizzling live music and dancing at the Crazy Crab at the north end of the beachfront street.
Besides Pelican Eyes (January rates from US$190 per night), I popped into some more good to downright charming digs that are even more affordable, including downtown's nicely restored Hotel Victoriano (built 1902), La Posada Azul downtown, as well as slightly farther-flung Casa del Soul , a great three-bedroom guesthouse tucked away from the honky tonk yet within easy walking distance (it's on the other side of the hill with the big Christ statue, pool and top-of-the-line amenities and impressive views over Nacasolo Bay).
A Look At the Neighbourhood
San Juan del Sur is a funky example of a Central American beach town in the vein of Costa Rica's Puerto Viejo, Bocas del Toro in Panama, and Coxen Hole on the Honduras island of Roatán. And it does have a heckuva setting and neighborhood, starting with beach after beach, such as the aforementioned Playa Maderas, plus others such as Marsella to the north and beaches to the south including Playa Hermosa and Playa Escameca, where some of the Survivor beach scenes were shot.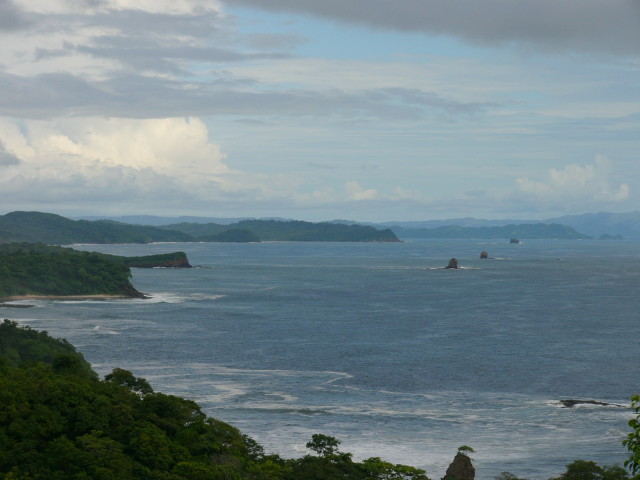 Besides surfing, there's soft adventure (horseback riding and Da' Flying Frog zipline, for example), ecotourism (7,000 Olive Ridley turtles come ashore to lay eggs at La Flor Wildlife Reserve), Spanish schools, and yoga retreats. And a few kilometres from town down a rough unpaved road, you'll find one of Central America's finest eco-lodges, Morgan's Rock, where the Survivor teams were taken for a hike and a traditional farm tour, including milking a cow, getting fresh hen's eggs, and sitting down to eat them in an old-timey Nica breakfast (you can come and do the same).
You can also use it as a base for visiting some other great stuff. Volcanoes are big down here, and nearby you can experience the pungent fumaroles of Masaya; bucollic Ometepe Island, formed by two volcanoes; and Cerro Negro, a relatively young caldera where you hike 675 meters (2,214 feet) to the top, then sled or snowboard down the black volcanic sandy slope.
More information: VisitNicaragua Facebook page.
Best Iberia fares to Nicaragua from the U.K., from Spain.