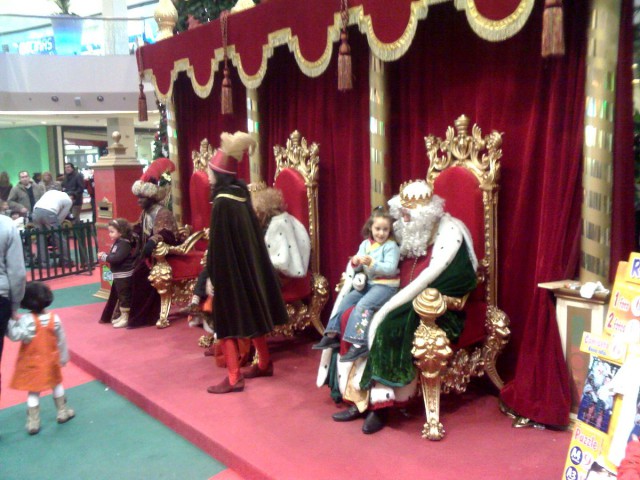 Come the holidays, in Spain, Papá Noel (aka Santa Claus) has made inroads, for sure, but a recent survey of Spanish children determined that 67 percent still prefer the Latin world's traditional bringers of presents to good little girls and boys: a trio of blokes called Balthasar, Caspar, and Melchior. Aka the Reyes Magos (Three Magi), who the Bible tells us brought gifts to another long-ago youngster: the baby Jesus.
Like Santa, his elves, and his reindeer an outgrowth of  a religious holiday (in this case the Catholic Feast of the Epiphany (aka Twelfth Night, the 12th day of Christmas), the main features of the Día de Reyes include:
On the evening before, in many Spanish cities and towns, a procession called the Cabalgata de Reyes, in which their majesties and their entourages (including carriages, pages, and even animals including camels) parade through the downtown streets tossing sweets and toys to crowds of delighted kids and their families.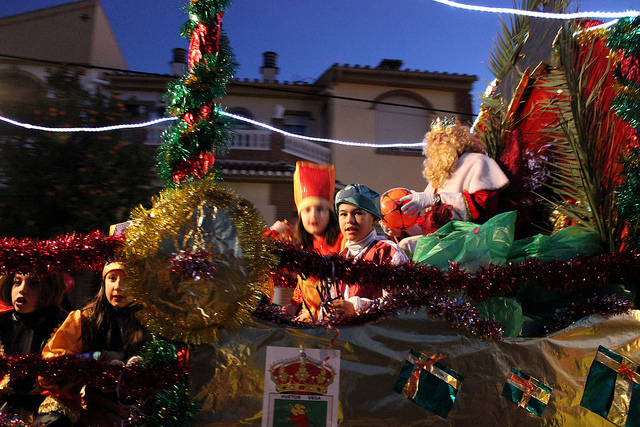 Especially in some of the more elaborate cabalgatas, the Magi's entourage often includes colourfully decorated floats, with themes for example relating to children's movies. The biggest in Spain are of course those of Barcelona and Madrid (the latter of which are nationally televised), and the oldest is that of the Alicante town of Alcoy, which dates back to 1866.
For the little ones in many Latin countries, this morning is like Christmas morning elsewhere in the world. Kids write letters to the Reyes, and in some countries, including Spain, Uruguay, and Venezuela, they'll leave shoes or shoeboxes under Christmas trees or at bedroom doors (to receive their gifts, and hopefully no coal), as well as milk, biscuits, and water for the Reyes (and sometimes grass for their camels).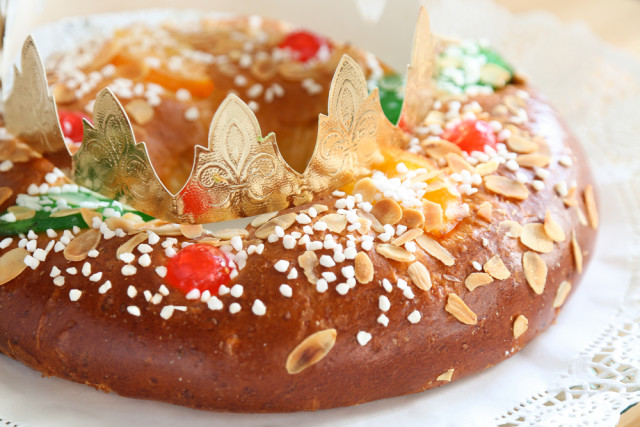 There's even a special food for the occasion. The roscón de Reyes is a ring of sweet bread studded with candied fruit; usually filled with cream or whipped cream; and also containing a coin or little figurine of the baby Jesus, one of the three kings (or these days, perhaps a Disney character; some up the ante considerably, such as the Madrid jewelry shop which created a roscón with a diamond baked in). Finding the surprise is good, but if you find a lima bean, also baked in, you have to foot the bill for the whole roscón (in Mexico, meanwhile, the twist is that the person who finds the fun surprise has to buy tamales and atole corn drink for the February 2  celebration of La Candelaria).
Peru gets an honourable mention for its own tradition, the Bajada de Reyes – mostly at home but also increasingly in the workplace – revolving around the dismantling of nativity scenes. And each person who retires a figure or other nativity element is expected to contribute a token amount (and slightly more for the central figures) toward expenses for next Christmas.
photos: Fernando Estel, Huetor Vega, asife/Shutterstock