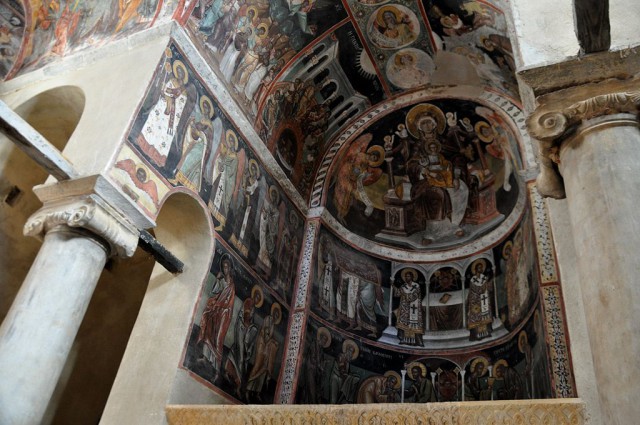 Greece almost always brings to mind either the glorious ancient ruins of Athens or the also glorious Greek beaches (and other) charms of the Greek islands. But often overlooked are the country's other sites both before and after classical antiquity. The Kaisariani Monastery is a perfect example. 
Just five kilometres (three miles) from Athens' Parthenon, at the foot of the north slope of Mount Kymettis, this Greek Orthodox monastery dates bfack to 1100, some 500 years after Christianity became the official religion of what was then the Byzantine Empire; it's built on a site where a temple to the classical goddess of love Aphrodite (you can still see bits and piecethe cruiciform vaults of the church here).
In a marvellous natural setting filled with olive, pine, and cypress trees, and offering specatcular views out over Athens and the Saronic Gulf, Kaisariani has always been very much under the radar as far as visitors are concerned, but word has been been getting out more in recent years thanks to local tour operators such as Big Olive, which now conducts tours led by guide Chryssa Kontogeorgopoulou as well as private tours and even seminars in Greek.
The place is also absolutely fascinating because it's a window into an epoch of Greek history that gets mush less attention from visitors than classical antiquity: the Byzantine Middle Ages. It's also an active church and monastery today, and you can still see black-robed monks walking around.
Best fares to Athens: from the USA, from Spain.
photo | Dimkoa