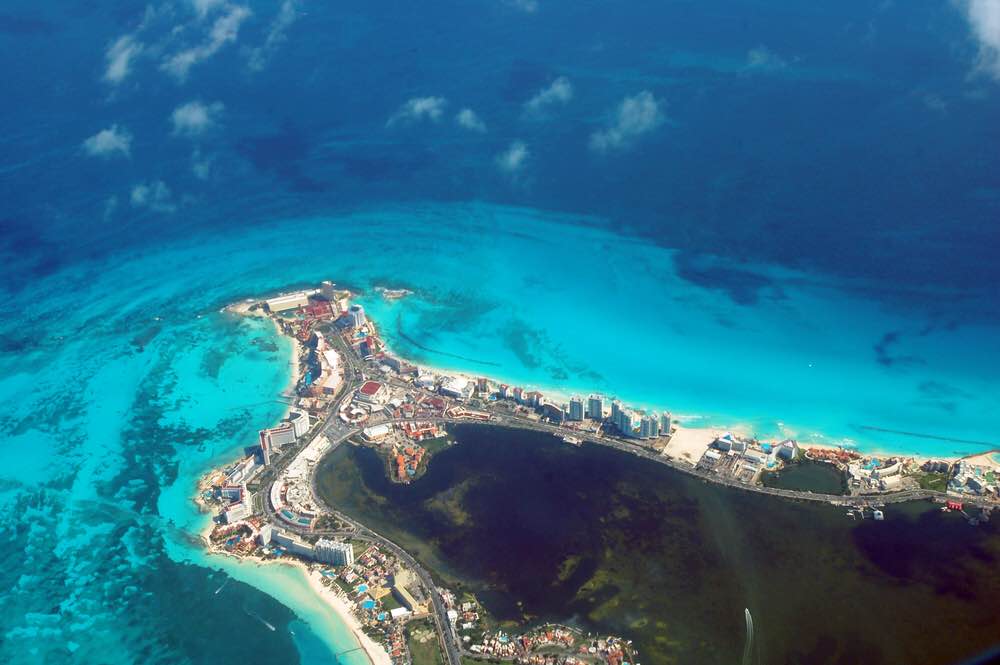 For millions of holidaymakers, the Mexican Caribbean has in recent decades become synonymous with deliciously Latin-flavoured paradise, with its white sands, clear turquoise waters, palm trees, all trimmed with the adornment of Mexican culture and within easy reach of various spectacular Mayan archaeological sites. Beginning with the creation of Cancún's hotel/resort zone from a practically empty sandbar in the 1970s and subsequent southward development of the Riviera Maya down along the coast to Playa del Carmen and beyond, this area has furthermore evolved from simply beaches to a huge menu of cultural, entertainment, and shopping options. The question is, which of these very appealing but different nearby destinations is right for you?
Beaches
The beaches along this entire coast are spectacular, and all public. The difference is that in Cancún (including its offshore island Isla de Mujeres) most of its 23 kilometres (14 miles) of sands are lined with resorts – although there are also beach public access points, as well as a handful of lovely undeveloped beaches, especially toward the south, in the direction of the airport, such as Gaviota Azul, Chac-Mool, Marlin, Ballenas, and Coral. The picture down on the Riviera varies. When you're talking about the town of Playa del Carmen, it's mostly a relatively shorter stretch of city beaches such as Playa Mamitas, with more of a city beach vibe (especially during the many events that come to town over the course of the year). Much of the coast north and south of town are dominated by resorts – many all-inclusive – which make beach access complicated. There are exceptions, such as Akumal, Tulúm, Xpu-Ha, Puerto Morelos, and the beaches of the Sian Ka'an Biosphere Reserve.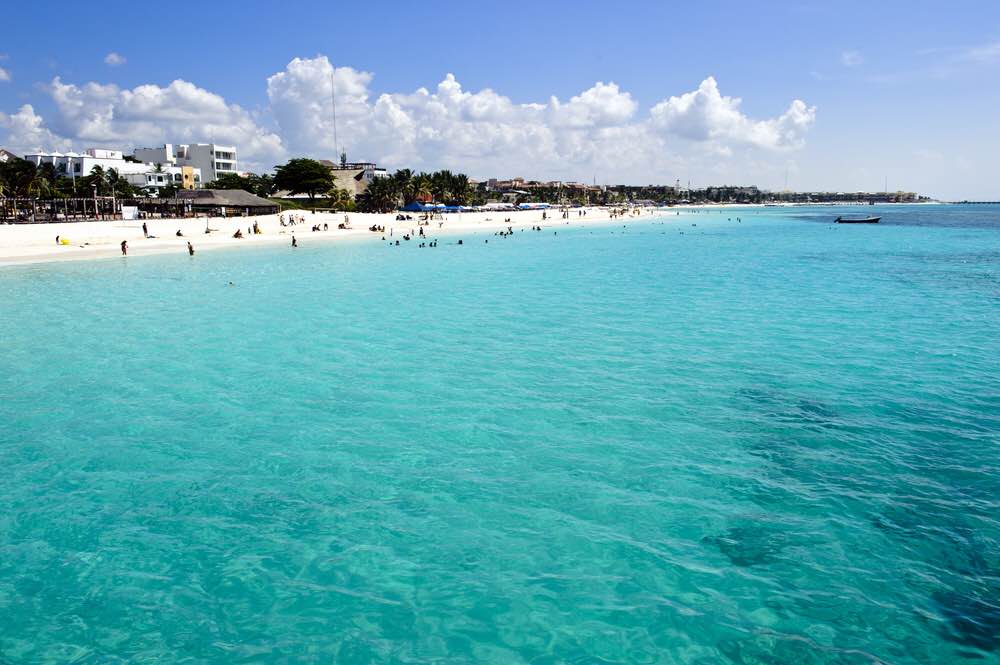 Nightlife
Cancún has long famously boasted one of Mexico's hottest after-dark scenes, with an impressive and diverse menu of buzzy bars, restaurants, and huge dance clubs that make going out every night a truly exciting experience. The nightlife down on the Riviera is centred in Playa del Carmen, particularly along its main drag Quinta Avenida (Fifth Avenue), and though not quite on the level of Cancún's, still offers a good range, from dive bars to hip lounges to major dance clubs.
Access to Attractions
Another huge perk of a holiday on the Yucatan coast is access to the astonishing UNESCO World Heritage Sites of the ancient Mayans, and here the relative merits are a mixed bag. The distances from Cancun and Playa del Carmen to marquis sites are similar – around two hours to Chichén Itzá and four hours to Uxmal – while other sites such as Tulúm and Cobá are much more convenient to the Riviera, located right on or just inland from the coast.
Apart from that, it must be said that Playa del Carmen and the Riviera in general tend to be rather more convenient to the growing number of attractions such as Xcaret, Xel-Ha, Xochimilco, Rio Secreto cave experience, cenotes like Dos Ojos, and Xplor Adventure Park. It's also from Playa del Carmen that you can hop a ferry for a day trip to Cozumel island, with its own delicious beaches and snorkelling/diving.
Shopping
Cancún is a Mexico shopping powerhouse both with little boutiques and huge malls with all the big international brands, such as Plaza Las Américas and Kukulcan Plaza; for typical Mexican crafts, clothing, and baubles, head to Mercado 28. Playa del Carmen is definitely less retail therapeutically developed, although Quinta Avenida these days does have not only the tourist shops but increasingly international flagships as well, along with its own bright, shiny mall, Quinta Alegría.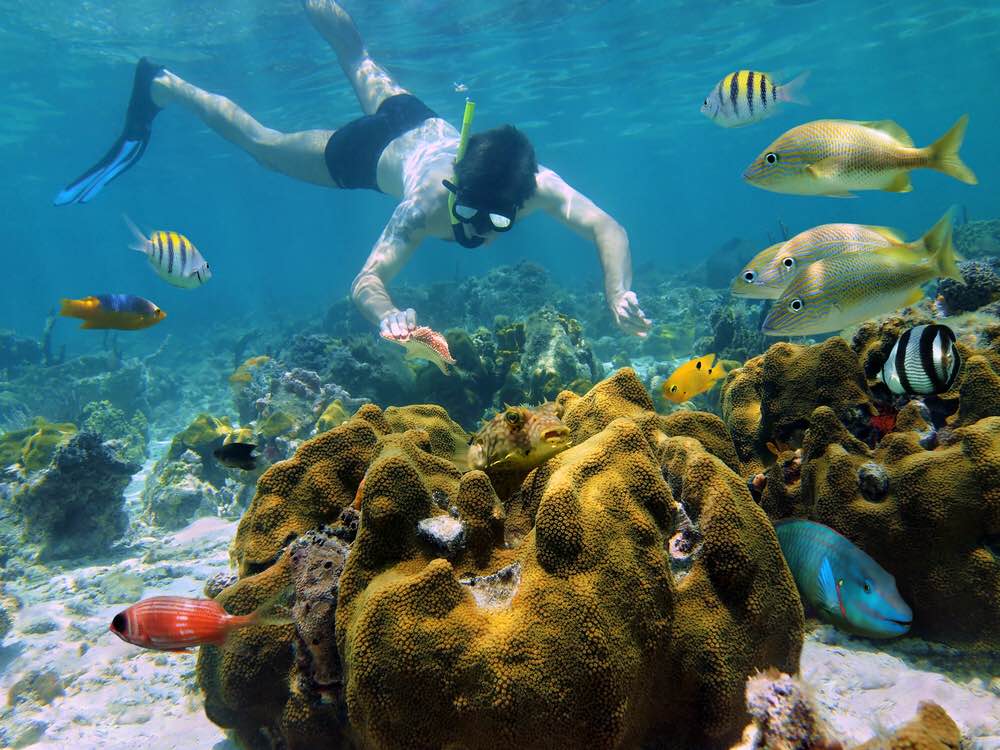 Water Sports
All local resort areas offer pretty much the full panoply of aquatic awesomeness, from straightforward snorkelling and diving to windsurfing, kiteboarding, "banana boats", JetSkis, stand-up paddleboarding, parasailing, even water jetpack. It must be said, though, that the Riviera Maya offers better quality snorkeling and diving than Cancún, and as previously mentioned offers easier access to a downright submarine paradise, the island of Cozumel.
Accommodations
Perhaps one of the greatest differences between the two areas. Cancún is mostly about big, beachfront resorts – usually upmarket and often all-inclusive (although there are a few smaller, more modest properties away from the beach, and even some budget options in Cancún town outside the hotel zone).
Down on the Riviera, meanwhile you'll find a broader range of options, beginning with enormous resorts up and down the coast, ranging from popularly-priced all-inclusives to very exclusive upmarket hotels and small boutique properties; a few towns like Puerto Morelos and Tulúm have smaller, more intimate properties. Playa del Carmen itself, meanwhile, has a couple of big resorts but otherwise tends toward more urban-feeling lodgings, from hostels and guesthouses to sleek boutique hotels that wouldn't be out of place in Mexico City – or in some cases, New York City, for that matter.
There you have it, on the one hand and the other – choose wisely, and enjoy! 🙂