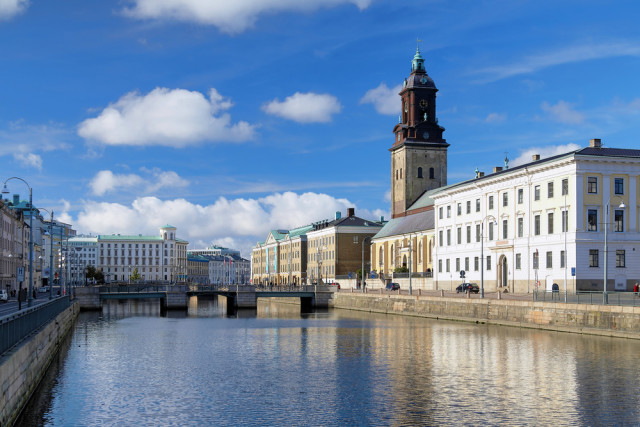 How many cities in Sweden – or for that matter, anywhere in Scandinavia – can you name outside the country's capital? For many of us, the answer is few if any. And yet, the smaller places like Denmark's Aarhus, Bergen in Norway, and Sweden's second largest city, Gothenburg, number among my very favourite city breaks in the region – cosmopolitan and interesting, yet in some ways even more accessible, easygoing, and friendly.
Out on the lovely west coast where the Göte River meets the sea – about three hours by train from Stockholm and five by road – Göteborg (population around a half million) is Sweden's largest port. And although in fact it's not particularly old by European standards (founded in merely 1621), its gracious Renaissance and neoclassical architecture and canals (it was designed largely by Dutch immigrants); cool attractions; walkability; and hip-small-town feel have of late been winning more holidaymakers than ever before (more than four million last year). And come summertime, it throws some of Europe's best parties and festivals!
The historic urban core is anchored by the plaza Gustav Adolfs Torg, site of the 1673 city hall, with nearby landmarks including the red-brick Kronhuset (Crown Hall, 1654), now home to several interesting shops and studios – and incidentally, also a charming annual Christmas market starting on November 28. Also worth a visit are churches such as the domkyrka, the modest size but handsome cathedral inaugurated in 1633, and the Vasa Church, built in 1909 in neo-Romanesque style.
Then there's the harbourfront, where amid both historic and industrial-looking buildings, ships, and infrastructure you can check out some dining and drinking spots, along with Maritiman, a museum collection of 17 ships including a submarine and Scandinavia's largest warship, and a small fleet of boats offering tours of the harbour as well as out along the lovely nearby archipelago and coast.
Gothenburg's main high street is Kungsportsavenyn (or more colloquially, simply Avenyn, "Avenue"), lined with fancy restaurants (the city's home to five Michelin-starred eateries, by the way), shops, and pubs, as well as side streets with bars and shops in a more alt/boho vein. Avenyn also leads to the city's fine arts museum, the Konstmuseum, notable for its fine collection of Scandinavian art and a particularly good photography centre.
Other museum musts include the Stadsmuseum (City Museum), housed in a gracious building dating to 1750; the mod Museum of World Culture; and right next door, the multimedia Universeum science museum. (For free admission to various of these and other attractions, it's worth picking up a Gothenburg City Card, which also throws in free tours, parking and public-transport trips; as well as some shopping and dining discounts.)
Beyond the museums and attractions, it's also about roaming some of the newly hip neighbourhoods that have been playing a big role in Gothenburg's revitalisation, such as Haga, Linnéstaden, Majorna, and former red-light district Rosenlund – where by the way you'll definitely want to pop into thanks to its distinctive fish market, the Feskekörka ("Fish Church," which I like to dub "Herring-palooza").
For something a little more on the outdoorsy side, the 175-hectare (432-acre) Botanical Garden in the south of the city is one of Europe's finest, and the nearly as large Slotsskogen Park in the southwest is a local favourite. Then, too, a day or two should also be reserved for exploring some of Gothenburg's outlying areas, from estates like 18th-century Gunnebro House and Gardens to boat/ferry excursions out to islands of the archipelago such as Älvsborg Fortress, Donsö, Styrsö, and Vrångö.
Finally, as I mentioned above, Gothenburg is a particular treat in the summer not just thanks to its lovely temperature and luminous light, but also special events and festivals. Two that sit atop the list June's Summerburst for electronica, and in August the highly eclectic Gothenburg Cultural Festival and Way Out West, also heavy on electronica as well as rock and hip hop. You know, though, I've always felt it would be cool to to launch a punk/metal festival here, too, because they could call it Goths in Gothenburg. 😉
Anyway, clearly no longer a slightly boring, working-class city. Can't wait to go back.
More information in English: Goteborg.com.
Flights to Stockholm from the USA, from Spain.


images | Mikhail Markovskiy,