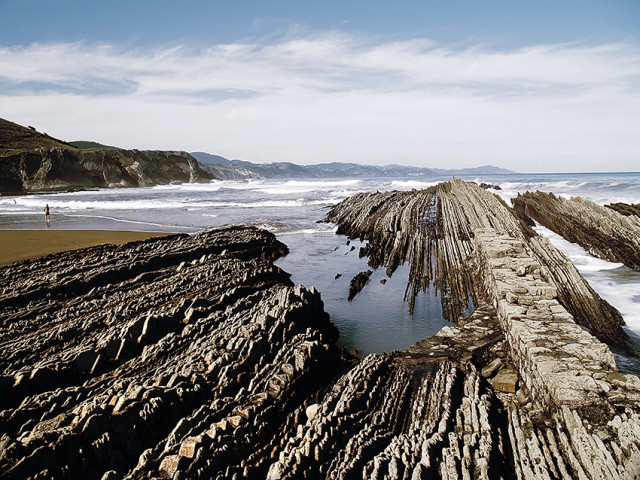 The north of Spain is known for its green, mystical lands, imbued with its ancestral past and singularly lovely landscapes – especially along its coast. There's no better example than the easternmost of the Basque Country's three provinces, Gipuzkoa, which includes one of the region's most beauteous beauty spots: a stretch of cliffs formed from both horizontal and vertical rock layers, that's perhaps this coast's most dramatic panorama. It even has a name: the Flysch Route.
Flysch is a geology term referring to ossified layers of sea floor sediments, formed over millions of years, and its distinctive appearance comes from the alternation of more hard and rugged material with other bits more subject to wear and erosion. Some of the vertical bits are especially dramatic the way they rear up out of the sea.
Located very roughly halfway between Bilbao and San Sebastián, the Gipuzkoa flysch cliffs – also known as the Geoparque de la Costa Vasca (Basque Coast Geopark) extend some 13 kilometres (eight miles) through the townships of Mutriku, Deba and Zumaia, the latter two most especially. And beyond its impressive geology, these cliffs are also rich in wildlife, making them the most comprehensive biological habitats of any along Spain's coasts.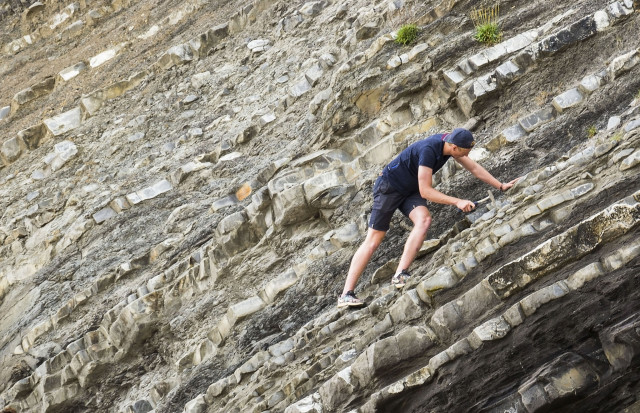 An exploration of this wonder of nature is a must when visiting Gipuzkoa, and shouldn't take more than shouldn't take more than a day. There are two main ways of accomplishing this:
Hire a car, get yourself out here, and walk the beaches and cliff tops. It's a little trickier than the average tourism itinerary, as these are in part quite steep formations. But taking it easy – and with comfortable clothes and the right footwear – you'll be able to easily enjoy this extraordinary experience in comfort and safety (speaking of which, you'll want also to pay attention to the tides on the day you visit, because particularly along the beaches, you'll want to time your arrival with low tide). Itzurun Beach in Zumaia or Sakoneta Beach in Deba are excellent choices for their picturesque, idyllic settings, set to the music of the surf.

And by the way, if you're not into clambering around the rocks yourself, you can take it all in from the overlooks built atop the cliffs – the views at dusk and sunset are particularly stunning, when the reddish sunlight creates an interplay with the rock formations that will take your breath away.

The local tourism offices hereabouts organise guided visits which include not only walks atop and among these rocks but also boat rides along the coast to get even more wideranging and breathtaking views from the sea, with the added value of commentary about all aspects of the formations and their surroundings. The explanation and engagement with a guide may make this a better option for those travelling with kids.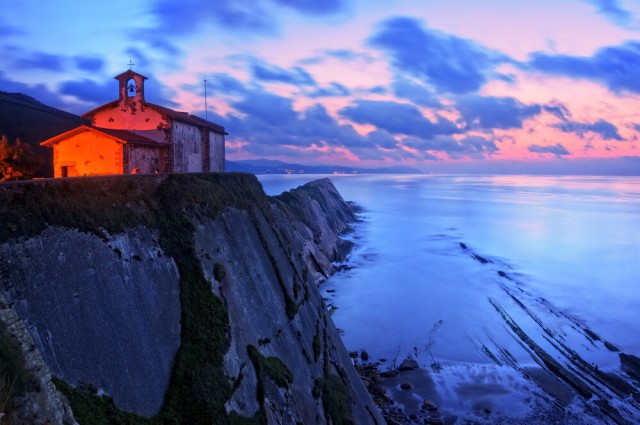 And since you're out here in Debabarrena shire, it would be a pity to leave without also checking out some of the quaint little towns here – both near and away from the shore – the Basque spirit still lives on; a number of these also form part of the northern route of the celebrated Way of St. James to Santiago de Compostela in Galicia.
Here you'll find picture-postcard-pretty houses of varying hues which welcome the fishing boats (in the port towns, at least); medieval town centres with narrow streets and and with various historic landmarks dating back centuries; and of course that famous Basque cuisine, from old-timey tapas bars up to fine-dining restaurants serving cuisine both classic/traditional and cutting-edge nouvelle. All of which makes the experience even tastier! 😀
Flights to Bilbao from the UK, from the USA.
Flights to San Sebastián from the UK, from the USA.
images | Turismo Gipuzkoa; Guillén Pérez; Mimadeo.