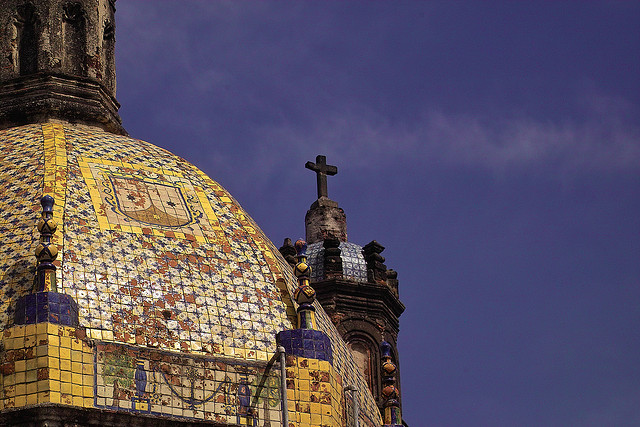 Sprinkled throughout one of the Western Hemisphere's biggest, most bustling cities are a handful of charming little colonias (neighbourhoods) – which in fact used to be little villages that over the years became incorporated into the megalopolis that is Mexico City. And one of the loveliest is San Ángel, in the capital's southwest, just under an hour's drive (depending on traffic; also reachable via Metro) from the Zócalo square and historic centre, and a hop and a skip from a similarly picturesque (as well as better known and more bustling) enclave, Coyoacán. 
This compact neighbourhood is truly an oasis which attracts locals and visitors alike looking for of charm, tranquility, and a touch of artsiness with a small-town vibe (in fact, that's one big reason that as far back as the 18th century it became a popular place for Mexico City's wealthy to build country homes).
One of the best days to visit is Saturday, when the highlight of the week is a open-air crafts market in the Plaza de San Jacinto, named for the eponymous 16th-century church – austere on the outside, but a gilded Baroque chapel within.
This plaza is also the site of the 18th-century Casa del Risco, a onetime monastery now a museum of art of the 14th to 19th centuries, but whose marquis draw is actually a Baroque fountain elaborately fashioned of tiles and mother of pearl.
Another copacetic corner of this cobble-paved district is the Plaza del Carmen, site of the onetime town hall, now repurposed as a cultural centre, and various majestic casonas (manses) dating back to the colonial era. A lesser known but just as fetching square is Plaza de los Arcángeles, full of bougainvillea, pine trees, and cassava shrubs. 
More mansions of the 19th and early 20th centuries can be ogled up and down Avenida de la Paz, and afterward you can stroll the 1930s Parque de la Bombilla to admire its fountains, and sit a spell in the Plazuela de los Licenciados, surrounded by more elegant façades and imbued with a relaxing quiet broken only by twittering of birds.
Nearby, the Calle de la Amargura (Street of Bitterness) is rather ironically given that its sights are nothing but uplifting – for example, aristocratic residences like the Mayorazgo de Fagoaga and the Casa del Obispo (Bishop's House). The historic route winds up at the rustic stone Chapel of San Sebastián, which contains an impressive altarpiece.
There are a couple of interesting museums here, too. The Museo de Arte Carrillo Gil, boasts one of Mexico's best contemporary art collections, and the Diego Rivera-Frida Kahlo Studio Museum is an even bigger draw for many.
In between all the strolling and gawking and hanging out, there are a couple of Mexican eateries particularly worth mentioning. La Camelia in the Plaza de San Jacinto is a traditional cantina in business sine 1931, is always good for seafood and a party, and on the same square, La Fonda de San Ángel  is another fine traditional option in an 18th-century colonial building with a wide variety of local delicacies – the speciality of the house being escamoles (sautéed ant eggs – they're better than they sound, we promise!).
More information: VisitMexico.com.
Book Iberia flights to Mexico City from Spain, UK.