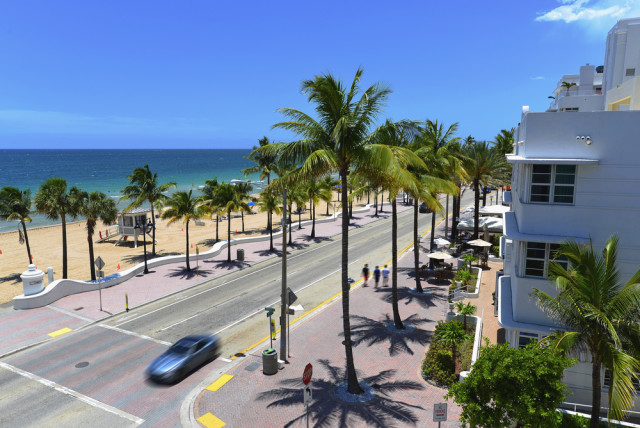 Growing up in Miami, I always found found our neighbour just to the north a pleasant enough but somewhat nondescript place. Fort Lauderdale's main attributes appeared to be some impressive waterways, a decent ocean beach – and of course a rowdy, booze-soaked college scene when it came time for spring holidays (first made famous by the song/movie Where the Boys Are). And the locals a rather odd mix of yachties and some admittedly salty characters. Not exactly the place that first came to mind for vacations.  
These days, however, I'm pleased to say this South Florida city is rather a fort of a different colour. The beachy charms of yore remain intact, and even spruced up by Atlantic Boulevard's handsome oceanfront promenade, built in the 1990s. The "spring break" scene is thankfully much less wild than before (despite evocative remnants such as the famous Elbo Room bar). And a number of new attractions and cultural institutions, as well as improved dining and shopping, have made this city a truly multifaceted destination for families, couples, and others (including gays and lesbians, for whom Lauderdale has grown into one of America's foremost LGBT resorts).
The pair of corridors most of interest to visitors basically forms an L shape just over seven kilometres (4½ miles) long from where Sunrise Highway ends at the beach down to Las Olas Boulevard and extending along that boulevard inland (yes, you'll want to rent a car, although now there are Broward BCycle rental stations stations and even water taxi stops along the way that can help with local transportation). So you'll definitely want to rent a car, as not all sights and attractions are near each other.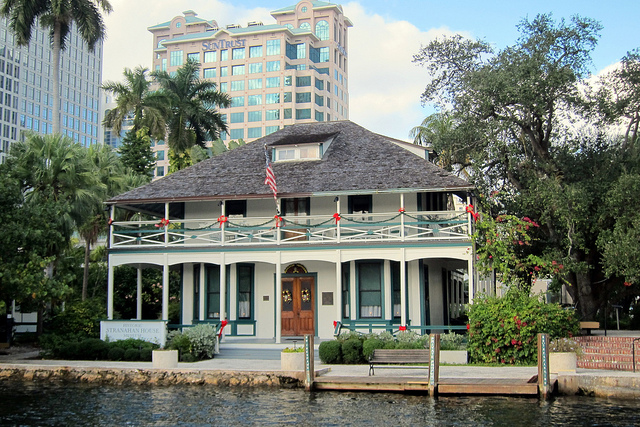 One of my favorite strolls is the gracious shop-lined stretch of Las Olas, with its appealing dining and window shopping. Continue a bit farther west and you'll come across fine institutions such as the Museum of Art (marvelous temporary exhibitions, and especially strong in modern art) and the Museum of Discovery and Science (one of the better science museums I've come across), as well as Stranahan House (see below). If you're a truly diehard shopper, head west to Sawgrass Mills, one of the USA's biggest shopping malls, including many discount outlets.
There's even a bit of bona fide history and ecotourism here. Stranahan House (west side of downtown, above) and Bonnett House (near the beach) are early 20th-century windows into old Florida, while across from the latter is Hugh Taylor Birch State Park, a rare example of an original, woodsy "tropical hammock" environment where you can fish, canoe, or simply stroll. Out west, where Broward County largely becomes Everglades, the Billie Swamp Safari offers nature tours through the local Seminole Indian reservation, via airboat and "swamp buggy."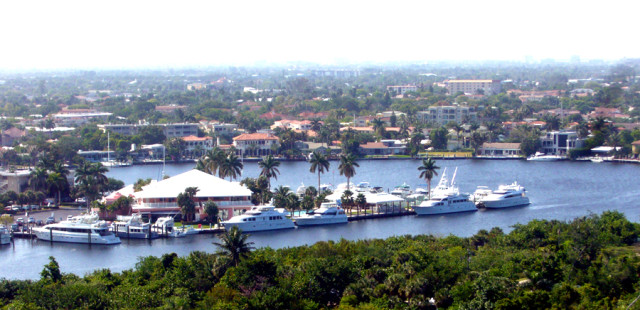 And though Lauderdale was once known for its cheap accommodations, redevelopment has made them quite a bit more upmarket in recent years, with luxury resorts now taking pride of place along the beachfront boulevard. Nonetheless, some good budget lodging can be found just a block or two in from the beach in motels, guesthouses, and short-term apartment rentals in a grid of streets ending in "-mar" (Terramar, Auramar, Windamar).
Finally, another popular beach destination in the same county, just south of Fort Lauderdale, the city of Hollywood has also seen a resurgence and has its own lively beachfront promenade and charming downtown. Fun fact: Hollywood is inordinately popular with Canadians – especially French Canadians – who started wintering in South Florida after one local motel manager started promoting his and other local properties in Quebec in the 1970's, offering inexpensive bus packages, and even bringing Quebecois TV stars down for the winter. More than 750,000 Quebecois still come down every year, often staying for weeks or months in the modest mom-and-pop motels still common here.
More information: www.Sunny.org.

images | ddmirt, wallyg, Fotoluminate LLC