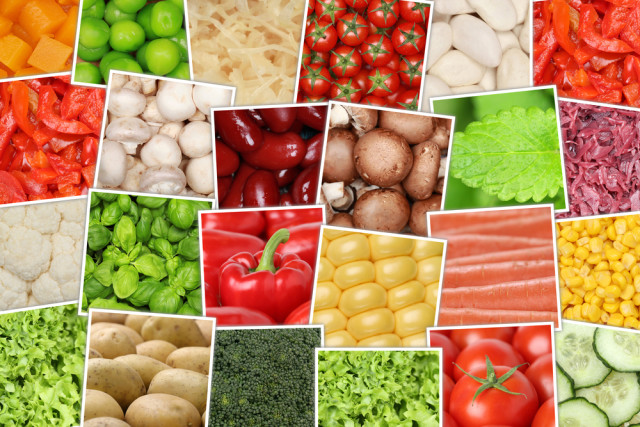 Following up on posts serving up the best vegetarian dining options in Europe and Latin America, I'm turning to the United States, one of the countries where the veg trend was pioneered. The variety at this stage in dining history is impressive, from hardcore little raw food cafés to elaborate and très stylish haute cuisine. Read on, and you'll see what I mean. 

Boston
In greater Beantown, the veggie trend has long centred most noticeably in Cambridge, with its strong academic and "crunchy" communities. In fact, it's such a thing hereabouts that there's actually a local veg fast food chain called Clover, with a not only a half dozen locations in Cambridge, Brookline, and the suburb of Burlington, but seven more roaming food trucks; menus are seasonal and change daily, but examples include beet horseradish walnut salad, BBQ seitan, and Japanese-sweet-potato sandwich with miso mayonnaise (plus, pumpkin beer, anyone?).
Others cool spots include Sanghita Café in East Boston, with a menu of light fare and "tapas", and My Thai Vegan Café (above) on Beach Street in Chinatown, a Siamese feast.  And by the way, if you're willing to sit through a lecture and discussion on Hinduism, the veg fare at the Hare Krishna temple on Commonwealth Avenue in Back Bay is not only tasty but free!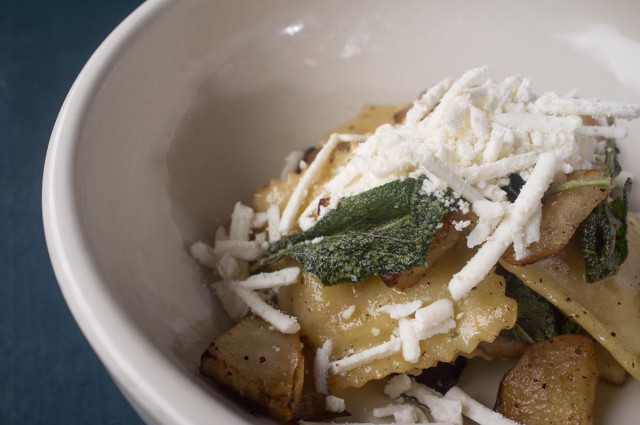 Chicago
A famous poem by Carl Sandburg pegs Chi-town as, among other things "hog butcher to the world", but these days it's taken more of a turn for the herbivorous.  For an upmarket experience, hop on top the Green Zebra in West Town, northwest of downtown's The Loop, where the modelegant ambiance and seasonal menu – contemporary and creative – pushes all the right buttons with foodies. Hipster Wicker Park's Mana Food Bar (above), meanwhile, provides a tour-de-force tour around the world, from spanikopita and pan seared collard greens to bi bim bop and saag paneer. Speaking of saag paneer, Indian food is one of my passions, and therefore so is Udupi Palace, worth a bit of a train ride uptown to West Rogers Park for vegan delicacies like a variety of dosai stuffed crepes.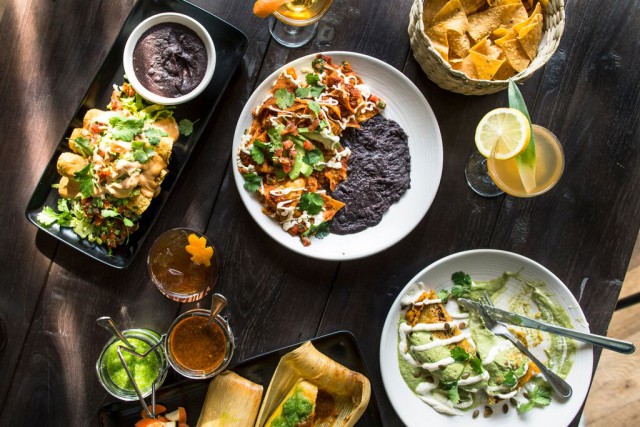 Los Angeles
Not too surprising for metro area that's unusually tolerant of all kinds of lifestyles, dietary and otherwise, El-Lay may just be one of the USA's most veg-friendly places. West Hollywood's Crossroads is a recent and acclaimed entry from Oprah Winfrey's onetime chef (how does porcini-encrusted eggplant with caramelised onions sound?), while nearby Gracias Madre (above) gives L.A.'s extensive Mexican dining scene a delicious vegan entry that's muy padre (very cool) indeed.  Meanwhile, over on Sunset Boulevard in Echo Park (adjoining downtown, Chinatown, and Silver Lake), Elf Café is a very cool, cosy little spot that does turns organic, non-GMO, farm-to-table veggies into awesome dishes à la "Turlu Turlu with Keftes" (oyster mushroom meatballs, smoked sweet tomato sauce, fava beans, and market vegetables).

Miami/Fort Lauderdale
The South Florida dining scene has become way more imaginative and diverse in the past decade, and good quality veg offerings are starting to finally pop up in greater numbers. And interestingly, for a change, the trend is led not by Miami Beach but by the cities and communities over on mainland Greater Miami. For example, friendly Mi Vida Café (the name means "My Life") is run by Argentine chef who uses lots of quinoa, seitan, and tempeh in addition to super-fresh veggies (her quinoa burger with hummus is a winner), and located on a stretch of Biscayne Boulevard dubbed the Upper East Side. There's even a mini chain of cute little cafés called Choices has locations in Coral Gables, Coconut Grove, the Upper East Side, and out near the airport (my favourite here: lentils, black beans, quinoa, pico de gallo, cashew cheese, and mamuket sauce, with the droll moniker "Mental Lentil").
Meanwhile, a very honourable mention indeed is due to the SoFla pioneer of meatless fine dining (since 1989), Sublime, just north of Miami in Fort Lauderdale, which also benefits local animal charities (the Thai red curry, gardein picatta, portobello mushroom stack with marsala sauce? All indeed sublime).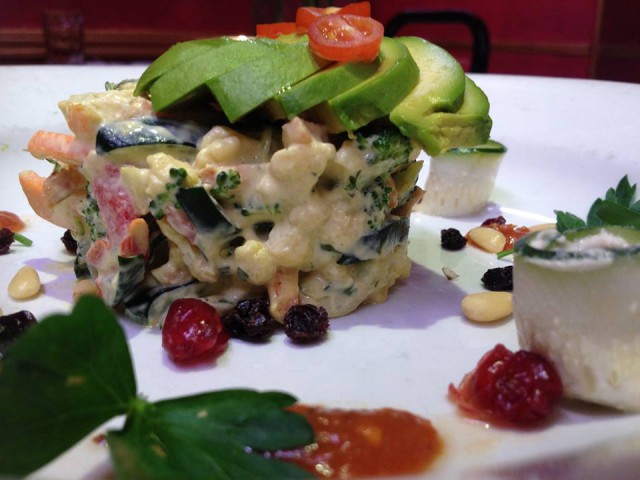 New York City
The raw food spot I went to in the Greenwich Village a couple of times in long gone, but more boho/alt areas of downtown are still Manhattan's top bastions of vegetarianism.  A perfect case in point is Caravan of Dreams, a 24-year-old classic founded by Spaniard Ángel Moreno on East 6th Street in the East Village; here the flavour is organic Latin, from vegan paella to Mexican-style huitlacoche and soy-chorizo quesadilla. Other local favourites also paying homage to the Big Apple's marvelous ethnic diversity include the West Village's Taïm (Israeli/Middle Eastern), Chennai Garden by Tiffin Wallah (not just Indian, but also kosher!) in the Flatiron District, and a Kajitsu on East 39th Street in Murray Hill, praised as one of the most special veg restaurants in the entire country, which in a sleekly minimalist setting serves regularly changing tasting menus of Japanese shojin cuisine, originating in Zen Buddhism.
OK – veggie, set, go!

images | Markus Mainka, respective restaurants