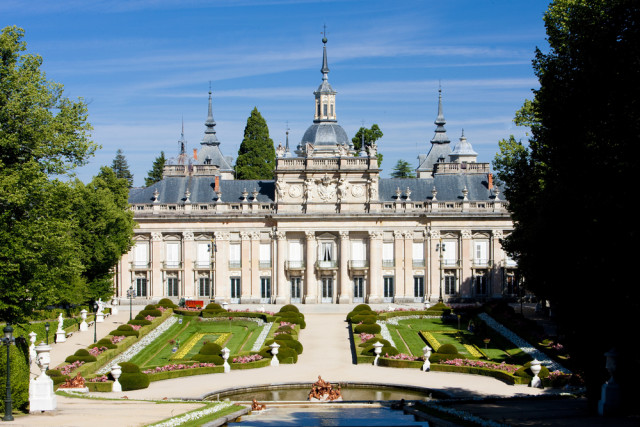 Regal statuary, elaborate ornamental fountains, façades approaching the grandeur of France's Versailles Palace (after which it was modeled). Less than an hour's drive north of Madrid in the province of Segovia, the Royal Palace of La Granja de San Ildelfonso is a bastion of 18th-century royal opulence in in the shadow of the Guadarrama Mountains. La granja in Spanish means "farm", but this is clearly a farm like Big Ben is a clock.

How Does Your Garden Grow?
Philip V, the French Bourbon grandson of Louis XIV the "Sun King", bought la granja of some local monks and proceeded to turn it into a 600-hectare (1,480-acre) extravaganza of palace and gardens. This then became the summer palace of the monarchs of Spain for the next 200 years. And naturally, it's – well, a spread fit for a king.
Now open to the public, La Granja first captivates visitors entering its grounds with its lavish formal gardens, one of the best examples of their kind from the 18th century, featuring seemingly endless rows and formations of flower beds and a forest's worth of trees, whether in formal lines or strategically planted copses. Interspersed with all of that is a museum's worth of statuary, pavillions, and most characteristically, all manner of statues and especially fountains/waterworks featuring mythological figures such as Neptune, Apollo, and Andromeda.
Particularly impressive water features include the Horse Race right in front of the palace and the Fountain of Fame, with a water spout 40 metres (131 feet) high thanks solely to the forces of gravity (the reservoir for all this sits uphill at a secluded end of the estate). The palace is just as splendid inside, with its magnificent ceiling frescos, paintings, and furnishings of the 18th and 19th centuries, as well as a museum of Flemish tapestries.
Beyond La Granja
In addition to the palace, the Guadarrama Mountains also make a thoroughly delightful area for an outing (with temperatures generally cooler than down in Madrid, which is of course a major reason La Granja was favoured as a summer palace). The hills and mountains, clad in pines, oaks, and Holm oaks, are riddled with hiking paths.  You might even spot some of the wealth of fauna up here, including various kinds of deer, ibex (a kind of goat), badgers, weasels, foxes, hares, and even wildcats and wild boar. Birds aplenty, too – most spectacularly, raptors such as the Spanish imperial eagle and the Eurasian black vulture.
The area is also full of cosy small hotels and casas rurales (country houses with rooms and flats for let), where you can kick back after a day on the roam, enjoy a hearty country meal, and sleep like a king (or queen).
And if you find yourself in the area at the height of the summer season, this is when things liven up considerably hereabouts, thanks not just to more visitors but four major festivals. The first is Royal Site Nights (for numerous days starting in early July), which involves a series of classical music concerts. Then the gears switch later in July to the Granjazz Festival, and the first week of August to the International Magic Festival.
Perhaps the most high-profile event of this quartet starts in late August and runs for about a month: at the International Music and Dance Festival, headliners have included both well known Spanish pop singers such as Pablo Alborán, Maldita Nerea, and Raphael as well as international stars like Michael Bolton and Kenny G (also on the program is classical and a variety of other genres).
Not bad for a little ol' farm…

image | PHB.cz (Richard Semik)