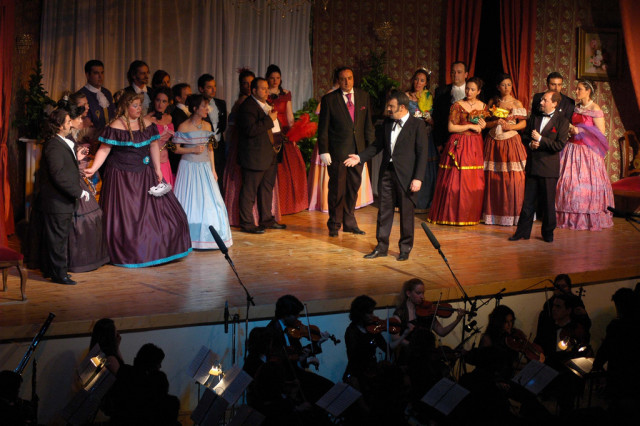 If it's autumn, it must be zarzuela season in Spain! An engaging hybrid that can include spoken drama, operetta, folk music, popular ditties, dancing, and comedy, it dates back to the early 17th century, and is believed to take its name from the royal Zarzuela Palace in Madrid, where it's thought to have been first performed. 
Those early, Baroque-era zarzuelas (part of the so-called Siglo de Oro, the golden age of Spanish theatre) were a mix of classical mythological themes and rustic comedy characters (the first one was called The Laurels of Apollo). As the centuries passed, the form evolved and became more elaborate – for example, influenced in the 18th century by Italian opera, then in the 19th by the local castizo culture of Madrid and then Romanticism of the later century. It was during this time that it really took hold as popular entertainment, and the dedicated (and magnificent) Teatro de la Zarzuela was founded in the capital in 1850 and still going strong today. In the 20th century, social criticism and even a touch of the risqué became part of many works.
Zarzuela caught on to varying extent in Spain's colonies, as well – most especially Cuba and the Philippines, as they remained under Spanish rule during the golden age of zarzuela (the best known in Cuba was Cecilia Valdés, based on a novel about a young mulatta woman and exploring racial themes very relevant to its time and place).
The genre in Spain took a hit as a result of the turmoil leading up to, during, and following the Spanish Civil War (1936-39), and no major new works have been created since the 1950s. But as they say, what goes around, comes around, and in recent years, along with the avant-garde and cutting edge in Spanish culture there has also been a resurgence in interest in the traditional zarzuela repertoire, with the Teatro de la Zarzuela still going strong, national and international tours, and works regularly televised. It's even been performed by opera greats such as Plácido Domingo, Montserrat Caballé, and José Carreras.
A good example of a full-length zarzuela (there are single-act and other short-form versions, as well), considered by some to be the greatest of all is Francisco Barbieri's El Barberillo de Lavapiés (meaning "the little barber of Madrid's Lavapiés neighbourhood"). The title character is the roguish barber-dentist Lamparilla, while plot involves amorous and political machinations, with a strong dollop of local Madrid culture. You can get a the full flavour by clicking around the clip below – enjoy!
https://youtu.be/bg3o5kscUKc


image | GonzalezNovo