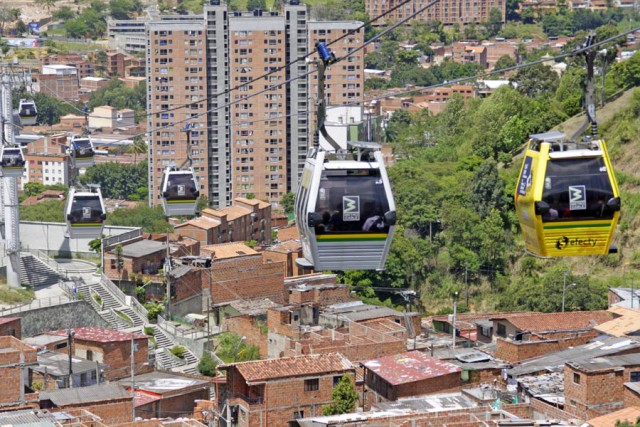 Not so long ago, Colombia's second largest metro area was sadly synonymous with rampant drug-related violence, the notorious narco-lord Pablo Escobar, and the Medellín Cartel. The past decade, though, has seen a renaissance that has left all that a receding memory – except maybe for a few tours that focus on the sites and stories of the bad old days. These days, the city nicknamed Medalla is increasingly known more for its vibrant culture, design, dining, shopping, and nightlife. 
Also dubbed "the city of eternal spring" because of its temperate climate year round, Medellín was turned around by many things, of course. But one big factor was a huge investment in urban infrastructure which had the effect of integrating various areas of the city which were once difficult to reach, and therefore especially prone to the culture of violence. Now these areas enjoy safe, modern public transport: an Underground system; a tram system still under construction; a network of articulated buses called Metroplús; and even three cable-car routes called Metrocable (below).
It's this last – the first of its kind in Latin America – that's the most spectacular, connecting the central areas of Medellín with the poor neighbourhoods up in the hills. And it's become a hit with visitors to the city as well as locals thanks to the fact that it's fun and scenic, providing expansive views out over the valley in which Medellín is located.
Each of the cable car lines offer different views. One runs from San Javier station to La Aurora, right on the border between the city and the rural county of San Cristóbal, while even more spectacular is the steeper one that goes from Acevedo station up to Santo Domingo Savio , next to the Biblioteca España (Spain Library) on Santo Domingo Hill. Both these lines are covered by a regular metro ticket. The third line links Santo Domingo Savio with the Arví Park nature reserve in Santa Elena county, and has a separate ticket.
Up, up, and away!