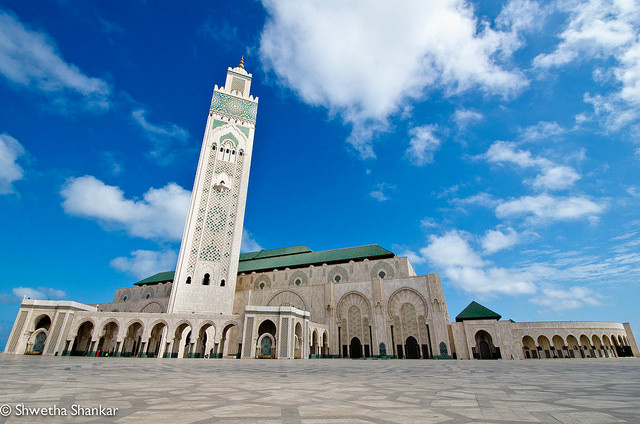 I must remember this: My first encounter with Morocco's largest city (pop. 3.6 million) was, perhaps like that of many, not in Technicolour but in dramatic black and white – the Michael Curtiz movie classic produced by the Warner Brothers studio. It was the wartime Casablanca inhabited by Rick and Ilsa (aka Humphrey Bogart and Ingrid Bergman),  along with Victor Laszlo, agent Renault, and Sam the piano player. As time went by, I also discovered its delightful Marx brothers parody, A Night in Casablanca  (per Groucho, "If this lady is your wife, you should be ashamed!"). 
Fun fact: Warner threatened to sue the Marxes for even using the name Casablanca, though as Groucho pointed out in a letter to the studio, "I am sure that the average movie fan could learn in time to distinguish between Ingrid Bergman and Harpo. I don't know whether I could, but I certainly would like to try."
Indeed – for one thing, she was a bit taller. But I digress; one thing all this amply illustrates is that iconic cities are far more than just big bunches of buildings, but also major cultural signifiers. And it's more than just cinema – when a well-read visitor touches down in Casa, it's with a series of reference points courtesy of figures such as Jean Genet, Antoine de Saint-Exupéry, Albert Camus, and Edith Piaf.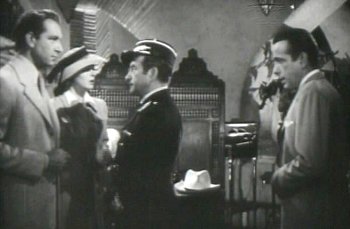 So when when we see sites like the medina; or the Gothic Church of the Sacred Heart; the Art Deco architecture along the Boulevard 11 Janvier; or the souk of Derb Ghallef where you can find seemingly anything. So, too, more marvellous Art Deco facades along Boulevard Mohammed V (such as that of the magnificent Cinéma Rialto, in which Josephine Baker once performed), and the old-timey restaurant/bar Le Petit Poucet, once a hangout for Saint-Exupéry and Camus. Perhaps the Hotel Excelsior, where the author of Le Petit Prince would often overnight, or the mid-century Villa Zevaco restaurant, whose habitués included Piaf and France's greatest boxer, Marcel Cerdan. Also browse the souklike Habbous quarter, described The Caliph's House by British expat writer Tahir Shah.
Perhaps Casa's best known landmark, meanwhile, is the gargantuan Hassan II Mosque (the world's highest, in fact), and notable, too in being one of the relatively few Islamic houses of worship which non-Muslims are allowed to enter.
So yes, clearly, as indelible as Rick's Café, a fogbound airport, and a zany Marx Brothers hotel remain in the imaginations of many, Casablanca in 2015 is so much more – a living, bustling metropolis where echos of history, literature, and other culture mix with the dynamism of today in a way unlike any other in Morocco.