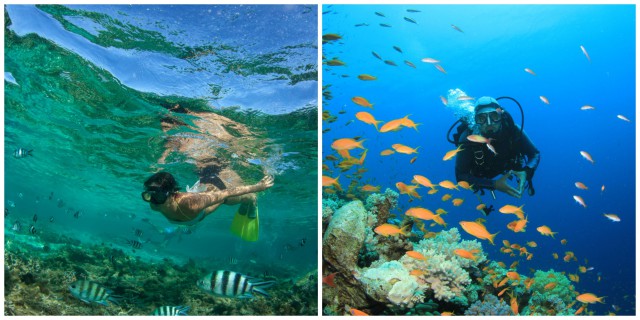 If you're like me, you're absolutely entranced by the otherworldliness of what lies off our planet's shores, you try to don mask and fins and take the plunge into the big blue every chance you get. And Iberia offers so many different destinations to be dazzled – here are some of my favourites. 
Croatia
This country's Dalmatian Coast is one of Europe's stars when it comes to all things aquatic, and for underwater scenery, head especially to the Brijuni Archipelago; Istria's Cape Kamenjak, the Pakleni Islands off Hvar; and the islands of Vis, Mljet, and Losinj (this last especially known for its dolphins).
Cuba
All along its coastline, the reefs and marine life, along with exceptional visibility, make the Caribbean's largest island a bucket-lister for snorkelling/diving enthusiasts. Prominent among its hundreds of sites are, along the north coast, Jibacoa, east of Havana, and the Jardines del Rey islands including Cayo Coco. In the south, the Bahía de Cochinos (Bay of Pigs), and Isla de la Juventud (Isle of Youth, aka Isla de Pinos, Isle of Pines). Finally, at Cuba's western end, the María la Gorda biosphere reserve on Pinar del Río's Guanahacabibes peninsula.
Dominican Republic
Top stars include the south coast's Bayahibe as well as Saona and Catalina islands. But for one of the all-time great experiences of a lifetime, take a wintertime cruise out of Samaná to the Silver Bank, where you can snorkel/dive with some of the majestic, gentle giants of the deep, humpback whales. Life changing.
Ecuador
Hands down, the Galapagos Islands, especially Santa Cruz and Floreana islands, with diversity including sea lions, sea tortoises, marine iguanas, and bull sharks (not to mention, on land, cool and cute little Galapagos penguins).
Greece
Another country that's huge on coastline and islands, there's truly an embarassment of riches, including Alonissos, Crete, Corfu, Kos, Lesvos, Mykonos, Naxos, Paros, Rhodes, Santorini, Skiathos, and Skopelos.
Honduras
Plasencia on this country's Caribbean coast (which is actually its only coast) is a favourite of many, but there's nothing quite like the Caribbean islands Roatán (especially Coxen Hole) and other Bay Islands such as Utila, Guanaja, and Pigeon Cay.
Italy
The Italian boot is waterlogged indeed – and especially down south, in areas such as the Cilento Coast south of Naples and Tuscany's Parco Nazionale Arcipelago Toscano. But unsurprisingly, perhaps its top stars include its islands –Lipari, Panarea, Salina, Sardinia, Sicily, and Stromboli.
Mexico
Much of the best action is down off the Yucatan Peninsula, such as the island of Cozumel (especially its Chankanaab Lagoon, where parenthetically I actually first got turned on to snorkelling many years ago), Isla Mujeres right offshore from Cancun (special stars June through September: gentle whale sharks), and Isla Holbox, a short boat ride out from Puerto Morelos on the Riviera Maya.
Spain
With all its coastline and islands, Iberia's home base is a snorkelling/diving paraíso, but for absolutely top experiences, head out to the Balearic Islands (especially Minorca) and the Canary Islands (here we especially recommend Fuerteventura and Lanzarote – and Tenerife ain't too shabby either). On the mainland, plunge above all into Cabo de Gata in Almería and Catalonia's Cap de Creus and L'Estartit.
USA
Top honours in this country go to the Florida Keys, kilometres (120 miles) long stretching southwestward from south Florida. Top spots include Bahia Honda, Looe Key, John Pennekamp State Park, and, at the end of it all, the Dry Tortugas (which includes a cool historic fort, too). In Key West, definitely the beach in Zachary Taylor State Park.
images | Shutterstock