Oh yes, it's that time of year again – when a region already one of the USA's loveliest rolls out its most stunning reds, yellows, and oranges. Whether it's Indian summery or crisply autumnal, there's nothing more delightful than a ramble through New England's countryside in all its glowing glory, the better to appreciate the many historic landmarks, inns, restaurants, eco attractions, and more.  Here's my very personal list of the best mixes of leaves and other allures in each state, easily accessible via international gateways Boston and/or New York City: 

Connecticut
You'll find the Connecticut River Loop in the lower half of the state roughly midway across, between New Haven and New London on the Atlantic coast to the south, and state capital Hartford to the north. If you're coming east from New York on I-95, you'd exit at Old Lyme, a charming town, with among other treasures the Griswold House, a 4.5-hectare (11-acre) estate including a museum, gardens, and 1817 manse that became a famous artists' colony.
Other lovely towns on the loop include Centerbrook, Deep River, Chester, Haddam, East Haddam, and Essex, all with their own charming shops and eateries, and the last also home to the Essex Steam Train and Riverboat, which takes "charming" to another level. Then as long as you're in the area, you can also pop over to Mystic, with its wonderful aquarium and historic seaport; the submarine museum in Groton; and check out New Haven, home to Yale University and its Peabody Museum of Natural History.



Maine
To me, truly classic Maine is all about the shore (I'm sorry, Presque Isle and Rangeley and the rest of you guys – I love you, too, though!). Foliage in America's most northeasterly corner should come with bracing doses of sea air and nautical flair, provided by the drive up the craggy coast. A good place to start is Brunswick, 40 kilometres (25 miles) from Portland – home to Bowdoin College, and as quaint and as nautical as you could want. From there, worthy stops include Bath, Fort Popham, Boothbay Harbor, Damariscotta, Newcastle, Bristol, New Harbor, Waldoboro, Rockland, Camden (left), and Belfast. Honestly, with all the offerings and side trips of these towns and villages, you could be at it for weeks (not to mention if you wanted to add in one of the marvelous Windjammer sailing cruises off this coast through mid-October).  More on Maine foliage.

Massachusetts
This is a tough one. The Berkshires out west provide the requisite majestic sweep for all that colour, as well as some great history, culture, and other stuff, but on the other hand there are few drives more quintessentially olde Massachusettse as Route 6A through Cape Cod, winding through little towns and villages dating back to the 16th and 17th centuries. The 100 km (62 mi.) from the Sagamore Bridge up to Provincetown takes just an hour and a half or so of straight driving, but you can definitely spend the better part of a week soaking it all in along the way. There's Sandwich, with colonial-era building including the Heritage Museums and Gardens of Sandwich, the Thornton W. Burgess Museum, and the Dexter Grist Mill, along with a marvelous Glass Museum.
Other highlights include Hyannis (home of the Cape Cod Maritime Museum, John F. Kennedy Hyannis Museum, Brewster (whose nearby Natural History Museum includes not just indoor exhibitions but 32 ha. (80 acres), of marshland, ponds, and woods full of wildlife, with trails and guided walks), and Woods Hole (home to one of America's most distinguished oceanographic facilities, with a Science Aquarium open to the public). Then of course there's P'town, queen of the cape, with a livelier and larger vibe than the rest, plus its vibrant LGBT scene. More on Massachusetts foliage.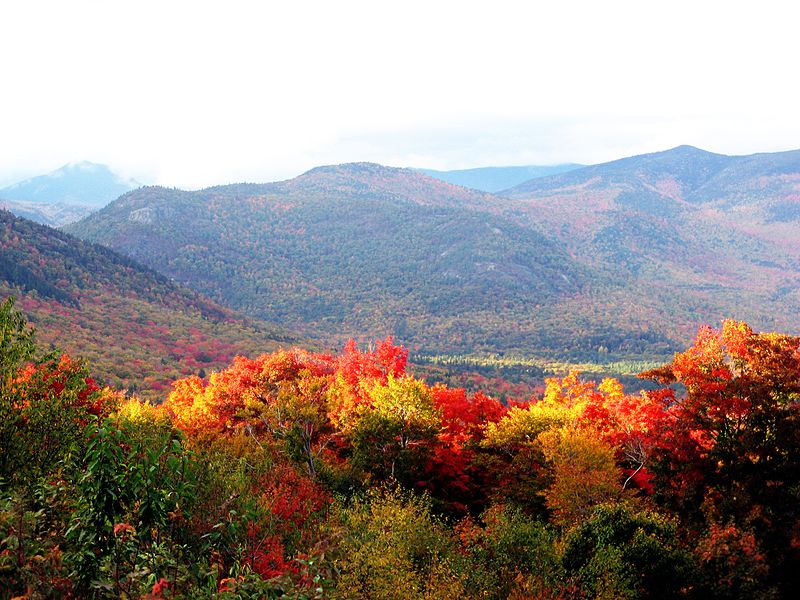 New Hampshire
There are several classic foliage driving routes in the Granite State, but if I really had to choose one, I suppose it would be the one centred around craggy Mount Monadnock in the southwest of the state. There's about 130 km (80 mi.) worth of loop along Routes 12, 101, 202, and 123, with quaint, historic towns along the way like something out of Currier and Ives, including Keene, Peterborough, Marlborough, Marlow, Troy, Jaffrey, Fitzwilliam, Gilsum, and West Rindge. Highlights include the Cathedral of the Pines; the Thorne-Sagendorph Art Gallery, Horatio Colony House Museum, and Swanzey Historical Museum in Keene; Peterborough's Mariposa Museum for kids and the Peterborough Historical Society; several marvelous nature reserves; and seven delightful covered bridges. More on New Hampshire foliage.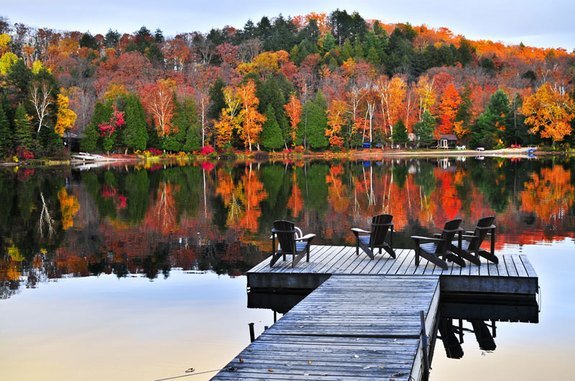 Rhode Island
You would think foliage route options in a state as wee as "Little Rhody" would be more limited than in neighbouring states, but turns out less so than you'd expect. Here I'm also going to cheat and mention two routes, because one is very short: the 16-km (10-mi.) Ocean Drive in fancy, manse-y Newport – which besides gorgeous ocean views and mansions also offers the options of stopping to visit vineyards, the International Tennis Hall of Fame, and Fort Adams State Park.
If you want to spend a longer time, it's a less than an hour's drive upstate for the 64-km (40-mile) route through the Blackstone River Valley north of Providence, with a plethora of historic colonial and 19th-century mill towns (one of which, Slater Mill, is a "living history" museum), with major stops including Woonsocket and Pawtucket. Then of course there's dynamic nearby Providence to enjoy before or afterward. More on Rhode Island foliage.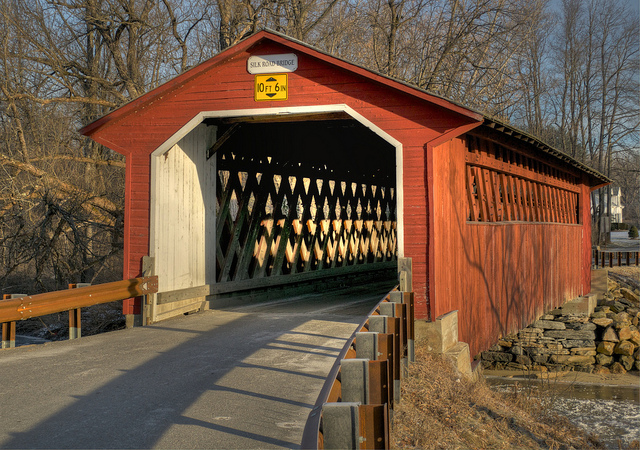 Vermont
The green mountains of the Green Mountain State go gloriously multihued everywhere you look, but nowhere more so than its southern half, where Route 9's "Molly Stark Byway" gets my vote as fave driving route – just 77 km (48 miles) long but a superb mix of chromatically lusicous leafiness and engaging historic villages, towns, and small cities such as Bennington, Brattleboro, Marlboro, Wilmington, Woodford, and Searsburg. Brattleboro is one of the state's larger, artsier, and crunchier communities, with Bennington not far behind – and all of the above boast various museums, monuments, and architecture that is New England to a T.  More on Vermont foliage.
images | pdbreen, JackVinson, freefoto.com, Someone35, jcbwalsh