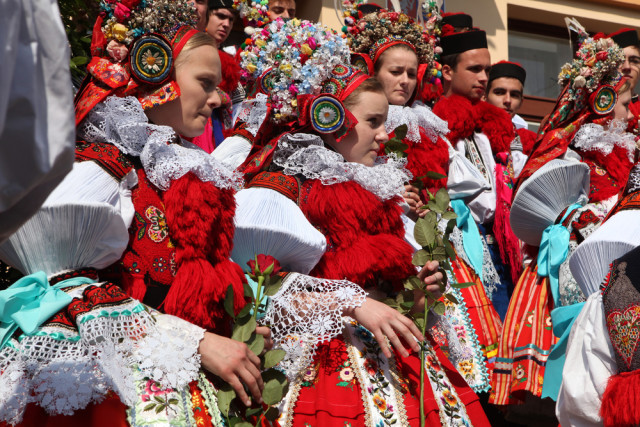 Prague and the towns and cities of Bohemia tend get most of the attention from travellers and travel writers alike. But in my many visits and time living in the Czech Republic, I found that the historic region in the country's south – a bit smaller than Wales and the U.S. state of New Jersey – is no piker when it comes to history, scenery, and small-town charm. Moravians speak a distinct dialect of Czech, and Moravia is also Czech wine country, a distinction receiving increasing international appreciation. Here's a primer on the region's top destinations:

Brno
Founded around 1000 AD, Moravia's capital (pop 400,000, metro 800,000) is the Czech Republic's second largest city after Prague, and though it's perhaps more visited for trade fairs and auto racing than tourism, it can boast some impressive sites indeed. Foremost among them is the early-13th-century Špilberk Castle on Petrov Hill. Long used as a Habsburg prison for politicals, then a military barracks, today it's the site of the city museum. Right nearby, the hulking, Gothic/Baroque Petrov Cathedral is another symbol of Brno.
The heart of the city's old quarter is the triangular Náměstí Svobody (Freedom Square), a felicitous mix of architecture from Baroque to 21st century; nearby the city's oldest secular building is the Stará Radnice (Old Town Hall), dating back to the mid-13th century, its historic rooms and observation tower open to the public. Architecture geeks will want to Czech out Ludwig Mies van der Roe's Villa Tugendhat, an icon of modernism built in the late 1920s. Among the city's more singular museums are the Gregor Mendel Museum of Genetics (the pioneering biologist was a local lad) and the Museum of Romany Culture, dedicated to the much misunderstood Roma people (aka gypsies).
Sites worth visiting near the city include the 11th-century Veveří Castle, not completely restored but open to the public for tours) and the Moravský Kras (Moravian Karst), a reserve with dramatic scenery including deep gorges and more than a thousand cool caves (some open to the public).
Parenthetically, 2015 is also a year of events surrounding the 160 birthday of one of the CR's most famous composers, Leoš Janáček (The Bartered Bride).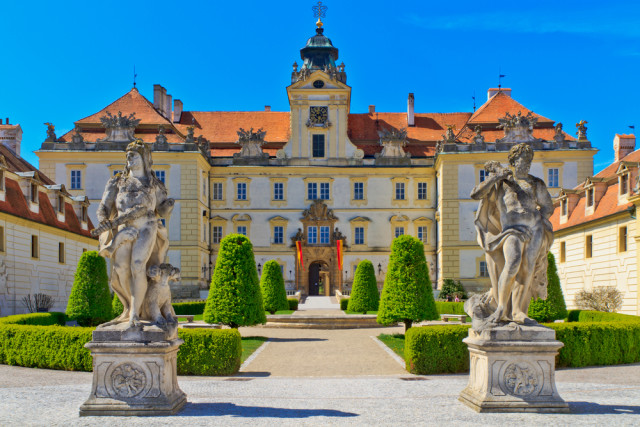 Lednice/Valtice/Mikulov
Near the Austrian border, 45 minutes to an hour from Brno (some 2½ hours from Prague), the nearly twin towns of Lednice and Valtice are UNESCO World Heritage products largely of the 17th century, an extravagant Renaissance-era complex including twin (though not identical) castles, gardens, parkland, hunting lodges, ponds, and other structures such as "follies" and artful artificial "ruins".
Also practically contiguous with these two, Mikulov is one of Moravia's all-around prettiest historic towns has its own monumental Baroque castle, as well as plenty of vineyards and wine restaurants/pubs. Mikulov was also a major centre of Judaism (home, for example to the reknowned Rabbi Löw, said to have created the legendary Golem), and there's an interesting Jewish cemetery, synagogue, and museum here.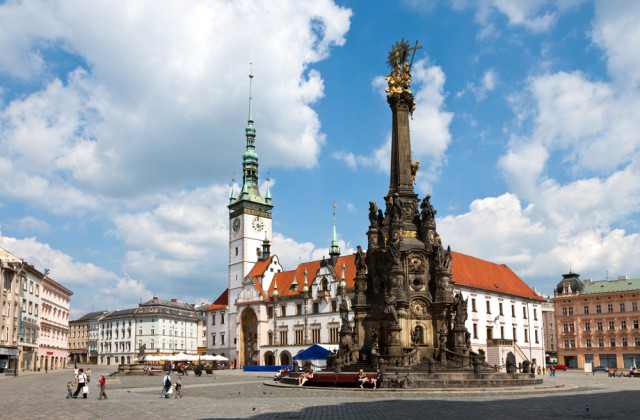 Olomouc
About 1½ hours northeast of Brno (2½ to three hours from Prague), this city of some 102,000 (metro 480,000) on the Morava River dates back to Roman times, and its historic core harbours this country's largest collection of historic sites outside of Prague. At its centre is Horní Náměstí, a plaza whose notable features include its UNESCO World Heritage Trinity Column; several Baroque fountains; and a Renaissance town hall with the country's only astronomical clock outside Prague (the twist here is that in repairing World War II damage during the Communist régime, it was given an ideological makeover, depicting proletarians rather than saints).
Another must is Olomouc Castle up on the hill, its main sites the towering, 11th-century St. Wenceslas Cathedral and the 12th-century Bishop's Palace. Other fine ecclesiastical sites worth visiting include St. Michal, with one of Central Europe's most breathtaking Baroque interiors, and the 12th-century Hradisko Monastery. Nights downtown are especially lively thanks to one of Central Europe's densest populations of university students.

Ostrava
Right near the border with Poland, Moravia's second largest city (pop. 304,000) was known for centuries as a centre for coal mining and iron/steel-making. The last coal was mined in 1994, and Ostrava has reinvented itself as something of a Central European cultural hub, with four theatres; various festivals, museums (beer enthusiasts should head for the Brewery Museum), and galleries; and an acclaimed symphony orchestra.
Many of the old mining/metallurgy facilities have been repurposed for various venues, and the old Michal Mine and Anselm Mine have been preserved as museums. Of the more conventional tourist draws, the most significant is the Silesian Ostrava Castle, its current incarnation a Renaissance château, now open with period furnishings and several exhibitions (including torture instruments!). The city is 2½ hours from Brno, three to 3½ from Prague, and even has air service from elsewhere in Europe.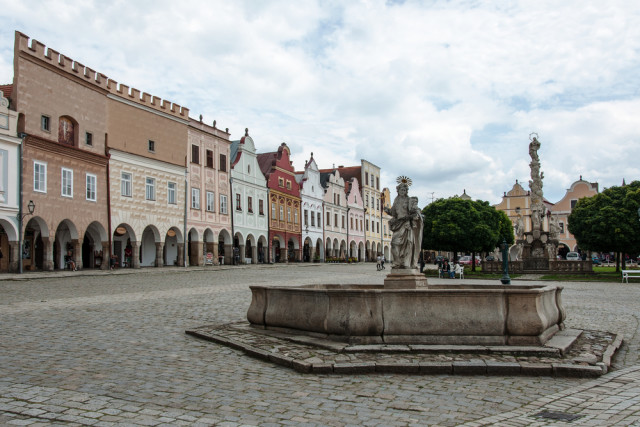 Telč 
If anyone has heard tell of an exceptional Moravian must-visit, it's probably this small town (less than 6,000 people), declared a UNESCO World Heritage Site due to its felicitous, multi-coloured mix of Renaissance and Baroque architecture, much of it dating from the 16th century, with the big kahuna being the zámek (castle). It's still fairly sleepy compared to other tourist destinations, and probably better suited as a several-hour visit rather than an over.  Two hours from Brno, just under two hours from Prague.

Znojmo
Another quite charming small city (pop. 34,000) with a compact medieval historic core, Gothic town hall tower, and a castle which due to alterations over the centuries is a Romanesque/Renaissance mix. But one thing that distinguishes Znojmo is its network of underground storage and defense tunnels, open for tours. And what makes it expecially worth visiting is that this is perhaps Moravia's wine destination par excellence, with various wineries offering tours and tastings; wine pubs; and a rip-roaring Vinobrani wine harvest festival in mid-September.
Na zdraví! (Cheers!)

More info: CzechTourism.com.



images | Vladimir Wrangel, Montypeter, Bertl123, kaprik, Mino Surkala, miropink, Bertl123