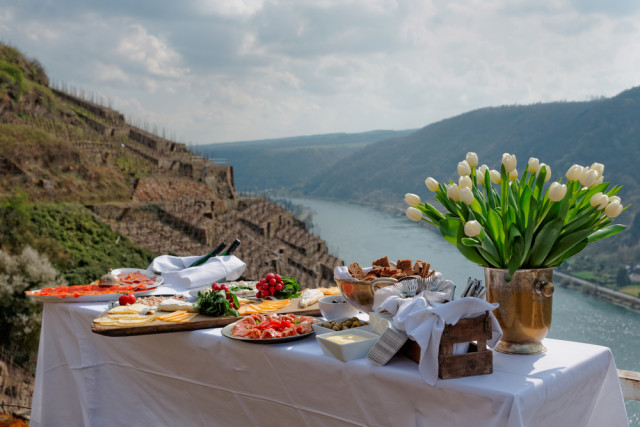 Germany, like many other countries with strong culinary icons – in this case wurst and beer, but similar to bangers and mash in Britain and hot dogs/hamburgers in the USA – is of course far more than sausages and suds. Let's take a tasty little tour, shall we?
Flammkuchen
Found throughout the country but typical of the southwest – contiguous with France's Germanic region Alsace, where it's known as tarte flambée, Flammkuchen (above) like pizza has a fine, crunchy baked-dough crust due to exposure to high oven heat for a short time. But instead of tomato sauce and mozzarella, it's covered with a layer of sour cream, then topped by pieces of bacon and onion – creating a mix of intense and savoury flavours. Some restaurants will add additional ingredients such as rocket or melted cheese, and come up with even more inventive variations involving salami and other meats, veggie-only versions –  even sweet dessert versions.
Spätzle
Italy may be Europe's pasta superpower, but Germany (along with Teutonic neighbours Austria and the German regions of Switzerland) has this small, elongated flour-and-egg dumplings usually found alongside certain meat dishes and also sometimes as the main course. There are variations which mix in spinach or calves' liver, but perhaps the most common is Käsespätzle (above), with cheese – typically Emmentaler – and onions. An event more distinct variation is Maultaschen, a larger pasta usually stuffed with meat (though veggie versions also exist) which can be eaten with sauce or in soup.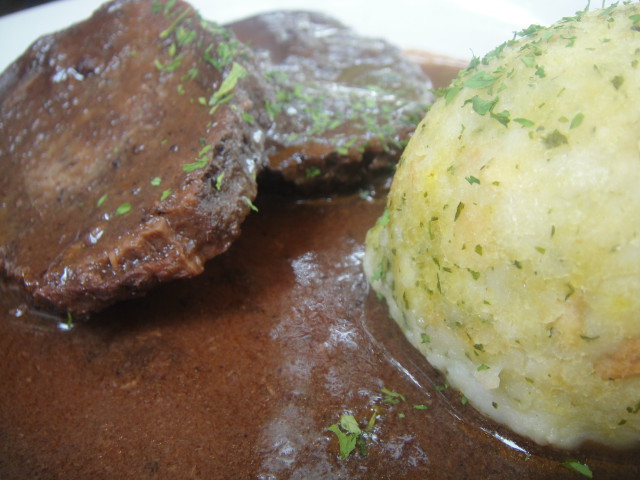 Pork Dishes 
When it comes to meat/fish, one of the two main pillars of German cuisine besides the potato is pork. And Schweinebraten (above) is a particularly popular form of it: slices of pork in a thick, hearty gravy incorporating black beer (Sauerbraten is similar, except made with veal). Another is Krustenbraten, oven-roasted with the skin and fat layer beneath, creating a crackly, crunchy Krusten which is like a party in your mouth. It's mostly served as a main dish in restaurants, but may also be sold in slices (often as a sandwich with hearty brown mustard) at street stands.
A related delicacy is a smoked sausage (yes, a sausage, but not considered a wurst) called Bremer Knipp, after the Lower Saxony city of Bremen in which it originates. Made with oat groats, and pork head, belly, rind, and liver, it's fried until golden brown, sliced into small pieces, and served with applesauce and sweet gherkins.
And finally, Kasseler is a type of pork chop which includes the ribs, easily recognisable for its pinkish hue and savoury smoked aroma.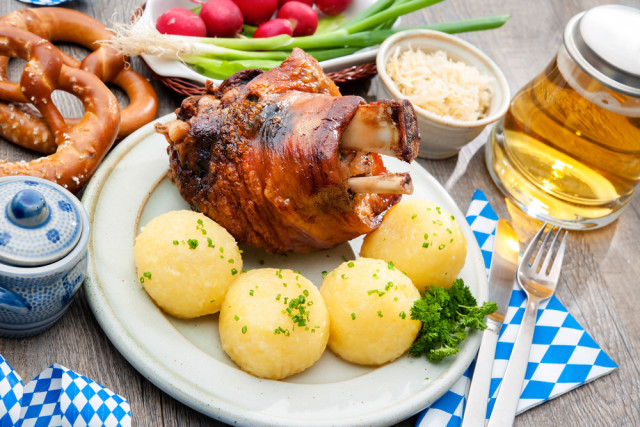 Pork Knuckles
Perhaps the jewel in the crown, most beloved by many Germans, is Sprunggelenke, both intensely flavourfull and fairly fatty. There are actually two primary versions of it. There's Bavaria's Schweinshaxe, grilled or oven roasted, served in a thick gravy of its own juices, and served alongside Klösse potato dumplings or meat-stuffed buns. And from Berlin comes Eisbein, boiled instead of roasted and accompanied by sauerkraut and boiled or mashed potatoes.
Guten Appetit!

images | Shutterstock, sfeichtner