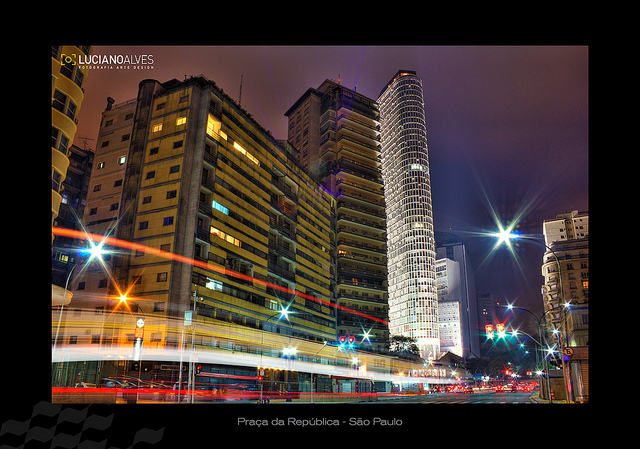 Perhaps the closest thing Latin America has to New York City (and in fact also has the Big Apple beat population-wise by several million – nearly 12 million/21 in metro area), São Paulo is a vibrant – some might say slightly crazy – and skyscraper-thick urb which, as the saying goes, never sleeps.
The best place to begin taking the pulse of the coastal Brazilian city paulistas (locals) fondly dub Sampa and SP is its main thoroughfare, Avenida Paulista. This is truly a 24/7 spectacle, always a-bustle with folks from all walks of life and other parts of Brazil as well as various countries – working, playing, studying, laughing, falling in and out of love, laughing, occasionally crying. In short, a swarm of activity – especially of the local and visiting business people who help make SP a hemispheric powerhouse and a forest of imposing office towers. From the top floor of one of them, the famous, 36-storey Torre do Banespa, dating back to the mid-20th century, visitors can get a nearly dizzying view out over the nearly New-York-like cityscape. 
And despite all its thrusting modernity, let's not forget that São Paulo was founded with a Jesuit mission more than five centuries ago, in 1554, and remnants of this history are still yours to enjoy, especially in Centro (downtown). Top of the list are the 17th-century São Bento Monastery, with marvelous stained-glass windows, and the imposing, 16th-century Convento de Nossa Senhora da Luz, which includes a museum of religious art. Also in this area is the more recent and enormous Catedral da Sé, on a plaza of towering palms, was built in a neo-Gothic, somewhat Germanic style, but built throughout four decades in the first half of the 20 century, featuring a pair of pointy towers and a blue cupola.
Sampa is also a swell city for art lovers, thanks to plums such as the Pinacoteca do Estado (Brazilian painting and modern art) in the Luz neighbourhood, also home to a superb religious art collection at the Museo de Arte Sacra de São Paulo.  Meanwhile the Museu de Arte de São Paulo, all glass with dramatic red accents, has Latin America's most impressive collection, including the likes of Van Gogh, Picasso, and Rubens.  For a change of pace, a museum devoted to what's considered another art form in a country mad for the "beautiful game", is the Museu do Futebol in Pacaembu Stadium, a bit west of Centro.
For a rest from museums altogether, head to Ibirapuera Park south of Centro, the main "lung" of an admittedly polluted city. In its 221-hectare (545-acre) you can bike, stroll, have a pick-me-up at one of its cafés, and – well, enjoy yet more interesting museums, such as the Niemeyer Planetarium, Afro-Brazilian Museum, Folkore Museum, and Air Force Museum. For a greater swath of nature, check out the Parque Estadual da Cantareira, north of the city – more a national forest, really, with nearly eight square kilometres (30 sq. miles) and fauna such as howler monkeys and ocelots.
Speaking of strolling, this is also something all visitors to São Paulo should amply indulge in, especially in places such as  Santa Ifigênia, a commerical area just northwest of Centro, with its  early-20th-century, Art Nouveau aqueduct and neo-Romanesque church Nossa Senhora da Conceição de Santa Efigênia.
Other cool neighbourhoods include Bela Vista (Italian), Liberdade (Little Tokyo) and 25 de Março (a multi-culti mosaic, especially Lebanese and other Middle Eastern), this last featuring several street markets.
If possible, you'll find the night even more intense than daytime in some areas. If you're culturally inclined, consider catching a performance at the Theatro Municipal de São Paulo, built in the early 20th century but architecturally a mix of neo-Baroque as well as Art Nouveau. One of the top areas for drinking and dancing – especially for the younger set – is Vila Olimpia, while an especially hot area is São Sebastião, out along the coast, with marvelous beaches as well as restaurants and nightspots.
image | Luciano_Alves