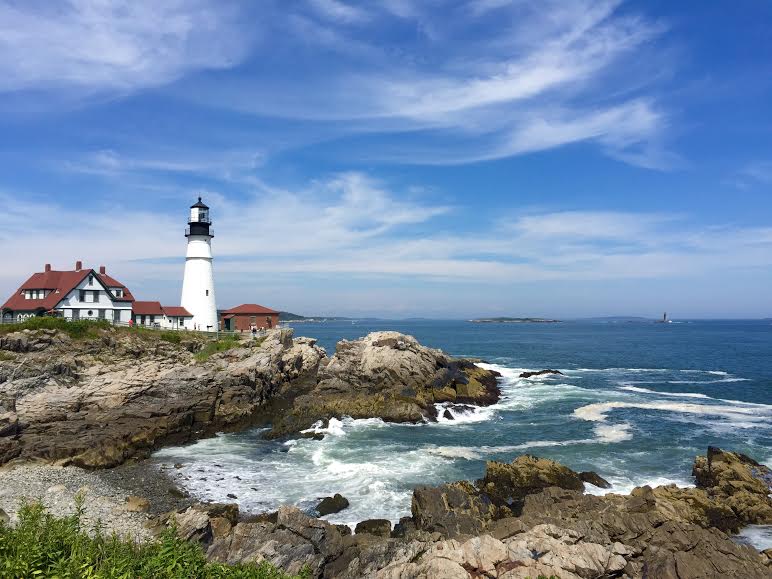 Earlier this month, in visiting longtime family friends outside Portland, on mid-coast Maine, I had the marvelous chance to rediscover a port city in which I hadn't stepped foot in decades. And boy, is it true what I've been reading and seeing of late: to put it mildly, they've been sprucing up the place. And as fabulous as it is in spring and summer, Portland also makes an awesome base for exploring the glorious Maine foliage of autumn.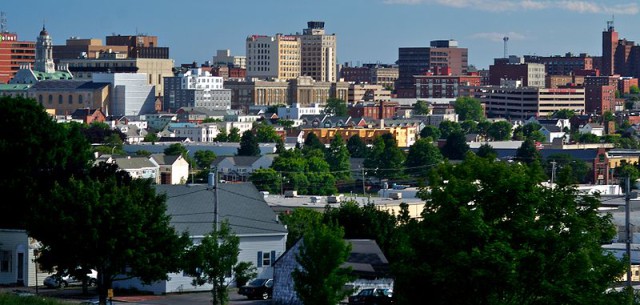 On Casco Bay, a two-hour drive from Boston, about five hours from New York City, and with air connections throughout the USA at the Portland International Jetport (PWM), Maine's biggest urb (pop. 66,000, metro 204,000) yet not its capital has been a plucky place practically ever since its origins as a fishing/trading village founded in 1633. This in spite of (or perhaps partly because of?) the fact that it's rebuilt several times after fires and warfare – in fact, the city seal depicts a phoenix above the moniker Resurgam (Latin for "I will rise again").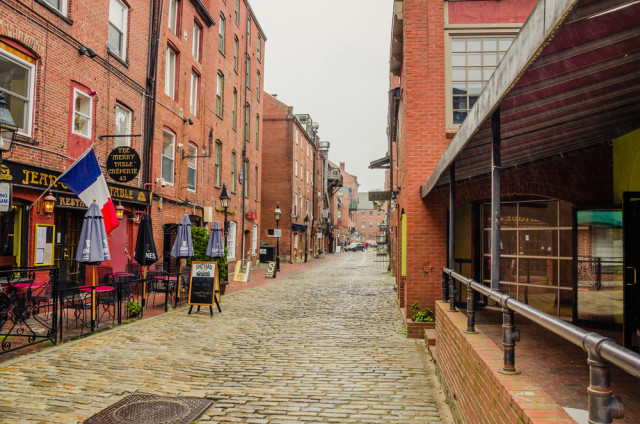 Downtown Portland
And the latest resurgence –with annual growth on the order of two to three percent per year – has not been from blazes or bombardment, but from the decay and neglect in which many U.S. downtowns found themselves moldering in the late 20th century. That started turning around in the early and mid 1990s, and today the urban core is more happening than ever, with a hip arts and museums district; a buzzing dining, boutique shopping, and microbrewery scene; an several other cool attractions, not least a bay studded with leafy islands, forts, and lighthouses.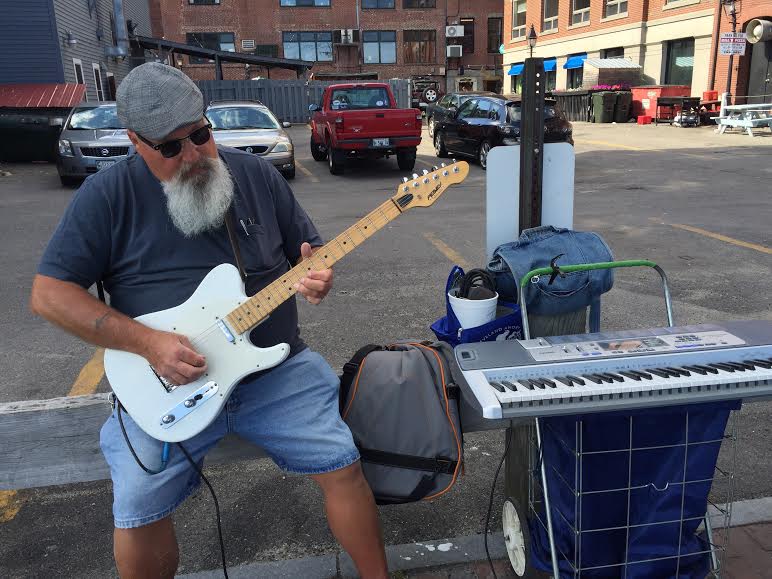 The heart of today's revitalized Portland downtown is the Old Port (above). Still a working fishing harbor while now also a tarted-up playground for both locals and visitors, it's anchored by Commercial Street along the waterfront. I found it a fun, educational, and often very tasty experience to roam Fore Street and other brick-paved streets, their doughty stone and brick buildings now home to restaurants, coffee bars, cocktail bars, and gastro-pubs (more about them below), as well as shops dispensing not just your typical tourist tchotchke but also international clothing and accessories (Ten Thousand Villages); exotic spices and sauces (Vervacious, below); candy both traditional (Old Port Candy Co.) and nouvel (Dean's Sweets); and Maine-style donuts made with mashed potatoes (Holy Donut, below).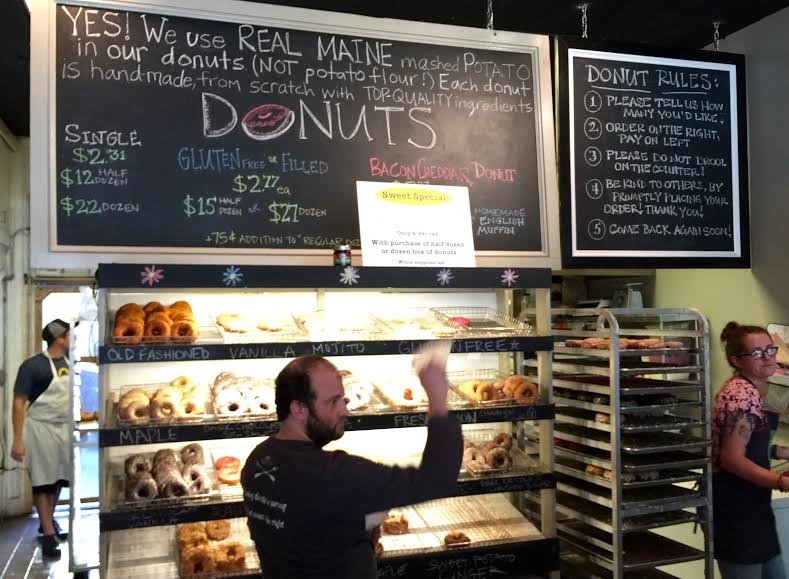 Portland Arts District
Several blocks up the hill along Congress Street, the Portland Arts District is another key facet of the phoenix phenomenon – a cultural cluster anchored by the Maine College of Arts, the Portland Museum of Art (combining European Old Masters with New England and other American artists including Winslow Homer, Mary Cassatt, Frederick Church, and Jasper Johns), and next-door Portland Children's Museum.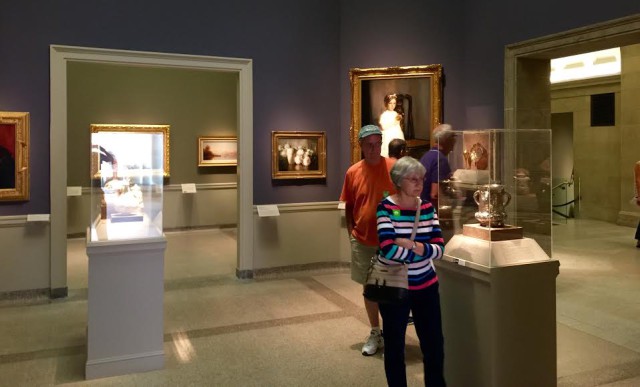 Other Portland museums well worth a visit in this district include the Maine Historical Society; the Tate House Museum, showcasing the life and times of colonial New England; and the Wadsworth Longfellow House and, the 18th-century brick family home of Henry Wadsworth Longfellow, the 19th-century poet who made himself immortal for works such as The Ride of Paul Revere and The Song of Hiawatha.
Rounding out the Arts District are more than a dozen world-class art galleries – all showcased, along with other businesses (and the PMA, free to the public) during the splendid evening First Friday Art Walk.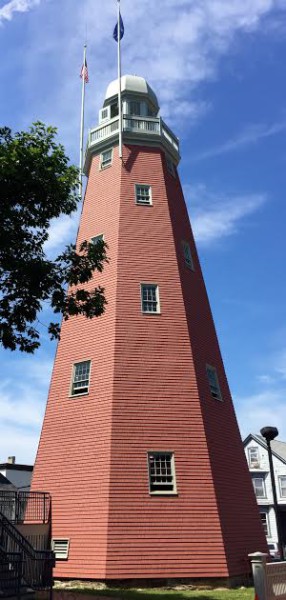 Taking Munjoy Hill
Head toward the opposite, northeast end of Congress Avenue, and you'll soon get to Portland's latest up-and-coming neighbourhood, Munjoy Hill. This historically Italian/Irish area had become pretty rough, scruffy, and dodgy in recent decades, but is seeing its own rebirth now with hip eateries like The Front Room and The Blue Spoon as well as galleries and boutiques such as Fuller Glass, Laura Fuller's gallery of wonderfully creative stained-glass artwork.
But it's what's across Congress Street from Fuller Glass that makes this neighbourhood especially worth visiting. The Portland Obervatory (above), a National Historic Landmark, an 1807 signal tower 26 metres (86 feet) high and open to visitors, offering not just an excellent overview of Portland maritime and general history through the exhibitions and guided tour, but an excellent overview of the city and the bay literally, from its outdoor observation level – the very highest point in town.



Around Portland Bay
Back down on Commercial Street, it's time to look waterward, and the first stop should be the Harbor Fish Market on Custom House Wharf (above). Fishermen pull right up to the market early every morning, and you can eyeball the results, from myriad fish and shrimp on ice to huge lobster tanks.
Also along the waterfront are the various ferries and boat excursions out into Casco Bay. There are more than a hundred islands out here, the most popular and populous of which is Peaks Island, with just 900 or so year-round residents but thousands in summer (there are several hotels, various restaurants, and the Greenwood Garden playhouse, which has received national acclaim). Other islands range down to the tiny, such as Hog Island, site of Fort Gorges (below), which I heard several locals dub "Fort Gorgeous"; built during the Civil War, its now accessible as an AYOR public park.

Out here you'll also notice one of the bay's most iconic landmarks. Maine's oldest lighthouse, the whitewashed Portland Head Light (top), built in 1791, is on a former army base now the Fort Williams Park. It's automated and not open to visitors, but there is a small museum here – and the photo ops (above) are spectacular.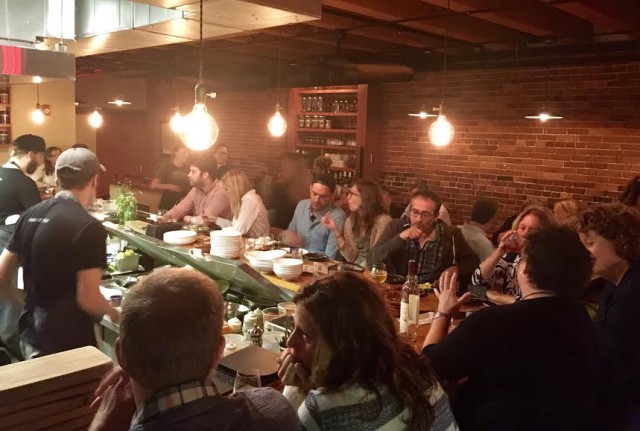 Portland Restaurants/Foodie Scene
The Portland, Maine dining scene deserves special mention because this, more than anything else, has put this city on the national map in a big way. In fact, local boosters have been touting the idea that there are more restaurants here per capita than any place in America except maybe San Francisco. That may or may not be true (it depends on various variables), but there is absolutely no question that cuisine is now king here in Portland – especially the locavore, farm-to-table movement.
Top contenders include one of the restaurants that started it all, Old Port's Fore Street and the more recent Central Provisions (above), as well as the slightly farther-flung Jordan's Farm (yes, literally dining in gazebos on a farm) across the bay bridge in Cape Elizabeth (closer to the Portland Head lighthouse).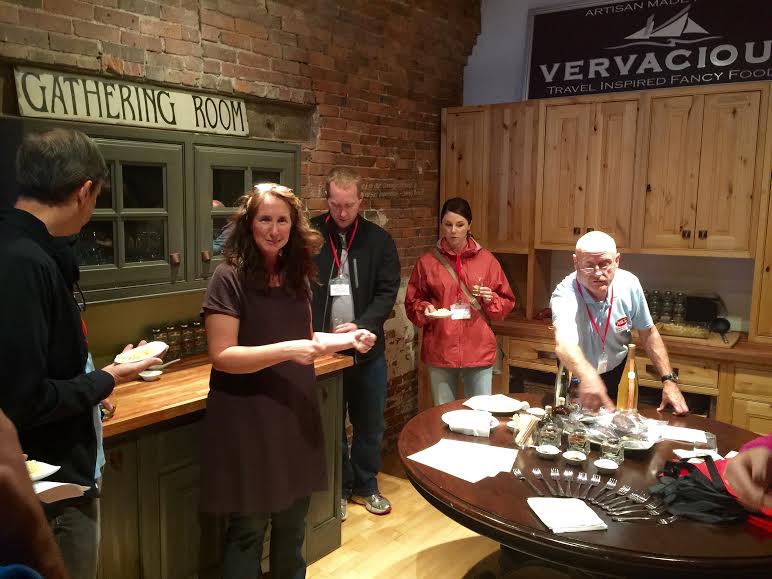 A good way to get more of a sense of it all is to take a three-hour Maine Foodie Tour (above), run twice every morning to a rotating roster of shops, restaurants, and microbreweries; on the one I took, five out of the six were good to outstanding. There are also festivals and special events which celebrate Portland's culinary riches, such as October's Harvest on the Harbor. Other opportunities are available most or of all the year in the form of farmers markets, like the one I browsed in Deering Oaks Park – OMG, those wild Maine blueberries!!!

Day Trips From Portland
This city makes an absolutely superb base for explorations within two or three hours' drive. As I mentioned above, foliage this fall will be a biggie. But other highlights start with the town of Scarborough, a few minutes south. A perfect example is the Scarborough Marsh Audubon Centre, where I had a splendid float in a kayak, spotting birds (above) and just enjoying the blessed silence.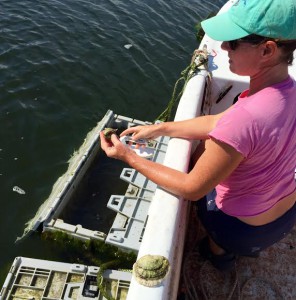 This marsh is also the endpoint of the Nonesuch River, where from the Pine Point Town Landing I took a tour of Nonesuch Oyster Company's aquatic farm (left), run by Abigail Carroll, a sophisticate who moved back from 12 years in Paris to devote her life to the idea of the terroir of oysters. And it's truly a remarkable experience to go on one of Abigail's tours of her oyster farm out on the scenic river – floating bags and repurposed lobster bins – while learning all about oysters and sustainable seafood farming, and even getting to sample some right on the boat. Then right down the road from here is Pine Point Beach, one of the best Maine beaches of all, and Old Orchard Beach, some 11 kilometres (seven miles) including an amusement park and a pier crammed with all sorts of other entertainments.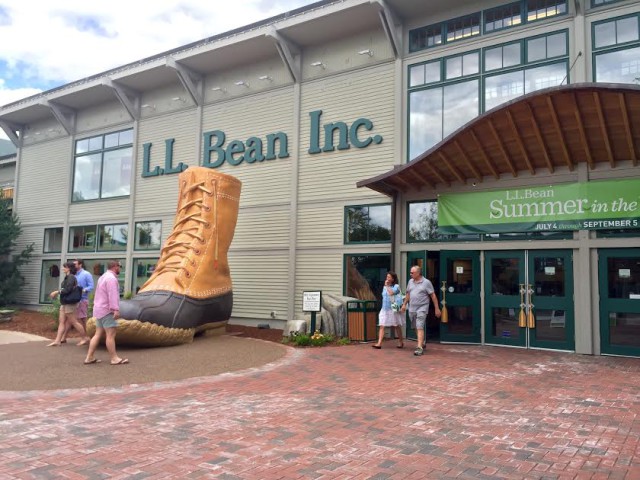 Many people also love Freeport, a 20-minute drive north, a onetime fishing town totally transformed by one of the USA's iconic retailers for more than a century, L.L. Bean (above),  specialising in clothing and outdoor equipment. Apart from its huge department store, practically the entire town is an agglomeration of shops, outlets stores, and shopping malls. Granted, I'm not a shopper, but for holidaymakers who love to shop, it's a major draw.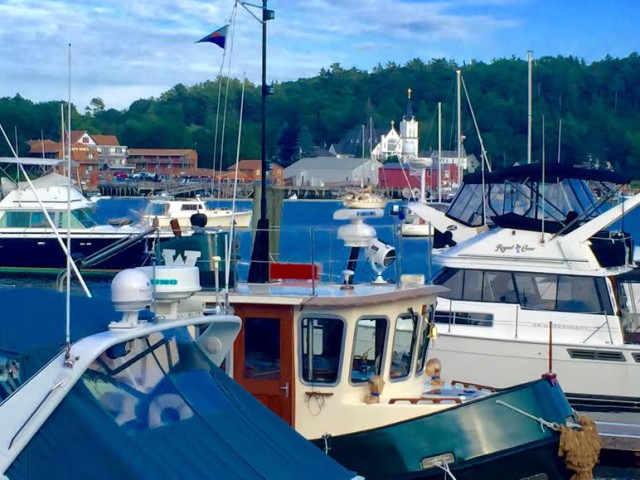 Another hour north, I more enjoyed my outing to Boothbay Harbor (above), one of those little port towns that offer the picture-postcard image of the Maine coast that many of us have. Full of galleries, shops, restaurants, boutique lodgings, and whalewatching excursions (as well as the state aquarium), it's also inevitably touristy in the summer high season, but hey. Of similar size, and famous these days as the site of the double-president Bush family compound, Kennebunkport is another summertime tourist magnet makes another highly picturesque day trip, a 40-minute drive south from Portland.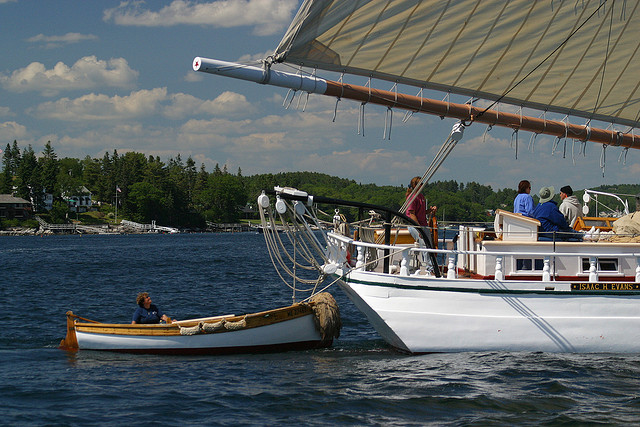 If you're OK with venturing just a wee bit farther afield, give a thought to Camden, just under two hours north. A summer holiday colony for the well-heeled of the entire U.S. Northeast, it's another quaint, historic spot (associated in the early 20th century with hometown poet Edna St. Vincent Millay), and also the base for Maine Windjammer Cruises, a trio of traditional schooners that offer spectacular, live-aboard excursions for a weekend or up to five days (and that is totally the plan for my next trip to Maine).
Finally, driving along this coast both north and south offers some breathtaking fall foliage in memorable spots such as Georgetown Island and Sabbathday Lake (site of the world's last remaining community – three old people – of the Quaker-derived Shaker religious sect, founded way back in the 1780s).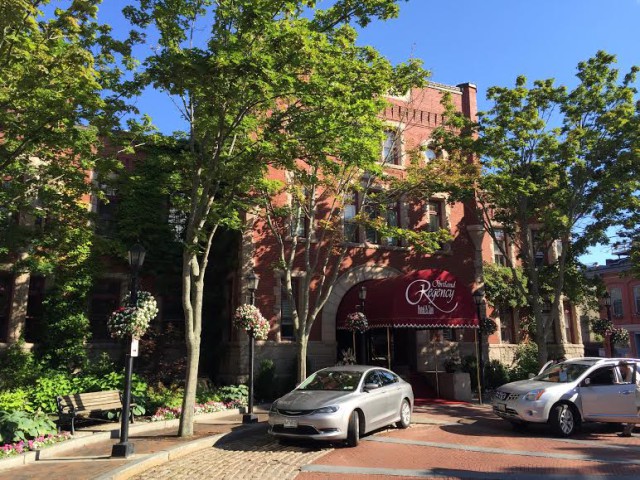 Portland Hotels
The mid-Maine coast is full of accommodations, from lovely bed-and-breakfasts to  international hotel and motel brands. Among my downtown favourites is the 95-room Portland Regency Hotel & Spa (above), occupying the red-brick onetime armoury building dating back to 1895 (and yes, the spa here is also a gem). And just this year, another superb boutique indie opened in the 110-rooms Press Hotel, which in a past life was the headquarters of the Portland Herald Press and is now a delightful mix of newspaper-themed nostalgia and modern design (including a quite smart on-premises art collection).
More information: VisitPortland.com, PortlandMaine.com.

images | Jeffrey B. Ferland, Albert Pego, David Paul Appell, José Balido, RKleine,