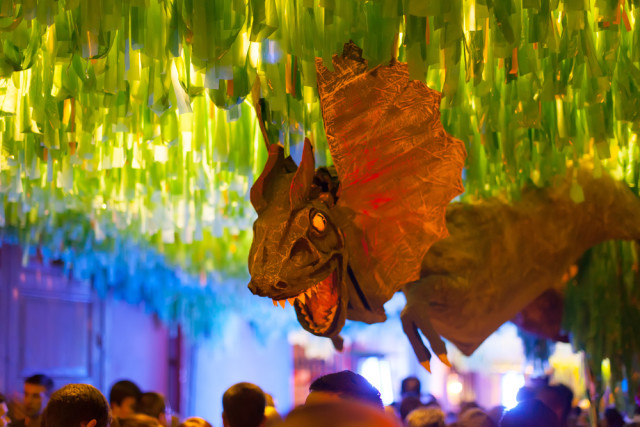 Starting Saturday, one of Barcelona's biggest street festivals kicks off in the increasingly funky neighbourhood of Gràcia, off the tourist track just two or three Metro stops north of the Ramblas and the Gothic Quarter. The Festa Major de Gràcia is a joyous weeklong street party celebrating summer and Catalan culture and featuring city blocks competing to create the coolest fantasy worlds.
But even after all the hoopla is over on August 21st, this area is a fascinating and gratifying one to visit thanks to its quirky, alternative vibe; denizens who are a mix of lifers and dynamic immigrants; and a range of of indie boutiques, vintage furniture/decor/clothing shops, bookshops, cultural stops; neighborhood pubs; and more.
How about a little stroll?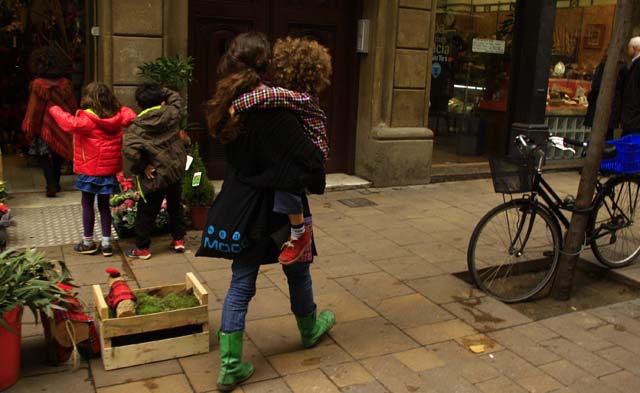 Streets and Squares
You can especially catch the pulse of Gràcia on its various plazas, more than 15 of them, large and small, as well as its more trafficked pedestrian streets.
For a bit of a literary vibe, check out Plaça del Diamant, for which of one Catalonia's most important 20th-century authors, Mercè Rodoreda, named one of her novels; also here is a Spanish Civil War bomb shelter which can be visited. For an especially lively scene, Plaça del Sol, is noisy, pub-filled, and popular with young people. The site of the old city hall when Gràcia was an independent municipality, Plaça Rius i Taulet (bottom) is also popular with locals, including kids kicking around footballs under the shade of a magnificent belltower.
One some streets you might well stumble across some delightful example of street art, such as the playful "hacked" street signs of French artist Clet Abraham (below, on Carrer de Verdi, a street also notable for the Cine Verdi, an arthouse cinema that's a local film buff favourite thanks to being one of the only ones left that screens undubbed movies).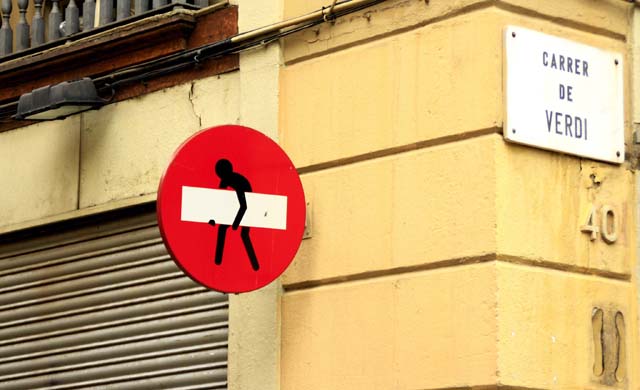 A Spot of Shopping
Old-timey neighbourhood joints – some where you even have to wait your turn in line – cheek by jowl with some seriously cutting-edge. concept shops, pop-ups, and cool art galleries. To whit:
Notable old-timers include  Carnissers Sarroca (Carrer de Verdi 63) a butcher shop in business since 1902; Travessera de Gràcia's Colmado Germans Heredia, an old-fashioned with an impressive selection of libations; and the Pastisseria Montserrat on Carrer del Torrent de l'Olla, with its extensive array of artensanal chocolates.
Others of recent vintage worth mentioning include Lady Loquita (Travessera de Gràcia 126), selling women's fashions and accessories by young, up-and-coming designers; next-door El Lenguaje de las Flores ("The Language of Flowers", Travessera de Gràcia 129), a little spot packed with collectibles collected by its owners on their travels across the globe; Vinil Vintage (Carrer de Ramon y Cajal 45) with a cornucopia of vintage records; and Colorín Colorao (Travessera de Gràcia 176), a great collection of gift and paper items along with an upstairs exhibition space). There are in fact many more – too many to list – just go, and you're guaranteed to find something to enthrall you.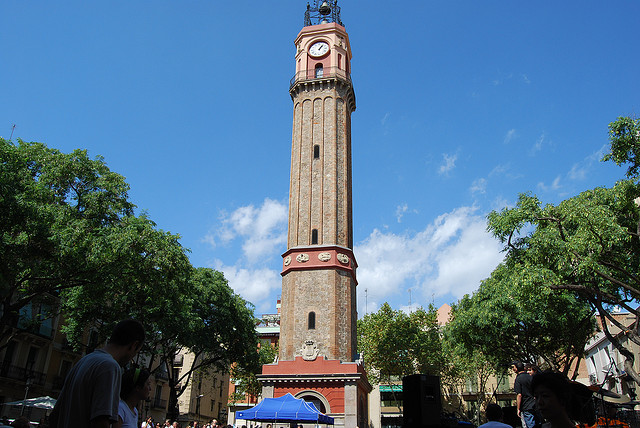 Cuppas, Cocktails, Cookery
All that roaming and shopping can add up to a certain amount of hunger and thirst, and Gràcia obliges with a number of charming spots. Quiet Cafè Camelia (Carrer de Verdi 79) is a great place for a cup of coffee and a light bite (their veggie burgers highly recommended), and if you're in the mood for something  your choice should be Bobby Gin (Carrer de Francisco Giner 47), a drinks bar which specialises in – as the name implies – gin, especially gin tonics.
To eat, Gràcia in addition to solid Catalan fare at spots like Caliu de Gràcia (Carrer Bailén 218), La Mostra (Carrer de la Riera de Sant Miquel 11), and just down the street, Via Fora! (Carrer de la Riera de Sant Miquel 25), now also boasts a menu spanning the world, such as the Greek Dionisos (Carrer del Torrent de l'Olla 144), pan-Asian Kau Momos (Carrer Martínez de la Rosa 71), and Mexican Cantina Machito (Calle Torrijos 47).

images | Iakov Filimonov, José Alejandro Adamuz, Joan Garcia i Silano