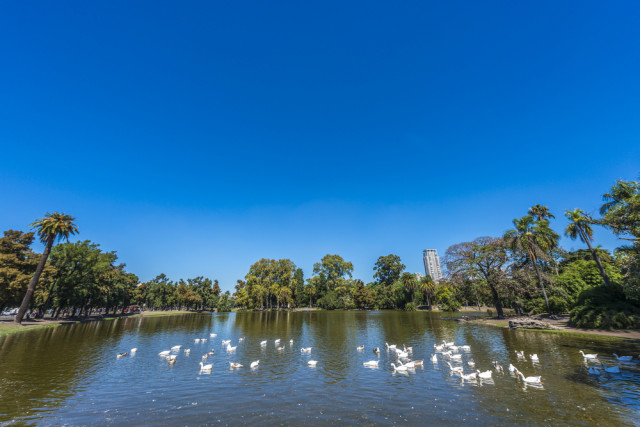 For all the mix of hustle-bustle and cool neighbourhoods in the stimulating cityscape that is Buenos Aires, much of what makes this city world class is its parks, gardens, and green spaces, where the stimulation is of quieter, leafier sort. Here are a half dozen excellent options to take a break from pounding the pavements and commune with porteños in a less urban-feeling setting.
Bosque de Palermo (Parque Tres de Febrero)
In BA's largest (and these days, trendiest) neighbourhood, Palermo, the 25 hectares (62 acres) known as the Palermo Woods boasts a lake; an amphitheatre; an Andalusian-style patio; statuary including busts of famous poets; and an immense collection of roses – some 18,000. A rosy scenario indeed!
Botanical Garden
Also located in Palermo, this triangular seven hectares (17 acres) is riddled with pathways perfect for delightful strolls amid more than 5,000 species of vegetation, including many endemic to South America's Southern Cone, and five greenhouses. The space is divided into an Asian-style garden area, another French-style, and a third Roman-style.
Carlos Thays Park
Named for an influential French-born parks director of the 19th century, the main allure besides greenery of this Recoleta park is its variety of statues/sculptures (including one by Fernando Botero) and architecture, including a museum (of architecture, as it happens). Weekends are especially lively, and every December it hosts the city's Christmas village.
Children's Park
The Parque de los Niños is a 32-hectare (79-acre) swath along the River Plate in the Núñez neighbourhood adjacent to Palermo, and offers some sweet views out over the river. In addition to lots of trees harbouring quite a few bird species, pathways, picnic areas, and even a manmade sandy beach, there are a goodly number of services here, as well, including rental bicycles and sports facilities.
Plaza General San Martín
Centrally located in the Retiro neighbourhood at the end of the popular pedestrian street Calle Florida, this historic – and popular – park was also a Carlos Thays project, and named after Argentina's main hero of the independence struggle against Spain. It's a charming urban park punctuated by three monuments: a grandiose one to San Martín and the independence armies; the somewhat lower-key Monument to the Fallen in the Falklands (from the short war with the U.K. in 1979); and a smaller, more intimate sculpture entitled La Duda (Doubt).
Rivadavia Park
Best known for its outdoor book, magazine, and vintage record vendors, this six-hectare (15-acre) space in the Caballito neighbourhood below Palermo was created in 1928 according to the design of course the ubiquitous Carlos Thays. It charms locals and visitors alike with a small lake, fountains, wooded areas, and sculptural works including a monument to South America's great independence hero Simón Bolívar.
image | Anibal Trejo