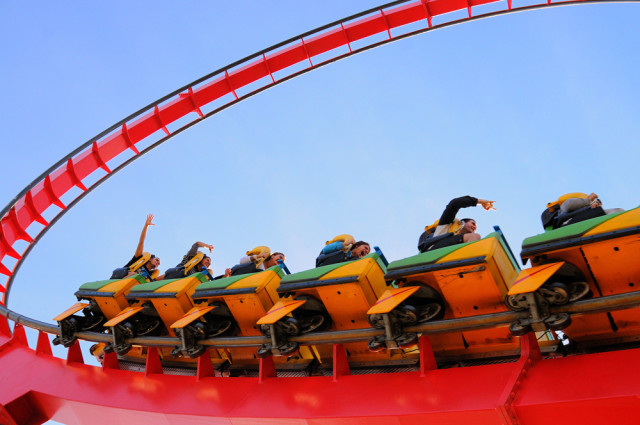 Spain is famously full of beaches, incredibly historic sites, and ecotourism riches, but there's also no shortage of that staple of modern-day family travel: theme parks! And summertime is peak season for these 8 diverting destinations:
Barcelona
One of Spain's most venerable classics, Tibidabo was established way back in 1899, and though it has been renovated and upgraded in recent years, it still has a vintage feel and is small potatoes compared to some of the parks you're about to read about below. However, one extremely cool thing about it is its location, on a mountain overlooking Barcelona and easily reachable from the city by car or funicular (there's also a church up here).
Benidorm (Valencia)
One of Spain's top coastal holiday meccas is home to three parks. Aqualandia is a water park with more than two dozen aquatic attractions (including Spacemaker, the world's tallest plummet slide, reaching speeds of 100 kilometres/miles an hour), along with 14 pools and 10 play areas.  Then continuing the watery theme is next-door Mundomar, an aquatic animal park which includes all sorts of shows and swim-with experiences. Not far off, Terra Mítica (Mythical Land, above) has 25 rides (including Europe's longest roller coaster) and is divided into areas themed after ancient cultures: Egypt, Greece, Rome, Iberia, and the islands of the Mediterranean.
Madrid
Parque de Atracciones Madrid is an on-the-nose moniker for a solid (and publicly owned!) fun park that has been a familiar staple in the capital's huge Casa de Campo park since 1969. It's managed to keep itself fresh (for example adding a Nickelodeon-themed area as one of its four zones). A more recent addition to the capital region, 25 km (TK mi) outside downtown, Parque Warner is indeed another Warner Brothers Studio extravaganza, with five themed areas focusing heavily on TV/movies and featuring familiar characters from Bugs Bunny to Superman.
Málaga
In the Costa del Sol town of Arroyo de la Miel (Benalmádena), Tivoli World has more than 30 attractions, as well as areas themed after traditional Spain and the USA's Old West (Tivolilandia is also a section for very young kids). There's also a great theatre which features regular concerts (some of them big names in Spain and beyond) and flamenco shows.
Seville
Anybody remember the 1992 World's Fair? It was held on this city's Cartuja Island, and as of 1997 has been the site of Isla Mágica, seven areas around a lake, themed after various mythical aspects of the Spanish empire (Eldorado, Amazonia, etc.), with a liberal dose of white-knuckle rides, plus a mini water park which debuted in 2014. (Fun fact: Tom Cruise rented the whole place for a day for daughter Suri while filming Knight and Day in Andalusia in 2009.)
https://youtu.be/9eKRU9NaK8A
Tarragona
Spain's most visited park, and considered one of the better parks in all of Europe, Port Aventura outside the town of Salou has areas themed with the Mediterranean, the Wild West, Mexico, China, Polynesia, and, for young kids, Sesame Street.
Multiple Locations
Aquopolis is a chain of seven water parks with a good variety of attractions geared to various ages. Two are outside of Madrid, in Villanueva de la Cañada and San Fernando de Henares (above); three are out on the Mediterranean coast (in Villa-Seca near Tarragona; Torrevieja in Alicante, and the Valencia town of Cullera); and two more down in Andalusia (Cartaya, Huelva, and outside Seville).

image Christian Bertrand