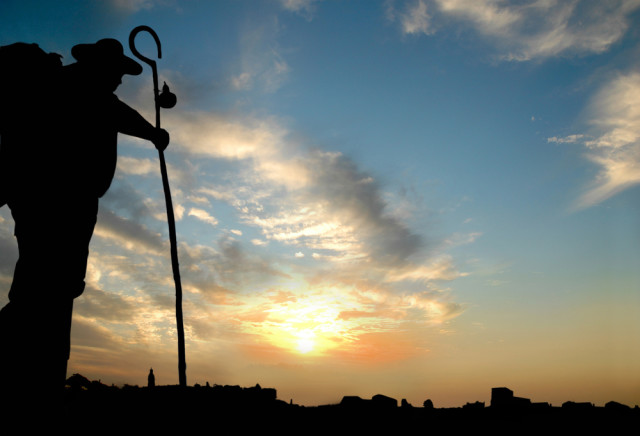 July 25 is the Catholic feast day of St. James, the biggest date along the Camino de Santiago (Way of St. James), Europe's most famous religious pilgrimage route, whose endpoint is the majestic cathedral of Santiago de Compostela, believed by the faithful to hold the relics of Spain's patron St. James "the Great", the apostle of Jesus Christ, miraculously beamed to the Iberian Peninsula.
Adapting a previous pagan tradition, the Way became been a popular Catholic pilgrimage route since at least the 9th century AD throughout the Middle Ages, and after several centuries of disfavor has again become popular in the last quarter century or so.  It has various permutations in both Europe and across northern Spain from Roncesvalles in the Navarre or Jaca in Aragon across to Santiago (the best known being the French Way, starting in the French cities of Paris, Vézelay, Le Puy, or Arles).
Whatever the particulars, however, the sense of magic and mysticism that impregnate the places created by the Way of St. James since the Middle Ages have exerted a pull not just on Christian believers but any traveller who appreciates beauty and culture; hundreds of thousands make the trek (or some portion thereof) every year.
You may have heard tell or even read about the Camino de Santiago, but there is nothing quite like lacing up your walking boots, hoisting your backpack, and hitting the trail for a couple of weeks or a month (biking is also an accepted way of doing it these days; and quite a few guidebooks exist to guide pilgrims, even more so nowadays than in centuries past; and the route is also extensively signposted along the way). It is sure to be an extraordinary experience – and very possibly even life-changing. Here's how: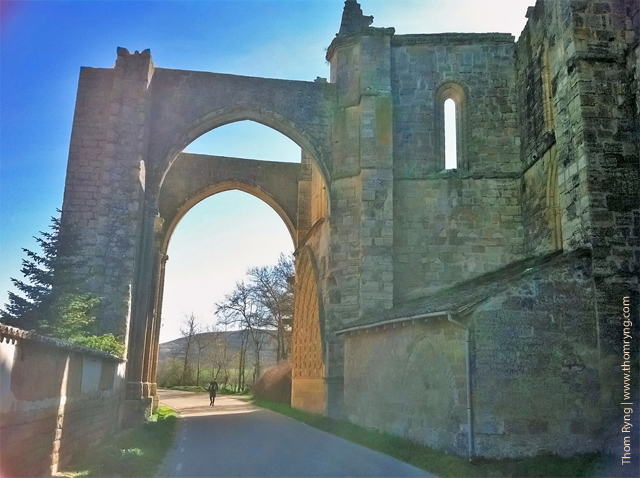 Acquire Wisdom
More than a thousand years of history have left these highways and byways a seemingly inexhaustable font of knowledge – some explicit, some embedded in the very landscapes and townscapes. It all begins with the very tools and symbols of the pilgrimage. The backpack as the weight of the problems of daily life which weigh us down on the road to our future (thus important to be kept as empty as possible); the pilgrim's staff symbolises how everything in life is easier to achieve when we have someone(s) or something(s) to support us; the various routes to Santiago allow us to understand the importance of substance over style. All ways that the very day-to-day mundane realities of the pilgrimage themselves impart lessons you'll be able to treasure forever.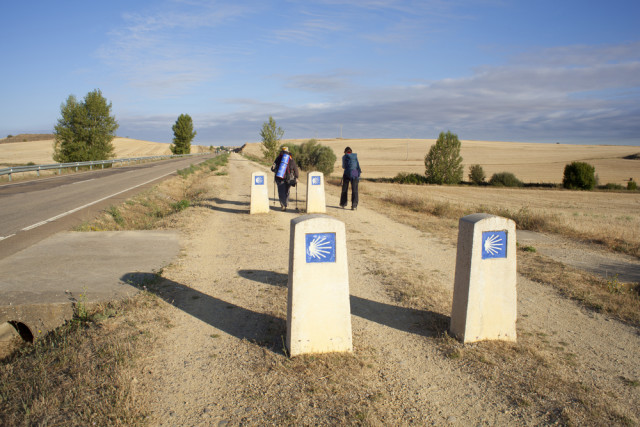 Become Stronger
Trekking some 800 kilometres (480 miles) on foot is of course no easy task – in fact, there's a pilgrims' version of "no pain, no gain": "without pain there is no Way". There will be days when fatigue will pervade you to your very core; shin splints and blisters will be proof of the miles covered; and you may even find yourself walking deep into the wee hours to make ground in order to avoid the height of the summer heat. It's a nomadic, sometimes semi-spartan, often gruelling existence, but one which has an extraordinary payoff at the end: a profound understanding of what you can accomplish with grit as well as a huge boost in self esteem which will allow you to face life with a much better attitude and greater energy. It also teaches in a profound way that without effort, you can't achieve your goals in life.
Forge Indelible Friendships
Regardless of whether you walk alone or bring companions with you, you will meet fellow pilgrims from more than 100 countries who are likely to influence your life profoundly.  Furthermore, the camaraderie of the road you'll discover can be so intense that in the aftermath you may find yourself wondering how it's possible to miss people so much whom you met just ten or 12 days ago. Each day you will encounter (and often re-encounter) folks who will start to feel nearly like family, and the bonds forged by the Camino often remain strong for years to come, without boundaries of time and space.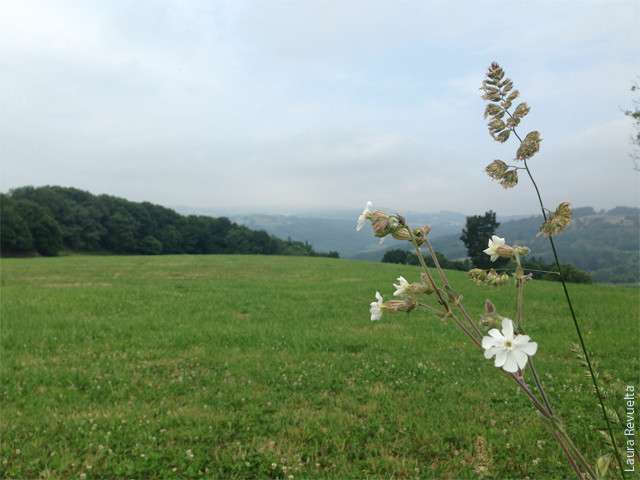 Discover Yourself
It's not much of an exagerration to say that this journey will make you discover who you are in reality. Our mundane, often stressful daily life keeps many of us from taking a moment to reflect on ourselves, our values, and our most profound desires in life – spiritual reflection even in a non-religious sense. The Camino presents an opportunity to achieve exactly this more deeply, if you allow yourself to spend the long stretches of daily walking alone with your thoughts instead of being distracted by what's coming out of your headphones. Perhaps the clearest example of this occurs when you're crossing the plains of León province (an unavoidable part of the French Way), with only cornfields stretching before you out into the horizon. You will learn to take stock of your strengths and weaknesses, your virtues and defects, and better get your thinking and priorities in order.
Dream Again
If you feel beaten down by the disappointments of life and the constant news of economic crisis, war, climate change, and man's inhumanity to man, walking the Camino will help you see that another world is possible, and closer than you ever imagined possible. The experience does seem to allow many, in a way that's hard to rationally explain, to access a kinder, gentler reality distanced from the usual rancor we encounter on a daily basis in real life. Here you will truly grow to better look on the proverbial bright side of life; find the inner peace that has always seemed to elude your; come to respect other people very different from yourself; and rediscover the capacity to dream. You will find yourself opening your heart and allowing yourself to be guided by – dare I say it – magical spirit of confidence in others. Basking in the sense of altruism comeradeship without ulterior motive among pilgrims may well be the most beautiful part of this great adventure that is the Camino de Santiago.

images | umillondeelefantes, Thom Ryng, bepsy, Laura Revuelta