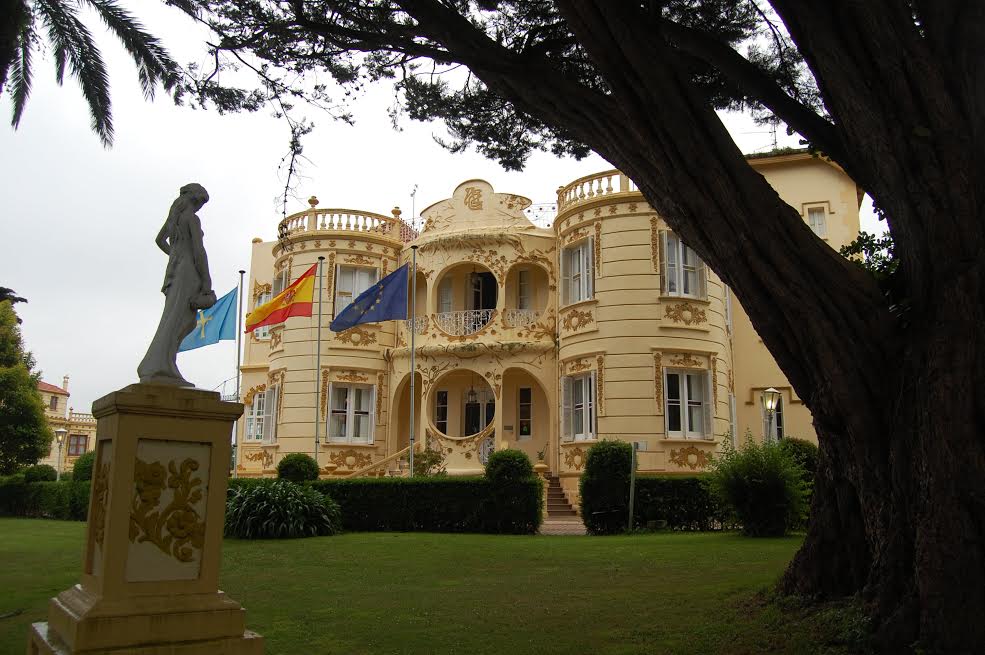 Spain's verdant, north-coast autonomous community Asturias is famously a land of exuberant nature and adventure capital with fabulous seafood and other culinary delights. Historic architecture abounds, as well, dating back to the first millennium AD. But one episode of history and architecture less well known outside the boundaries of this principality is the legacy of what are known here as the "Indians". 
The indianos were a particular subset of wealthy Asturians (they also existed elsewhere in the north, such as Galicia, but achieved particular prominence here) who put up grand manses all across their homeland in the late 19th and early 20th centuries to show off the riches they'd built as immigrants to Latin America (which by then mostly meant Cuba and Puerto Rico). The term indianos comes from las Indias, another way of referring to the Americas.  No two alike, these casonas were executed in a refined style, many with neoclassical or restrained Modernist influences popular in that era as well as elaborate gardens attached (many of which included a good number of palms, trees so typical of so many of the places where their owners made their fortunes).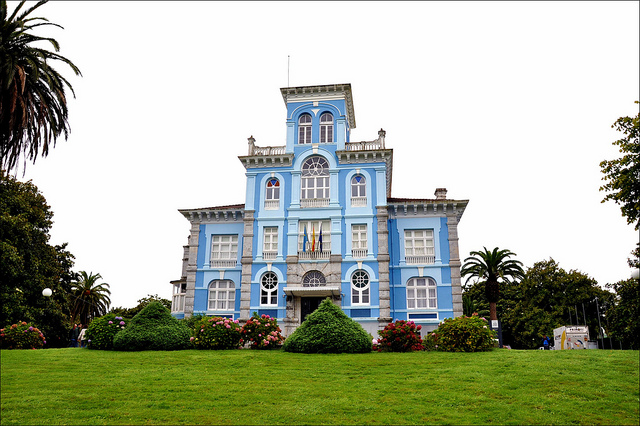 Though by later in the 20th century some of these casas indianas had fallen into neglect and disrepair, nowadays many of have been rescued and restored to their earlier glory. Quite a few are unsurprisingly located in the small home villages and towns of their owners – meaning you can stumble across some pretty extravagant houses in some unlikely places. Here are some of the most prominent accessible to visitors:
Quinta Guadalupe, Colombres  Built in 1906 in a tiny town near the Atlantic coast and Asturias' northeast corner, this distinctive blue mansion is now a privately-owned museum and archive of indianos and colonial emigration, cleverly called the Archivo de Indianos Museo de Emigración.
La Javariega, Póo de Llanes   Near the seaport city of Llanes, finished in 1912 by an emigrant to Cuba, this stone manse is particularly notable for the fine preservation of its balustraded facade – complete with a grand entrance staircase.
Villa Excélsior, Luarca   Dating back to 1912, this extravagant manse and garden in a coastal city 90 kilometres north of Oviedo followed the luxurious Edwardian English style of the era. And today it even has its own blog.
Hotel Palacete de Peñalba, Figueras   Also built in 1912, in Asturias' northwest corner, it's distinguished by being designed by architect Ángel Arbex, a disciple of the great Antoni Gaudí. Now it's a 20-room boutique hotel where you can live for a time (and actually at quite reasonable rates) amid the luxurious splendour of the indianos.

image | Hotel Palacete de Peñalba, canduela/Flickr