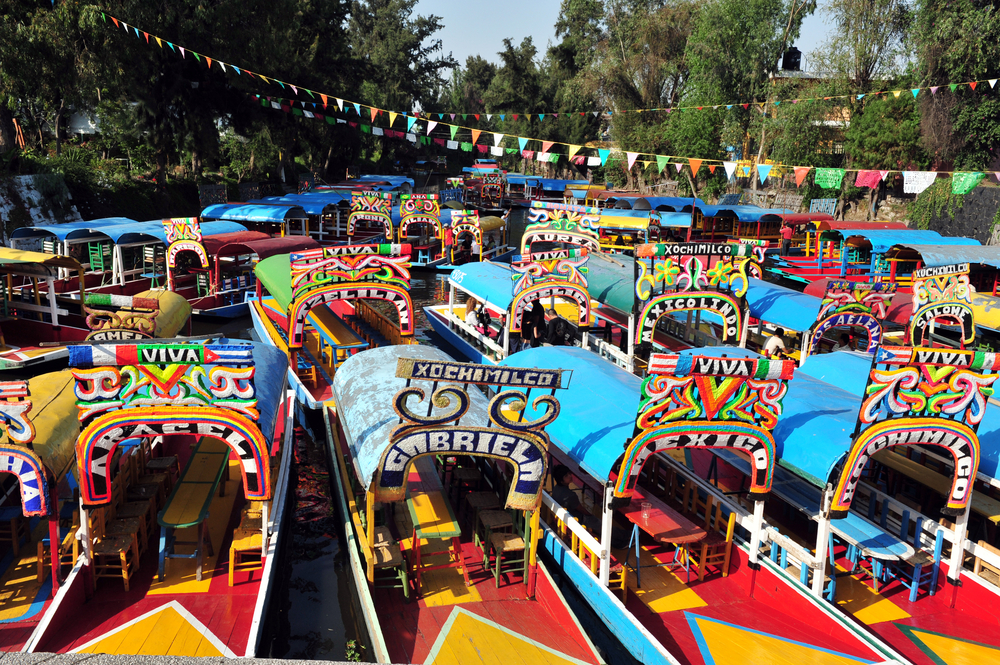 by Pamela Acosta Ruiz
Even in a hemisphere full of spots with unique appeal to visitors, Xochimilco in Mexico's Federal District (about an hour from downtown Mexico City's main square, the Zócalo) can claim a special place.
An Aztec town dating back to the 10th century, today Xochimilco ("field of flowers" in the local Nahuatl language), it largely has the feel of a Mexico City suburb it's become, but with one major exception, for which it is justly famous: its 170-square kilometre (66-square-mile) network of spring-fed canals, and chinampas (floating gardens, once of crops, now of commercially grown ornamentals), all part of a larger waterway system used centuries ago for agriculture as well as transportation to and from Tenochtitlán.
Full of endemic species such as ahuejote juniper, acocil shrimp, and axolotl, an endangered amphibian, these canals hold many fond, nostalgic memories for chilangos (Mexico City residents), including me, when I was growing up, since we would go with our families and friends on outings to ride in trajineras, flower-decked wooden boats which once carried cargo, to the strains of mariachi music, and buy food and drink from floating vendors.
Though water pressures and pollution have taken their toll, the canals and the some 200 remaining trajineras still have their following among both visitors and locals. And now, the spectacle, atmosphere, and nostalgia have been recreated down in Cancún, spiffed up and even kicked up a notch.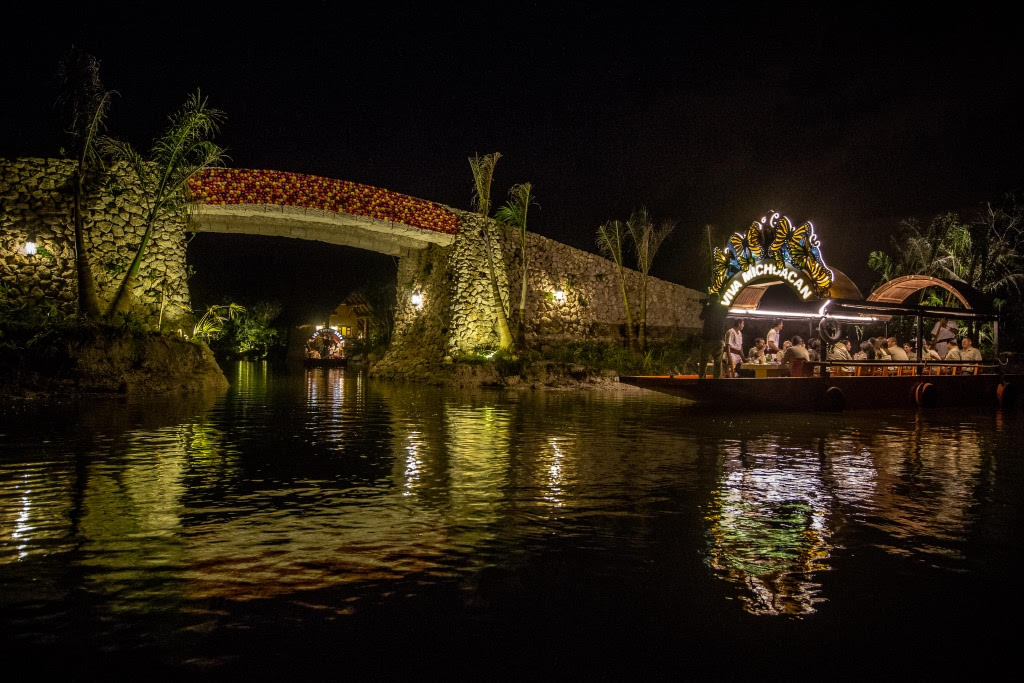 Bright Flowers v. Bright Lights
Carved out of the low, scrubby jungle south of the international airport in 2014, Xochimilco Cancún is a smaller-scale recreation of the original, with 32 trajineras (one for each of the states of Mexico) adorned with colourful lights instead of flowers. It's run by built and run by Experiencias Xcaret, which has long operated the theme parks Xcaret and Xel-Há a kilometres farther south.
Boarding a trajinera, we're received with an enormous platter of dips (and not just guacamole!) with tortilla chips (unlike at the Mexico City original, where eating and drinking is not so organised, depending on the vendor boats that pass by, here a full dinner and open bar including tequila and beer is provided with the admittance fee of US$80).
During the three-hour ride, as mariachis play jarochos, boleros, and rancheros alongside us, we feast on Mexican delicacies ranging from those you may have tried (our exquisite chicken with chocolate-based mole sauce) to those you might find a bit more…challenging (fried crickets, anyone?).
Incidentally, while the action up north happens mostly on weekends, but both by day and night, the Cancún is popular every day, but open only at night (it's usually a little too hot down here while the sun is out).
So how does one stack up against the other overall – the original vs. the slicker update? Well, the best I can say is that they're different. The original Xochimilco forms an essential part of Mexico's roots, and has an authenticity that must experienced to be appreciated. Xochimilco Cancún is not trying to be a copy, but rather a tribute to the original and a chance to allow more people – both Mexicans and visitors to our country – a taste of an iconic experience so much a part of our national cultural identity.

images | ChameleonsEye/Shutterstock, Xochimilco Cancún