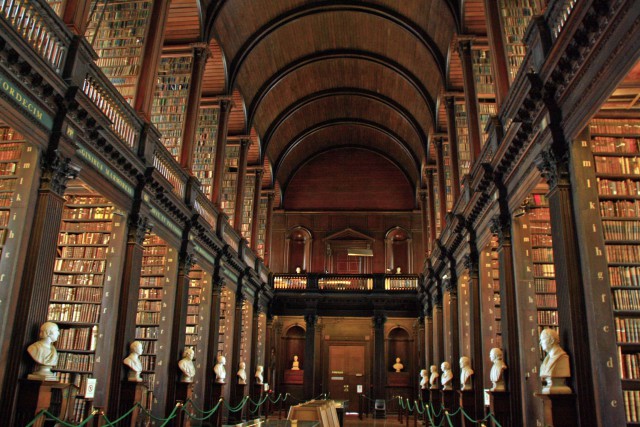 The legendary Irish "gift of gab" has helped Ireland punch above its weight literarily for centuries now – and Dublin in particular has been a literary hotbed – in fact, officially designated a "Literary City" by UNESCO in 2010 in case anyone had any doubts. And what better day than June 16, Bloomsday, on which locals still celebrate the life and work of novelist James Joyce on the day in 1904 his most famous novel, Ulysses, is set.
There are, of course, many, many other ink-stained icons for which the Oud Sod is famous. The dearly departed Samuel Beckett, Maeve Binchy, Oliver Goldsmith, Seamus Heaney, C.S. Lewis, George Bernard Shaw, Bram Stoker, Jonathan Swift, Oscar Wilde, and William Butler Yeats. And in still with us in our own day, the likes of Roddy Doyle, Anne Enright, Colum McCann, Frank McCourt, and William Trevor.
Thus it almost goes without saying that fans of serious literature owe themselves at least one visit to Dublin, to bask in the places and themes that have given world culture some of its most powerful writing. And here are several of its key spots:
Trinity College Library
The main hall of the Old Library, the Long Room (top), is among the world's most photographed libraries. And for good reason; long indeed, at more than 65 metres (213 feet), it is also a handsome space, and hold more than 200,000 old books on its high shelves. The book collection here is Ireland's largest – nearly three million and counting – as it receives a copy of every title published in this country as well as Great Britain.
Its most famous title, of course – displayed on the ground floor – is the legendary Book of Kells, a gorgeously illuminated biblical manuscript in Vulgate Latin, dating back to the 9th century.
Dublin Writers Museum
For an excellent overview of Irish literature hie thee to this handsome 18th-century  red-brick manse at 18 Parnell Square, near the centre of Dublin next to the Garden of Remembrance (a peaceful oasis from the city's bustle, dedicated to all those who gave their lives for Irish liberty).
Of fairly recent provenance (having opened its doors in 1991), this museum covers Irish lit from the Dark Ages through the 20th century, its magnificent period rooms full of books, manuscripts, paintings and photos of authors, desks, typewriters, pens, and the other accoutrements of the trade. There's also a quiet little café on the ground floor, as well as a gift shop/book shop.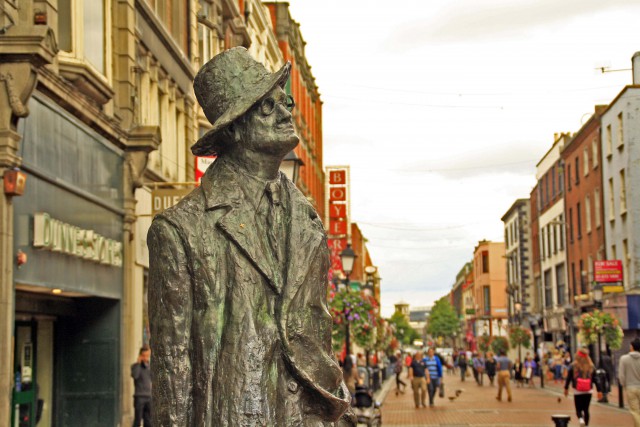 James Joyce 
Even outside of Bloomsday, Joyce's presence in Dublin is constant, from commemorative plaques to public statues and busts to signs announcing that this or that spot is the setting for a scene from his work (in fact, a tour of such sites – available on annotated maps – will take you through much of the city). The statue of Joyce (below) on Dublin's main thoroughfare, O'Connell Street, is a popular photo op, and at the James Joyce Centre in a townhouse at 35 North Great George's Street, you can learn about the writer's life and work, as well as about other writers connected with Dublin.

Oscar Wilde 
One of Dublin's many parks, 18th-century Merrion Square on the city's south side was home to a pair of the city's most important literary lions, Oscar Wilde and W.B. Yeats. Wilde's Georgian childhood home at No. 1 is now home to the American College of Dublin, and out on the park, since 1997 a multi-coloured stone statue of the sharp-tongued dandy reclines on a rock, gazing with an insouciant smirk toward his onetime house; nearby are a couple of pillars with a few of his more witty quotes.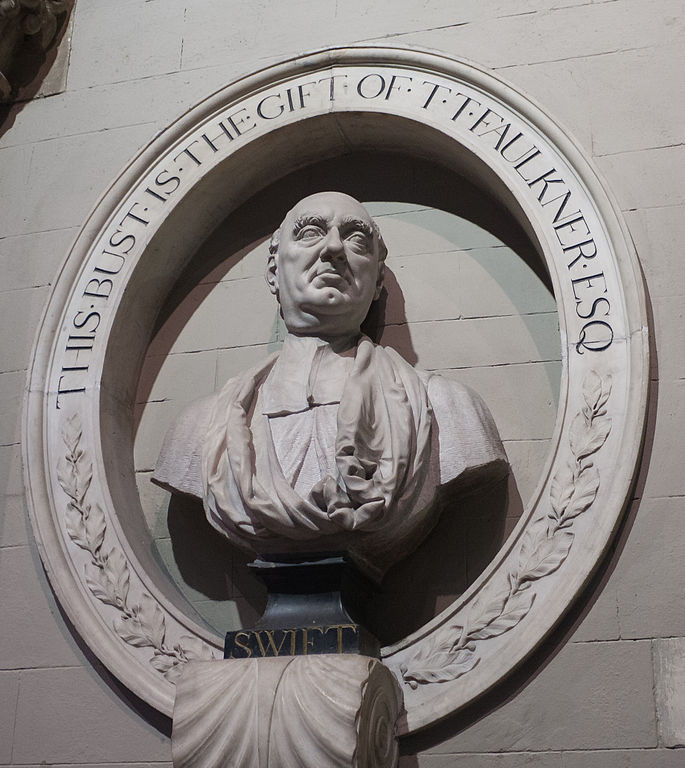 Jonathan Swift
Dublin's early-11th-century Gothic St. Patrick's Cathedral (Ireland's tallest church, of course) is one of this country's most important historic as well as religious landmarks. Interior features include a multicoloured floor, heraldic banners, and the tomb of a 18th-century dean of the church who was also one of Europe's great satirical writers, Jonathan Swift, best known for his parodic travelogue Gulliver's Travels. Here near a bust of the writer/priest is the epitaph in Latin, "Go forth, Voyager / and copy, if you can / this vigorous (to the best of his ability) / Champion of Liberty". (Tickets 6 euros/students 5 euros.)
Just a few examples that will have literature lovers saying of Dublin, as Molly Bloom concludes Ulysses, "…and yes I said yes I will Yes."