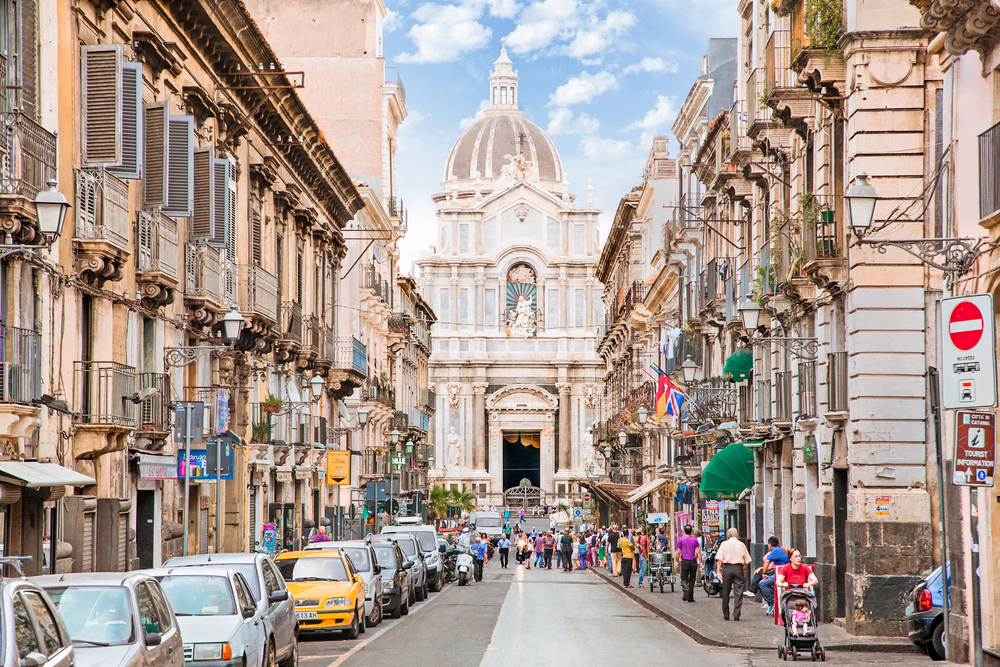 Since Iberia flights via Madrid are starting here in July, it's a good time to take a look at this distinguished city – Sicily's second largest (pop. 316,000) – on the island's east coast. Despite (or perhaps because of) being eternally in the shadow of Europe's most active volcano, Mt. Etna (in background below), Catania has been a survivor, a striver, and even something of an overachiever, with a distinguished cultural pedigree over the centuries.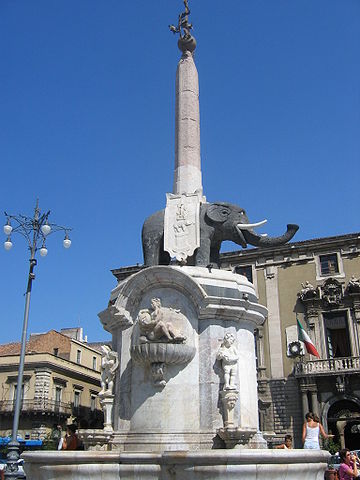 Catania Sights
Founded as a Greek colony in the early 8th century BC, a succession of rulers and political systems including ancient Rome, Ostrogoths, Byzantines, Muslim emirs, Normans, the kingdoms of Aragon and then Spain, and finally republican Italy, has left this city with a wealth of architectural and cultural riches (today's trademark architecture of its UNESCO World Heritage city centre dates from the end of the 17th century, during Aragonese rule, following a 1693 earthquake which killed 20,000 and flattened the city).
The top landmarks of that architecture include the Piazza del Duomo (Cathedral Square), where the current incarnation of the Duomo (aka the Cathedral of St. Agata) is mostly Baroque but with some elements left over from the previous 11th-century Norman construction; right out in the middle of the square is a monument even more iconic of of city: the Fontana dell'Elefante, a somewhat whimsical 1736 concoction consisting of a black-lava pachyderm dating from Roman times saddled with an ancient Egyptian obelisk.
Tops among other don't-miss sights are the doughty 13th-century Castello Ursino, one of the few structures to survive the great earthquake, and now home to the Museo Civico, displaying a wealth of archaeological, historical, and cultural treasures of Sicily and classical antiquity. A other evocative survivors (well, after a fashion): Greek-Roman or Roman ruins such as a theatre, a pair of amphitheatres (one of which once seated 16,000), an aqueduct, and a number of baths.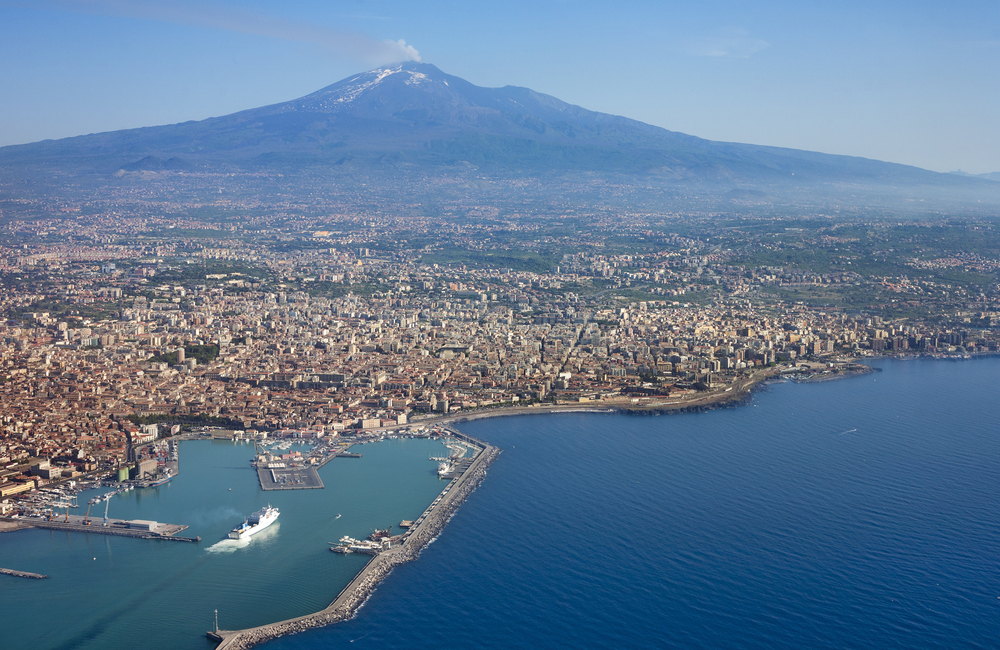 Catania Culture
Beyond all that, the city's arts scene is also in constant ferment, between the museums, galleries, even cafés staging expositions. One particularly interesting spot these days is the MacS, Sicily's museum of contemporary art. It's not huge, but does showcase some pretty amazing work (both permanent and temporary exhibitions) from not just Italy but elsewhere in Europe, the Western Hemisphere, and beyond (you can also get a ticket which includes a visit to the exquisite 18th-century San Benedetto church and monastery, especially famous for its elaborate marble Angel's Staircase).
Music, too, is also a big deal hereabouts – especially if you're a fan of classical music. The top diva in town is the gorgeous Teatro Massimo Bellini, a neoclassical gem built in 1890 and named for the illustrious opera composer Vicenzo Bellini (1801-1835); it has hosted symphonic and opera performances from some of the most famous names of the 20th and 21st centuries.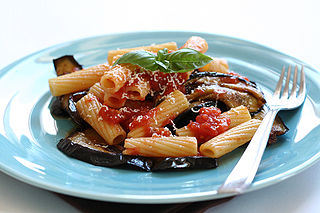 Catania Dining
While Sicilian cuisine has contributed much to the Italian repertoire, Catania in particular is a culinary star on the island. One of the most famous examples associated with the city is granita – not unlike sorbet, but usually a bit chunkier – which you can enjoy in bars and cafés such as Alecci at Via Antonio Gramsci 62 or the sweet shop Pistorio on Piazza Ariosto. Another must-try is pasta alla Norma – with fried aubergine, tomato sauce, basil, and grated ricotta; it's named after Vincenzo Bellini's greatest opera (Maria Callas was a great Norma, back in the day). Top spots to sample it include Trattoria di De Fiori (Via Coppola 24-26) and Me Cumpari Turiddu (Via Monsignore Ventimiglia 15).
Catania Beaches/Day Trips
Don't forget, too, that among the dozens of splendid Sicily beaches, the Catania area boasts several fine choices, such as La Playa, a sandy stretch in the southern part of town, and a bit north of town (toward Taormina) the pebbly Fiumefreddo. And you'll want to set aside a good chunk of a day for a visit to the awesome Mt. Etna,  3,350 metres (10,991 feet) high. There are various ways to get up here, including hiking and 4-wheel-drive. Some of the organised tours also include tastings at local wineries. Up at the top you'll see some great lava shows as well as spectacular views out over the island and Mediterranean. Bellissimo!

More information in English: Turismo.Provincia.ct.it.
Best fares from the USA, from Spain.

image | Aleksandar Todorovic, Urban, andras_csontos  Paola S.