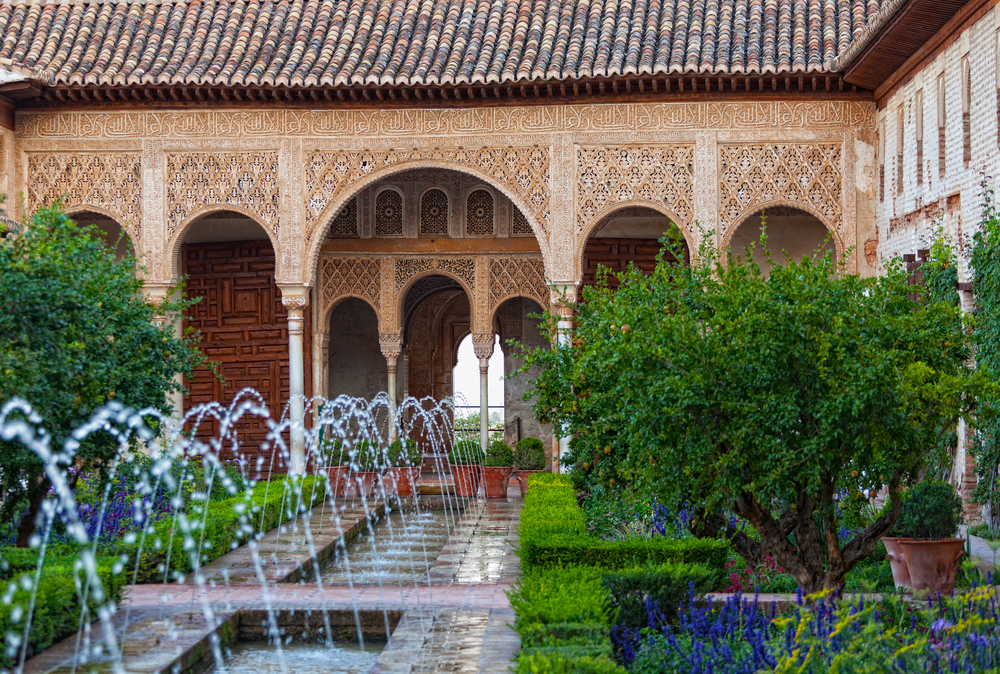 As they say, April showers bring May flowers (at least in much of the northern hemisphere). And none are more spectacularly arranged than in the symphonically orchestrated extravaganzas of some of the world's greatest gardens. Here are a handful of the greatest horticultural hits in places to which Iberia can get you:
https://youtu.be/_MTEnWvlBBg
Amsterdam: Keukenhof Gardens
Open only mid-March to mid-May, in the town of Lisse, about a half hour southwest of Amsterdam, Keunkenhof is the world's largest flower (as opposed to plant) garden, with more than 7 million tulips as well as other blooms such as daffodils and hyacinths, on 32 hectares (79 acres). It sports cafés and restaurants, as well as offering tours by bike, boat, even small plane.
Berlin: Sans Souci
In Potsdam, 10 kilometres (7 miles) south of Berlin, the summer palace of Prussia's 18th-century king Frederick the Great is also pretty great – smallish, true, but boasting a 290 hectares (717 acres) worth of appropriately grandiose grounds, built in rococo style. Features include impressive terraced gardens; fruit orchards; numerous fountains; various buildings including "follies" and a Chinese teahouse; and a museum's worth of statues, and obelisks.
Granada: the Generalife
Dating back to the early 14th century, one of the world's most famous and unique gardens once formed an integral part of the summer palace of the emirs of Granada during the long era of al-Andalus (Muslim-dominated Spain, 711-1492). Designed around fountains, pools, and watercourses reflecting the North Africans' understandable obsession with H2o, it inspired a lovely and famous piano masterpiece, Nights in the Gardens of Spain, by 20th-century composer Manuel de Falla.
London: Royal Botanic Gardens at Kew
You can easily train it a half hour up to this 132 hectares (326 acres) of landscaped grounds and greenhouses in Surrey – the world's largest collection of living plants. Kew Garden highlights: the Victorian-era Palm House (10 climate zones) and Temperate House (world's largest Victorian greenhouse); the modern Princess of Wales Conservatory; and the Bonsai House (some tiny trees more than 150 years old!). There's also a small royal palace, along with art galleries and sundry ornamental buildings and structures. All pretty Kewl. 😉
Los Angeles: Huntington Gardens
The Huntington Library is a research institution and museum with a spectacular American/European collection (including the likes of Thomas Gainsborough's The Blue Boy) and 12 highly impressive gardens (Chinese, Japanese, Australian, desert, and jungle, among others) covering 49 hectares (120 acres). It's in a Los Angeles County city called San Marino, about a half hour's drive east of downtown L.A.
Marrakesh: Jardin Majorelle
A five-hectare (12-acre) walled garden designed by French painter Jacques Majorelle in the 1920s, in addition to incorporating Berber/Islamic motifs and more than 300 flora species (including a notable cactus collection), Majorelle is best known for its blue-hued walls, planters, and other features. It was discovered, bought, and restored by fashion designer Yves Saint Laurent and partner Pierre Bergé, and the painter's onetime studio displays Saint Laurent and Bergé's personal collection of Berber culture.
Miami: Fairchild Tropical Botanic Garden
One of the crown jewels of the Greater Miami city of Coral Gables, this lovely 34-hectare (83-acre) spread opened in 1938 and features more than 3,400 exotic species, including outstanding collections of palms, orchids, cycads, and flowering trees and vines (one particularly famous plant is the so-called corpse-flower from Sumatra, whose flowers release an unholy stink but bloom only once every few years). Fairchild's also known for exhibiting prominent artists on its grounds, such as Dale Chihuly, Roy Lichtenstein, and Fernando Botero.
Paris: Versailles Palace
Another of the world's most famous gardens (and of course palaces), 20 minutes southwest of Paris, was created during the rule of the 17th-century "Sun King" Louis XIV. Versailles' 101 hectares (250 acres) are crisscrossed by paths leading through manicured lawns to magnificent flower beds, fountains, and pavillions; a verdant maze; lakes and ponds; tranquil corners adorned with classical statuary; an outdoor ballroom; and a "grand canal" that Big Lou used for gondola rides among other things. Le jardin, c'est moi…
Rio de Janeiro: Sítio Roberto Burle Marx
A 20th-century landscape and urban designer (those wavy sidewalks on the Copacabana beachfront are his), artist, botanist, and conservationist, Burle Marx not just big impact on Latin America but left posterity his 40-hectare (100-acre) estate on the outskirts of Rio, an hour's drive west. It's made up of his home, workshop, and gardens – created in a modernist, avant-garde style and starring more than 3,500 bromeliads, heliconias, palms, and many of species. Turns out Marxism can be a good thing – in the plant kingdom, at least!
Rome: Villa d'Este
A UNESCO World Heritage Site, one of the finest Renaissance garden/fountain complexes ever built was part of the palace of 16th-century Catholic cardinal Ippolito d'Este (son, by the way, of the notorious Lucrezia Borgia). Highly influential in garden design throughout Europe, it stars 500 jets of water in fountains like the Bicchierone, the Rometta and the spectacular Avenue of the Hundred Fountains. It's in Tivoli, 35 kilometres (22 miles) east of Rome and also the site of the Roman emperor Hadrian's Villa.
Washington, DC:  Dumbarton Oaks
In the north of DC's posh Georgetown neighbourhood, this prominent historic estate (dating back to the 18th century, important in world history for hosting the 1944 conference that set up the United Nations, and subject of a concerto by Igor Stravinsky), boasts not just a distinguished museum but also a lovely garden that's one of the District's prime attractions. Within its 11 hectares (27 acres), vines tumble down stone walls enclosing the Fountain Terrace, and a "lovers' lane" meanders past a Roman-style amphitheatre built around a small deep-blue pool.

image | Shchipkova Elena