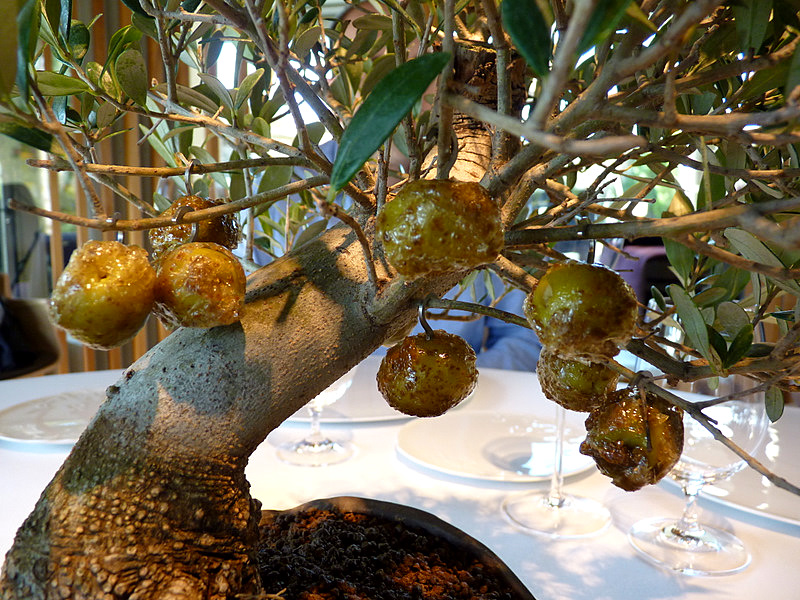 While home to a complex and scrumptious traditional cuisine (or perhaps better put, cuisines) with roots going back more than a thousand years to the Moors and even the Visigoths, in recent Spanish food has famously also become a gastronomic hotbed of innovation and style, with clever chefs leveraging the country's culinary heritage and sometimes often creating a fusion cuisine with international influences, then serving it up in equally innovative venues. These have become some of the world's most acclaimed culinary experiences (Ferrán Adrià's now-defunct El Bullí being the marquis example).
Here, then, are some of the top examples worth splurging on out there at the moment, from the Catalonia to Cádiz (keeping in mind there are various dozens more I could happily name if I had the space!): 
ABaC, Barcelona
At just 36 years old, the chef of this minimalist dining room in various shades of white, located in a boutique hotel not far from Güell Park, Jordi Cruz, has snagged the maximum possible three Michelin stars (he got his first one at age 24!) for his team's version of the "molecular"-style creativity for which contemporary Spanish chefs have famous. They tweak Catalan, Mediterranean, and international ingredients (turning local calçots – leeks – into a confit paired with, for example, frozen red-pepper romesco sauce, or reinventing the Mexican taco with sweet corn taco, foie gras, and mole ice cream). Prix-fixe tasting menus 135 and 165 euros.
Aklarre, San Sebastián
One of the best examples of the magic wrought by today's top Basque chefs is impressively muschachioed Pedro Subijana's long-running, bucolic spot (puckishly named "witches' sabbath" in Basque), with sweeping sea views and a trio of Michelin stars just outside this lovely Basque city on Biscay Bay. Akelarre classics include rice with snails and periwinkles in tomato/basil film, prawns cooked with french beans in flaming orujo (northern Spanish grape brandy), and cuttlefish roller with "rice crispies" (above). Tasting menu 170 euros.
Aponiente, El Puerto de Santa María (Cádiz)
If you sail over to the green-and-white establishment of self-described "chef of the sea" Ángel León, just outside the gracious Andalusian port city of Cádiz, you'd better like seafood of all types – and if you're a little adventurous, this is the place to sample haute cuisine versions of more unusual stuff like ray, scorpionfish, sea anemones, even plankton (oh, yes he did – plankton paella with aioli tartare, anyone?) – all prepared with such love, skill, and creativity that Michelin bumped Aponiente up from one to two stars for 2015,  Tasting menus 136/166 euros.
Arzak, San Sebastián
An easy drive to the eastern outskirts of the city, Juan Mari Arzak, now teamed with his daughter Elena Arzak Espina (an El Bullí veteran), turned a traditional restaurant opened by his grandparents in 1897 into one of Spain's most acclaimed dining destinations, and another (longtime) possessor of three stars. Playfully presented (on wooden slats, in crushed soft-drink cans, bonbons shaped like hardware) are dishes such as squid with onion-and-lemon sauce, and confit pigeon leg with apple, almonds, and a grape reduction/puree, pumpkin seed puree, and caramel/sunflower-seed "towers". Median price per person 195 euros; tasting menu 189 euros.
Azurmendi, Larrabetzu (Bilbao)
On a hill a few kilometres east of Bilbao in a gorgeous (and eco-friendly) steel, stone and glass building with an atrium and soaring picture windows overlooking Txacoli white-wine vineyards, also three-Michelin-star chef Eneko Atxa is nothing if not experimental (ultrasound to alter food textures? ultra-nifty!). His fabulous dishes include a signature truffled egg "cooked inside out" (hot truffle stock injected to boil it from the inside) and roasted Cantabrian lobster on a bed of spring onions and herbs with an olive-oil emulsion, garnished with a crisp herb cornetto stuffed with marinated lobster tartare. Tasting menus 145/175 euros.
Casa Marcial, Arriondas (Asturias)
The Basque Country is far from Spain's only northern region with serious culinary chops, and Nacho Manzano's childhood-house-turned restaurant, in the small town of La Salgar an hour east of capital Oviedo, is two-star evidence of that. He's been at it since 1993, still manages to keep critics and diners alike wowed, whether with a refined and updated version of traditional Asturian fabada bean stew or something a bit more mod/creative (sea urchin on a frozen tomato sponge with a seaweed-parseley smoothie). Tasting menus 60/89/115 euros.
El Celler de Can Roca, Girona
A 39-year-old star (and with three from Michelin) and pioneer of avant-garde nouvel Catalan cuisine (what its chefs dub "freestyle cooking") is helmed by brothers Joan, Josep, and Jordi Roca (who also run several other establishments in Barcelona and elsewhere in Catalonia). What some critics consider the world's best restaurant (you might have to reserve a year in advance) mixes a laid-back contemporary dining space with creative presentation (anchovy-stuffed caramelised olives hanging from bonsai trees, top) of even more creative dishes such as charcoal-grilled king prawn with prawn "sand", "ink rocks", seawater foam, seaweed, and plankton sponge cake, with a side of salty frogs' legs. Tasting menus 155/190 euros.
Les Cols, Olot (Catalonia)
One of the most gorgeously zen-minimalist dining spaces I've ever come across, built behind a 13th-century Catalan masia farmhouse in a small town near Girona, with one room in black, another in gold, yet another in completely clear glass. Splendid stages all for chef Fina Puigdevall's two-Michelin-starred dish on the order of cod brandade with spinach and white grapes, and iced cottage cheese and crème caramel with basil. Tasting menus 85 euros. You can also overnight at Puigdevall's on-premises boutique hotel.
DiverXO, Madrid
This is quite a piece of work. Yes, of course a restaurant operating at the highest level – Michelin-three-star. But it's not in the city centre, but rather in the blah working-class Tetuán neighbourhood north of Real Madrid's Bernabéu Stadium. And its "bad-boy" chef is a pierced, Mohawk-wearing  35-year-old, David Muñoz, who displays a playful, borderline punk sensibility – tarted up in clown whiteface on DiverXO's website; starring in a surreal video showcasing his creations (above), which ends with him in a straightjacket (!);  and presenting said creations on canvaslike platters to suggest that each is a work of art. They pretty much are, and reflect the Asian influences Muñoz picked up at past gigs like London's Nobu and Hakkasan – say, pork skin with black sesame brioche, salmon roe, and cherry sauce. Tasting menus 145/200 euros.
Martín Berrasategui, Lasarte-Oria (Basque Country)
This understatedly elegant restaurant in a town outside San Sebastián holds three Michelin stars, but its eponymous owner-chef boasts a total of eight – more than any other in Spain at the moment – and owns more than a half dozen other eateries, from Barcelona to Latin America. Some have called Berrasategui's cooking "ethereal" – and in any case it's certainly a magnficent sympony of intense flavours and sometimes surprising textures. For instance: Roast pigeon and onion with Iberian pig's snout, ginger juice, and capers; roast red mullet with delicately cooked edible scales in red wine, celeriace velouté, and ale. Tasting menu 175 euros.
Mugaritz, Errenteria (Guipúzcoa)
Another culinary temple considered one of the world's top ten restaurants, amid the bucolic hills of Guipúzcoa just south of San Sebastián, Andoni Luis Aduriz provides the proof with trompe- l'oiel magic (his starter of edible "stones"? actually potatoes) and attention to detail which has had foodies across the world raving since 1998 – including Michelin, which in continuing to award Mugaritz three stars lauds its "highly personal cuisine defined by perfect culinary techniques" in dishes such as ox-crab threads bound up with vegetable mucilage, macadamia nuts and pink pepper. Tasting menu 185 euros.
Quique Dacosta, Dénia (Alicante)
One of the Mediterranean coast's top holiday resort towns is also home to this, another of Spain's three-Michelin-star restaurants, housed in a whitewashed Mediterranean villa north of downtown outfitted with a contemporary glass extension. The eponymous chef Dacosta takes an intense but minimalist approach to his cookery, which takes inspiration from local Valencian cuisine (traditionally best known for rice paella as well as fideuà, its pasta counterpart). Fun dishes include lemon, cola and rum gel emulsified with foie gras and served with a brioche, and a signature, mochi (Japanese-style rice cake) with blue cheese and honey aïoli. Tasting menus (one offering Dacosta's greatest, the other his latest) 185 euros.
Sant Pau, Sant Pol de Mar (Catalonia)
In business since 1988, Carme Ruscalleda's petite, seafront townhouse eatery 40 minutes north of Barcelona (awarded three Michelin stars, one of just four female-helmed spots in the world so honoured) is a little different ambiance-wise because it sports a more traditional/classical vibe rather than strenuously straining to be avant-garde. On the plate, Ruscalleda gardes the avant as exquisitely as any fine-dining chef in Spain, and more than many (also at her two-star Moments in Barcelona and Sant Pau Tokyo), with delicacies such as lightly-curried local parrotfish over beans and chayote, accented with liquorice spirals; and irridescent coconut "moons" with white chocolate and shiso-laced chocolate ganache, designed to wonderfully evoke the night sky. Tasting menu 159 euros.

FOR THE RESTAURANTS OF IBERIA'S MICHELIN-STAR CHEFS, CLICK HERE.

image | doptera