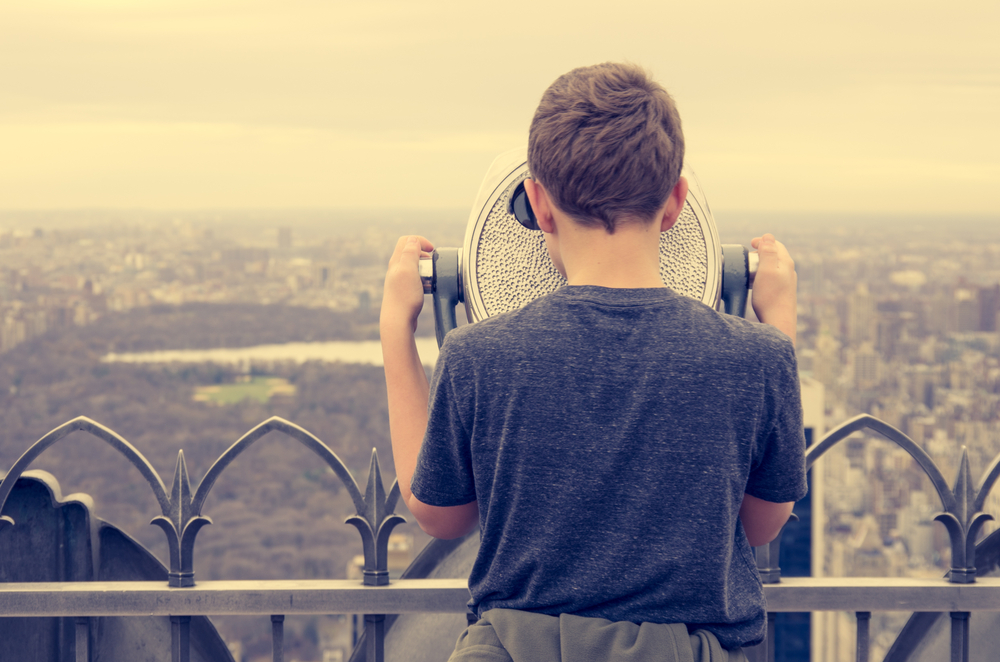 For families thinking ahead to summer holidays, the United States is particularly rich in cities with kid-friendly offerings. Following up on my  three picks in Europe last week, here are three more in the USA.

Chicago
To paraphrase Frank Sinatra, a family's kind of town, Chicago is – thanks to a plethora of kid-friendly spots for entertainment, education, and edutainment. The epicentre is arguably Navy Pier jutting out into Lake Michigan. Though Chicago's single most popular attraction will reach the century mark in 2016, it has been updated to include enough cool stuff to do to keep a family busy for more than a day. Lots of lake cruises are based here, and there's also Pier Park, with amusement park rides (most prominently including a towering Ferris wheel); the Chicago Children's Museum where the pint-size crowd can enjoy cool stuff like "Dinosaur Expedition", a schooner to climb around; and a funhouse maze. There's an IMAX theatre out here, as well.
Several other cool museums will also grab their attention, including the Adler Planetarium and Astronomy Museum (the hemisphere's oldest), the Shedd Aquarium, and the Field Museum of natural history (dinosaurs and much, much more!). Then of course there's the Lincoln Park Zoo, also one of the oldest in America (and one of the few that doesn't charge admission), with 200 species and its newest exhibit a Japanese macaque monkey forest.
And if you're brave enough to visit in winter, take them to the ice skating rink in Millennium Park!
More information: ChicagoKids.com.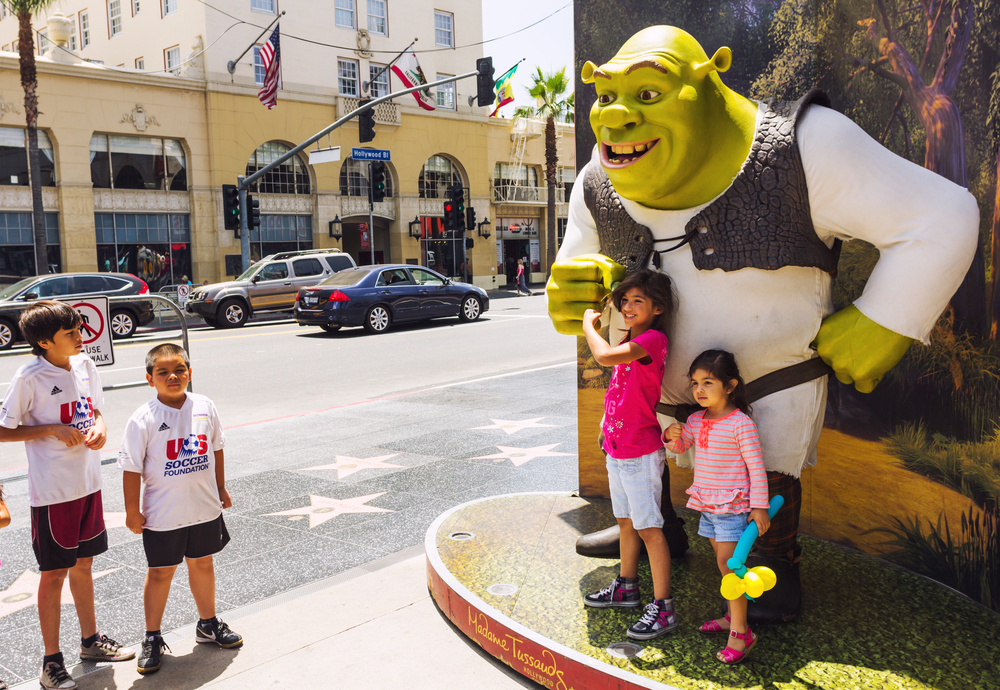 Los Angeles
Starting with downtown, the Natural History Museum is a fine example of its genre – and among many other things features not just dinos but a "Dino Lab" where kids can go behind the scenes to watch museum staff working with fossils. The California Science Centre (free admission!) includes all manner of way cool exhibits, including actual airplanes and spacecraft such as the shuttle Endeavor, as well as a seasonal butterfly garden. The Bob Baker Marionette Theatre is good, old-fashioned fun especially appealing to younger kids.
Over in the Hollywood area, besides being a lovely green space with lots of recreational activities (plus a merry-go-round and pony rides!), enormous Griffith Park also harbours several nifty institutions, such the L.A. Zoo; the Griffith Observatory, including a state-of-the-art planetarium, and a Railway Museum with live steamers", large model trains which you can ride. Hollywood Boulevard is quite a scene, too, with street performers (including quite a few dressed as movie stars and characters) plus a raft of spots to visit such as the Hollywood Wax Museum, Ripley's Believe It or Not! Odditorium, Guinness World of Records Museum, Fire Department Museum, and the historic El Capitan Theatre, which specialises in family entertainment (hey, it's owned by Disney, after all).
Over on Wilshire Boulevard, they'll get a kick out of the interactive stuff (like a real airplane) at the Zimmer Children's Museum as well as the ancient fossils at an L.A. classic, the La Brea Tar Pits and its accompanying museum.
Down in Long Beach, the Aquarium of the Pacific has bells and whistles like a shark lagoon where you can touch the critters, as well as great live shows, while up north a ways in Burbank, the Warner Bros. Studio Tour is always a hit (especially the current Batman exhibit!).
And since L.A. is of course on the coast, naturally that means beaches!  Several of the most kid-friendly are in Malibu, such as Westward Beach, El Matador, and Leo Carillo State Park. Santa Monica Beach is also a great one, and tosses in the Santa Monica Pier, with a fun park atmosphere and attractions like a Ferris wheel, roller coaster, trapeze school, and aquarium.
Speaking of fun parks, let us not forget that this area is the home of several big, famous ones indeed. The closest in is Universal Studios in Hollywood, which includes a studio backlot tour and a bazillion other rides and attractions. Then an hour's drive (in good traffic, of course) southeast of downtown in the city of Anaheim is the mighty Disneyland. If you're still not all parked out after those two, a third option in the neigbouring city of Buena Park is Knott's Berry Farm, which despite its name is a popular 65-hectare (160-acre) bit of business with five themed areas, a water park, and dozens of rides, shows.
More information: DiscoverLosAngeles.com.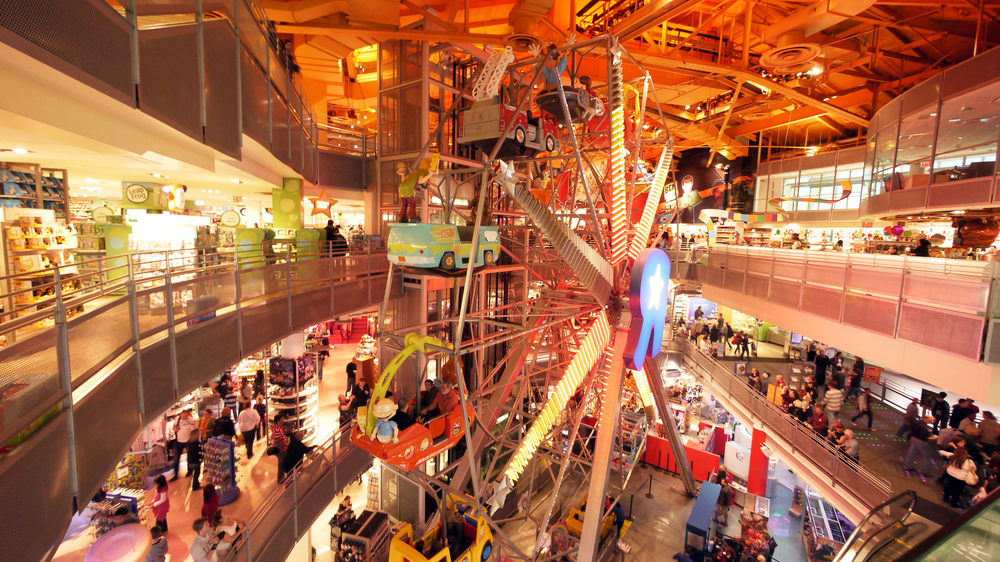 New York City
The Big Apple is sweet and juicy indeed when it comes to treating young visitors right.  In addition to family classics such as the Statue of Liberty, the Empire State Building, and South Street Seaport with its cool old sailing ships, the city's epicentre, Times Square, is practically an amusement park itself, what with the huge, colourful M&M Store, Hersheys Store, and a truly over-the-top Toys 'R Us featuring cool stuff like a giant dinosaur, a life-size Barbie house, and even a indoor Ferris wheel rising three storeys.
Speaking of toy stores, a few blocks uptown on Fifth Avenue at Central Park South, is an absolute must: America's oldest, FAO Schwarz (now owned, actually, by Toys R Us). This glitzy six floors features areas devoted to Lego, the Muppets, and more (don't miss the Big Piano, which figured in an iconic scene of the old Tom Hanks movie Big; more recently, the store also made a cameo in The Smurfs film).
Just across from here starts Central Park, where the first thing you come across is Wollman Rink (unfortunately officially rechristened Trump Rink after the buffoonish tycoon), which offers a spectacular ice-skating experience in winter and roller skating the rest of the year. A bit farther north in the park you'll find the Central Park Zoo (which for its size is pretty good – if you want to get the full experience of the city's biggest and best, the Bronx Zoo, you'll need to hop a subway train or hail a cab for the nearly 15-kilometre/10-mile ride north from here.
In this also museum-rich city, the ones that may most appeal to young 'uns include the Museum of Natural History/Hayden Planetarium on Central Park West and the New York Hall of Science (another bit of a schlep, though out to Flushing Meadows, Queens). There's also a batch geared especially toward them, including the DiMenna Children's History Museum at the New-York Historical Society, also on Central Park West.
If your little people are artistically inclined, SoHo's Children's Museum of the Arts in is a fun mix of exhibitions and hands-on art-marking.
The downstairs museum-within-a-museum holds interactive displays that constitute a major part of the institution's recent renovation. Kids can become history detectives, discovering NYC's past through hands-on games and a full slate of programming. The NYHS also offers a fantastic opportunity to learn about the history of NYC in ongoing and special exhibitions.
Finally, Broadway has a number of child-friendly shows playing, currently including The Lion King, Aladdin, and Matilda.
More information: NYCGo.com.

images | oneinchpunch, Rob Wilson, Razvan Bucur, Lewis Tse Pui Lung