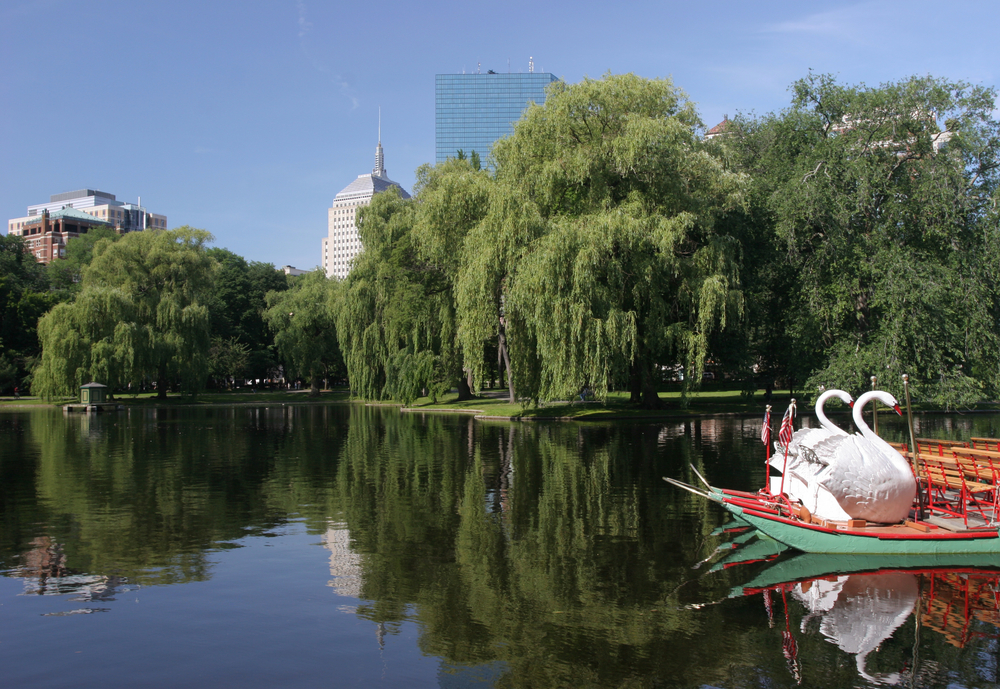 No, 'tisn't some fabulous bauble in the jewelry collection of the Museum of Fine Arts. The moniker "emerald necklace" refers rather to a chain of parks and green spaces – still not completely finished – that hangs from the neck of the Boston peninsula. It's what every city needs: green. And it makes visiting Boston that much more a lovely experience, particularly in warm weather.
Furthermore, the emerald necklace concept is really just the perfection of the existing system of parks that dates back to their illustrious original designer, Frederick Law Olmsted, the landscape architect responsible for New York City's Central Park and other famous projects.
In the 1880s, a period of major growth and industrialisation in Boston, Olmsted developed a vision of a linear park system that would help this venerable city evolve in the most multidimensional, civilised way possible to accompany its economic boom, and designed five of the parks in the necklace. Today this vision and the work of Olmsted and other landscape architects have helped Boston stand out as one of America's greenest and most attractive cities.
Here's a rundown of the links in the necklace:
As the name implies, this 114-hectare (281-acre) bit of business founded in 1872 is administered by Harvard University  and includes a visitors' centre and some 4,000 varieties of trees and other woody plants (I especially love the bonsai collection, open mid-April to mid-November).
Back Bay Fens

Olmsted's first design in Boston, in 1879, this was former marshland (fens) is today a big (53 hectares/130 acres), beloved green space including community gardens; an elegant rose garden; various statues and memorials; busy baseball fields; an unusual range of bird species. Furthermore, it's surrounded by various places of keen interest to visitors, most prominently the above mentioned Museum of Fine Arts, as well as Fenway Park, the home of the local baseball team the Red Sox.
Boston Common

The most famous park in the city was also its first (as well as the entire country's), a common pasture since 1634 and established as a park in 1836. It covers 20 hectares (50 acres), including a lake called the Frog Pond which becomes an ice skating rink in wintertime, and is bounded by downtown's Tremont, Beacon, Charles, Park, and Boylston Streets.
Commonwealth Avenue Mall

Located in a swank part of Boston called Back Bay, this 13 hectares (32 acres) strip running from the west side of the Public Garden to the Back Bay Fens dates back to 1856 and has the feel of a genteel, leafy boulevard, and it's also lined with brownstones and frequented by students from nearby Boston University.
Just east of Arnold Arboretum, this 213-hectare (527-acre) spread designed by Olmsted is considered by many to be the necklace's "crown jewel", its centrepieces a zoo (New England's second largest), public 18-hole golf course (the USA's second-oldest), and performance space Playhouse in the Park. Lots going on here!
Highly popular and located in the Jamaica Plain neighborhood (southwest of downtown), it's centred around the eponymous 28-hectare (68-acre) pond, where visitors can paddle around in rented sailboats, rowboats, and kayaks.
A woodsy space in Brookline named after Olmsted in 1900, it also include ponds (one with a pair of islands), stone bridges, and a pair of fields devoted to sport.
Just west of the Boston Common and with it forming the northern end of the necklace, this 10-hectare (24-acre) space (top) created in 1837 on a onetime salt marsh boasts a lovely variety of trees (especially weeping willows) also includes a pond with swans, "swan boats" which people can rent and paddle around, and statues from an equestrian George Washington to a 9/11 memorial.
One of the spaces designed by Olmstead, it serves as a border between Boston and the adjacent city of Brookline. This narrow, 14-hectare (34-acre) bit of business follows the meandering (and so charmingly named) Muddy River and an accompanying roadway, and highlights include handsome stone bridges and a gazebo.
More information: EmeraldNecklace.org, BostonUSA.com.
Best fares to Boston from the U.K., from Spain.

image | Vlad G/Shutterstock