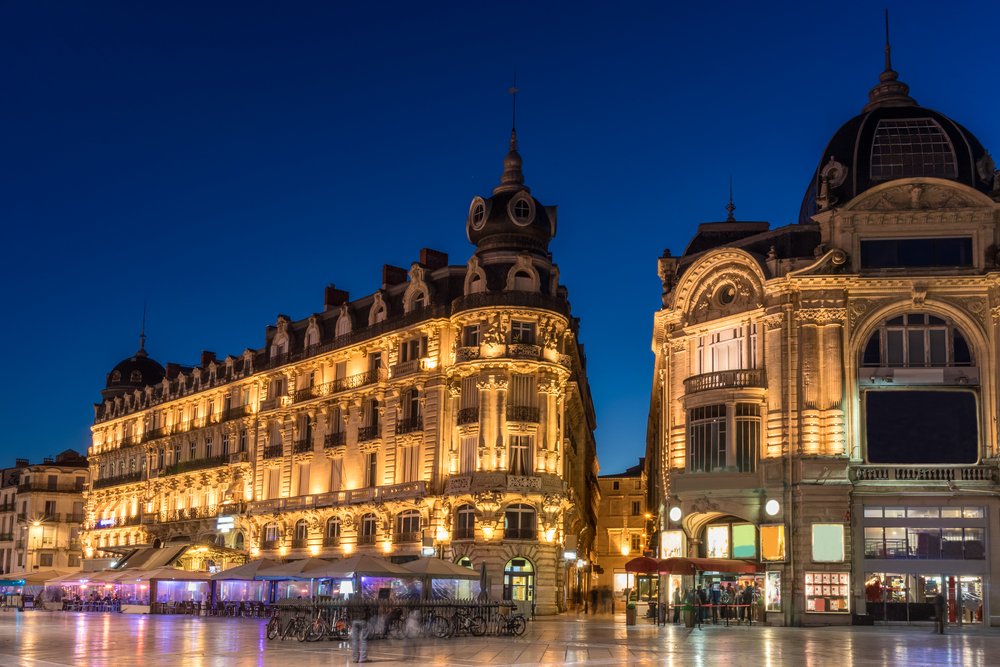 Including the western half of France's Côte d'Azur, the Languedoc-Roussillon region is full of famous names such as Carcassonne, Perpignan, and Nîmes. Along the Riviera itself, Nice, St. Tropez, and Marseille are known throughout the world. But mention Languedoc's capital, Montpellier – long France's fastest-growing city – and more often than non-Frenchmen will draw a blank, and  visitors will head to the more famous South-of-France names. That's a pity, really – and here's why.
Founded in the 10th century, this graceful, cultured city of nearly 260,000 seduces with its temperate climate; golden light; architecture both historically elegant joined especially in the past half decade by cutting-edge (trams tarted up by Christian Lacroix, for example); shady streets; and a vibrant out-of-doors life along those streets and plazas, thanks in no small part to its student population.
The epicentre of things is the Place de la Comédie (top), part of the historic centre called the Ecusson. No, there's nothing particularly funny about it; the name refers to a long-gone theatre. Instead, this is a classic French study in outdoor elegance, with its wrought-iron balconies, domed roofs, 18th-century Three Graces fountain, and at one end the 19th-century Palais de l'Opéra, modeled after the Opéra de Garnier in Paris. Locally dubbed l'oeuf (because of its oval shape), this makes a lovely spot to pull up a chair at an outdoor café and nurse a libation while enjoying the street artists and doing some people-watching.
On either side of the Place de la Comédie are a pair of other iconic public spaces: the delightful Esplanade Charles de Gaulle, lined with plane trees and sidewalk cafés, and the lively Place de Saint-Come, with more restaurants, pubs, and cafés.
Attention must be paid, as well,  a few blocks northwest of the Place de la Comédie, to the 14th-century Gothic Cathedral of Saint-Pierre (below), its entrance distinctively flanked by a pair of conical-roofed towers, as well as one of Montpellier's top claims to fame, the world's oldest continuously operating (so to speak) medical school, where teachers included Nostradamus and students included Francois Rabelais. Housed in a medieval monastery and bishop's palace, it can be toured via the local tourist office.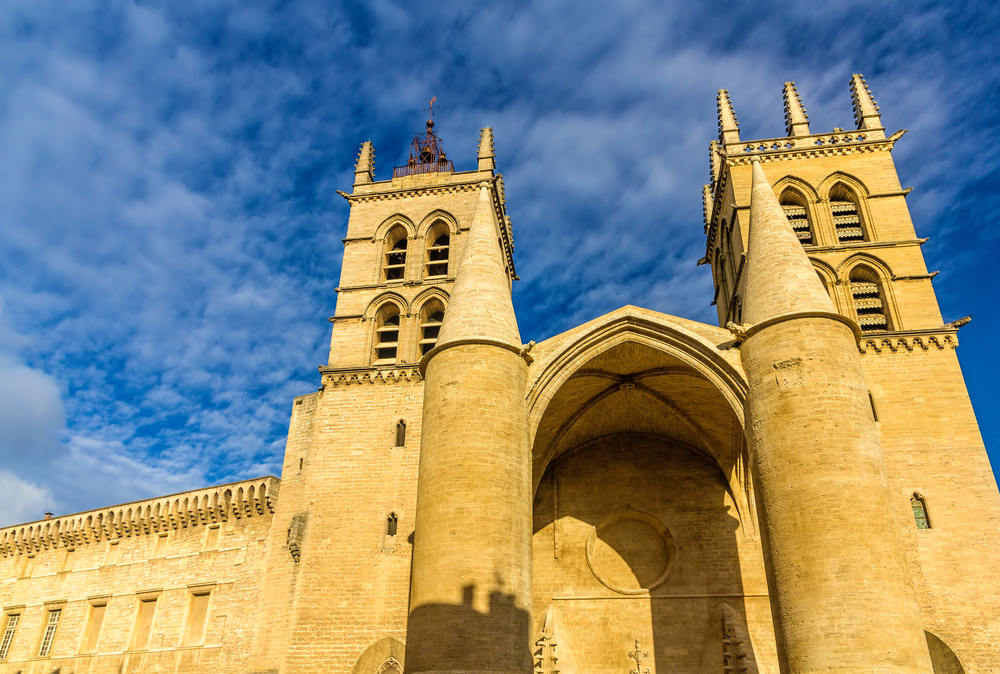 Another Montpellier must: the Musée Fabre, a trove of art and artifact including pottery dating back to ancient Greece and a superb collection of paintings from the 15th through 19th century, including masters like Rubens, Delacroix, and Zurbarán.
Other notable landmarks include the Arche de Triomphe on Rue Foch (88 steps to the top for smashing views), and the 18th-century Saint Clément Aqueduct, but perhaps the most famous of all is the handsome Château de Faugergues, noted for its unique interior staircase and collection of period furniture, Flemish tapestries, and porcelain.
For a taste of the natural world, the compact but fabulous Jardin des Plantes dates from the end of the 16th century. This botanical garden offers a marvelously relaxing, rewarding visit amid formal and herb gardens, palms, and greenhouse, with flora ranging from local Mediterranean to exotic specimens from places like French Guiana. Kids especially will dig Mare Nostrum, the cool aquarium which includes not just an impressive range of sea life but high-tech, hands-on exhibits, including 3D ocean simulator rides (ditto the cutting-edge Galileo Planetarium next door).
Perhaps one reason why Montpellier gets less attention is that it's not on the coast itself. But just a few kilometres away, big, bodacious beaches await, such as Espiguette (others, such as Palavas and Carnon, are big but less bodacious, backed by ugly concrete holiday flats). In summer, of course – and the season approacheth! 🙂
More information: OT-Montpellier.fr, DestinationSuddeFrance.com.
Best fares to Marseille, two hours away, from the USA, from Spain.


images | Gordon Bell/Shutterstock, Leonid Andronov/Shutterstock