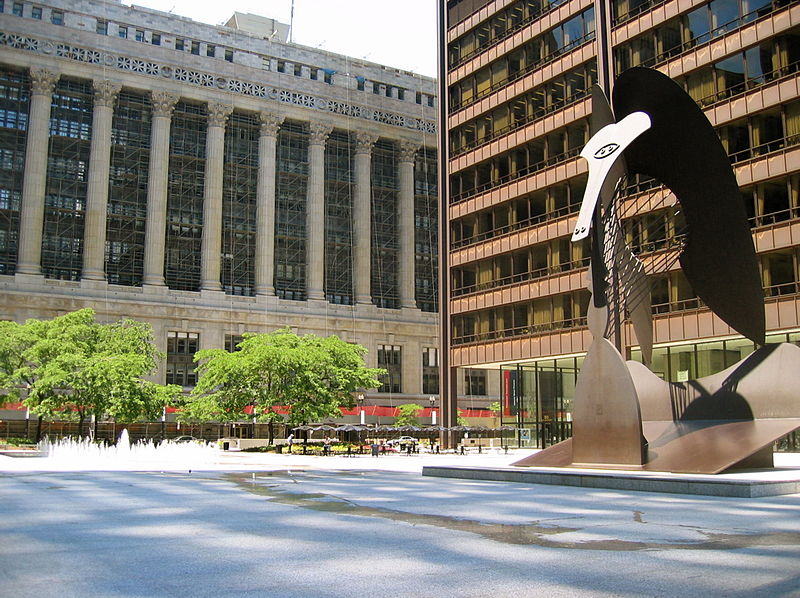 America's "City of the Big Shoulders" (per legendary poet Carl Sandburg) is another one of those place with such an outsize personality that it's like catnip for Hollywood moviemakers, especially its downtown, thick with majestic buildings and landmarks old and new (after all, the skyscraper was invented here in the 1880s).
Hundreds of major comedies, actioners, dramas – all have leveraged Chicago's star quality in different and creative ways – in the last several years, the likes of blockbusters Jupiter Ascending, a pair of Transformers movies, and The Dark Knight. But I'd especially like to share a look at a trio of my favourite classics.
Ferris Bueller's Day Off
"Bueller? Bueller? Bueller?" "Anyone? Anyone?" This John Hughes film has become one of the great classic comedies, with a cult following perpetuated even by young folks  who weren't even born in 1986 when it was shot. The director meant it to be a love letter to Chicago, and included many landmarks as he followed hookie-playing high schooler Ferris Bueller (Matthew Broderick) on his madcap meanderings through downtown Chicago.
The movie actually starts out in the suburb of Northbrook, where Glenbrook North High School (2300 Shermer Road) is the spot from which Bueller goes on the lam (it's also where another seminal Hughes work, The Breakfast Club, was filmed); you can get up here via the Windy City's Metra rail.  But once things get rolling, it essentially becomes a tour (de force) of downtown.  A key sequence takes place at the Chicago Art Institute (111 South Michigan Avenue), including a hypnotising moment between Ferris' pal Cameron and a painting – namely the masterpiece by French pointillist Georges Seurat, A Sunday Afternoon on the Island of La Grande Jatte (below). In another famous scene, Ferris, his girlfriend Sloane, and Cameron take in the eyepopping views from 103 floors above street level at the Sears Tower's Skydeck. You can do the same here (recently it was rechristened the Willis Tower, 233 S. Wacker Drive), and go them one better with "the Ledge", a new addition that puts you outside the building on a totally transparent balconey. Not for the faint of heart, perhaps. And then there's the visit to 101-year-old Wrigley Field (1060 W. Addison St.), home of the Chicago Cubs baseball team – and where the trio of course ends up on the Jumbotron.
The Blues Brothers
An even more madcap 1980s comedy also takes us the to Wrigley Field, where the eponymous bros Jake (Jon Belushi) and Elwood (Dan Aykroyd) are chased by homegrown Nazis. You can also gave a look at the Patterson-McCormick Mansion at 660 N. Rush St., an 1892 where the dudes recruit to their band the maitre d' of the legendary French restaurant Chez Paul (though the famous scene where Elwood tries to buy a fellow diner's daughters was actually filmed on a Hollywood set; in any case, the eatery is sadly now defunct, with the building converted to massively pricey flats). And if you want to check out the brothers' flat, you'll find it in The Loop (a section of downtown) at 22 W. Van Buren St. Not far away is the grandiose classical revival City Hall in Daley Plaza (top, with nearby sculpture by Pablo Picasso), where they go to pay the orphanage taxes (to non other than director Speven Spielberg, no less).
Ocean's Eleven
Allow me to nod at one last flick, this one of rather more recent vintage. This 2001 reboot of the 1960s Rat Pack classic may have been set in Las Vegas, but a colourful Chicago standby also makes an appearance. George Clooney's characters recruits Matt Damon's ("you're in or you're out") at 495 N. Milwaukee Avenue, in downtown's West Loop. It's Emmit's Irish Pub, formerly O'Sullivan's, which opened in the 1930s. Owned by a pair of firemen, it's also been the site for other film shoots, such as Ocean's Twelve, Backdraft, Uncle Buck, and Only the Lonely. It makes a great pit stop for a pint of Guinness, a dram o' whisky, or a fish and chips or shepherd's pie.
More Chicago information: ChooseChicago.com. 
Best fares from the U.K., from Spain. 

image | JeremyA