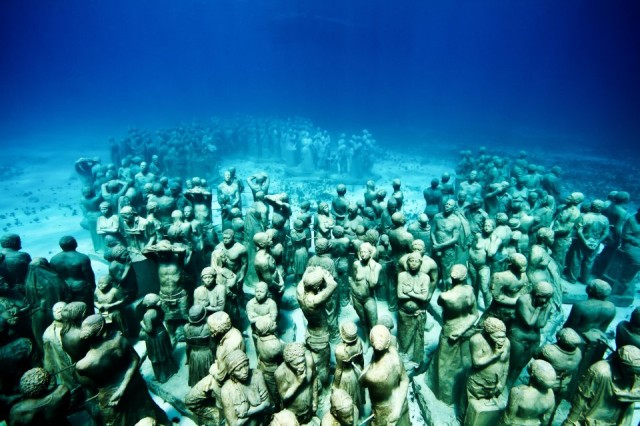 If César Manrique, the architectural and sculptural genius so identified with the easternmost of the Canary Islands, could see his beloved Lanzarote today, he'd no doubt be rather proud that it has remained so open to artistic innovation, and especially the latest addition to the scene, set to open at the end of 2016: an ambitious art museum, totally under water.
Manrique, who dedicated his entire career to a contemporary architecture incorporating the traditions and landscape of this arid volcanic place (such as the famous Jameos del Agua cave installation), would no doubt be impressed by the project spearheaded by 41-year-old British scuba-diving sculptor Jason DeCaires Taylor: to inaugurate Europe's first underwater sculpture museum, off the resort of Playa Blanca on Lanzarote's south coast.
Taylor is something of a specialist in this rather rarefied undertaking, having pioneered the concept in 2006 off the Caribbean island of Grenada, then again in 2009 with MUSA, off Isla Mujeres in Cancun, Mexico (which by the way is reported to received an average of 350,000 diving, snorkeling, and glass-bottom-boat-riding visitors daily).
That's one of the reasons the Lanzarote government has commissioned the future Museo Atlántico (though not without some local opposition), whose statues are designed to attract corals and other colonies of sea fauna and flora.
Many of the hundreds of cement sculptures awaiting installation are based on local people, created through a technique called "lifecasting", in which the mold for the statue castings is done directly from live models. And the project has been carefully designed to be environmentally sensitive, from its materials to its placement.
As with MUSA in Mexico, visitors will be able to snorkel and dive the site – or if they prefer not to get wet, glass-bottom boats and even submarine tours will be available (the really lazy can also watch webcam feeds from the nearby on-land facility).
Taylor says his goals are not simply artistic, but also environmental and philosophical. "I hope," he says, that my work can show how human intervention can be positive and enriching." He continues, "I will never go back to conventional art. The ocean offers many more possibilities".
I can't wait – see you in Lanzarote!

image | Jason de Caires Taylor